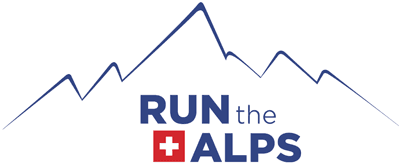 Is a Self-Guided Trail Running Trip for Me? 
Is a Self-Guided Trail Running Trip for Me? 
Just what is a "self-guided" trail running tour?
While it's fairly intuitive how a guided trail running trip is structured, the idea of a self-guided one is often not so well understood. Self-guided trips are some of the most popular ones that Run the Alps offers, so let's take a moment to explore them!
A self-guided tour means you don't have a licensed trail running guide along with you. In place of the guide, you'll have detailed route information and maps, and all of your logistics– such as taxis and baggage transfers– will be pre-arranged.
Is a self-guided tour a better choice for you than a guided one? And is it the way to go, instead of planning an entire Alps trail running vacation on your own?
Sometimes it's hard to know.
To share some insights, we spoke to a few Run the Alps self-guided guests from years past to get their input.
Here are their thoughts about why they selected a self-guided trail running trip.
Scheduling Flexibility (And Flexibility on the Trail, too.)
"I chose a self-guided trip because it fit my work schedule." – Michelle Kho, Dundas, Ontario.
Michelle did a self-guided trip on the second half of the Tour du Mont-Blanc, from Courmayeur, Italy to Chamonix, France.
A self-guided trail running trip enables you to pick your own dates and choose the length of trip that works best for you. And when you're on the trail, there's more flexibility, as well.  Our detailed maps and run descriptions show options for short-cuts and scenic detours, so you can adapt your day's route according to how you feel. And, you'll have the freedom to make those decisions "on the fly."
For example, if you want to spend a while looking at the Baroque Notre Dame chapel outside Les Contamines, France, or tick off a detour to the grassy, 360-degree-view Tanzbodeli summit in the Berner Oberland, or simply scratch some cows' noses while passing through an alpine meadow, you can do it!
Some days you feel like pushing the pace, other days you may choose to kick back a bit. We've all been there, and with a self-guided trail running trip, it's entirely up to you!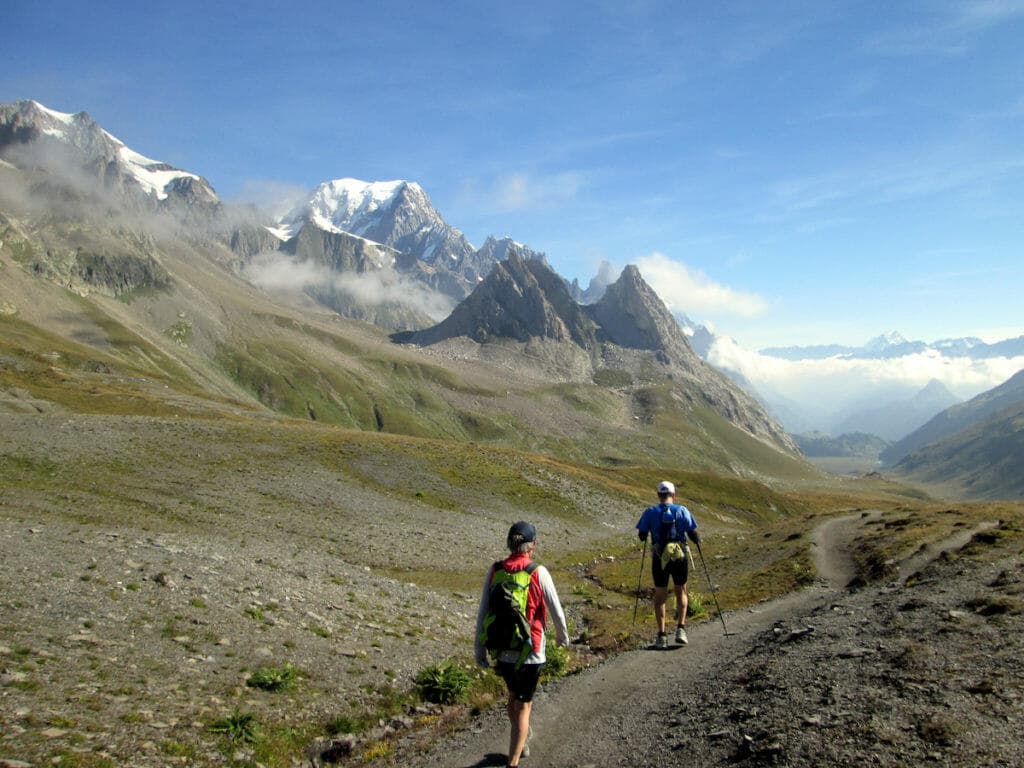 While several of our guided tours include the option of running in a trail race, you may be tempted to run one of the hundreds of other trail races in the Alps, or more precisely arrange your vacation schedule before or after a race. If that's the case, a self-guided trip is probably a better choice. 
Run the Alps has partnerships with many of the top Alps trail races, so we can arrange a direct entry into the race, too. Many of our guests choose a self-guided tour as a means to get a feel for the Alps before toeing the start line. Bert Johnson entered the iconic Mont Blanc Marathon in Chamonix, France at the end of a self-guided Tour du Mont-Blanc with his wife, Betsy.  "Run the Alps got us entered into the Chamonix Marathon, which was stunning and challenging," says Bert. "It whetted my appetite for the Ultra-Trail du Mont-Blanc, which I ran two years later."
Choice of Companions
"Betsy and I chose to take a self-guided trip because our vacation to the Alps was our honeymoon, and we felt like spending lots of time alone together on the trail." – Bert Johnson
Maybe you already have a partner or group of friends with whom you run? You might want a more intimate experience, or you might prefer to trail run with people you already know well.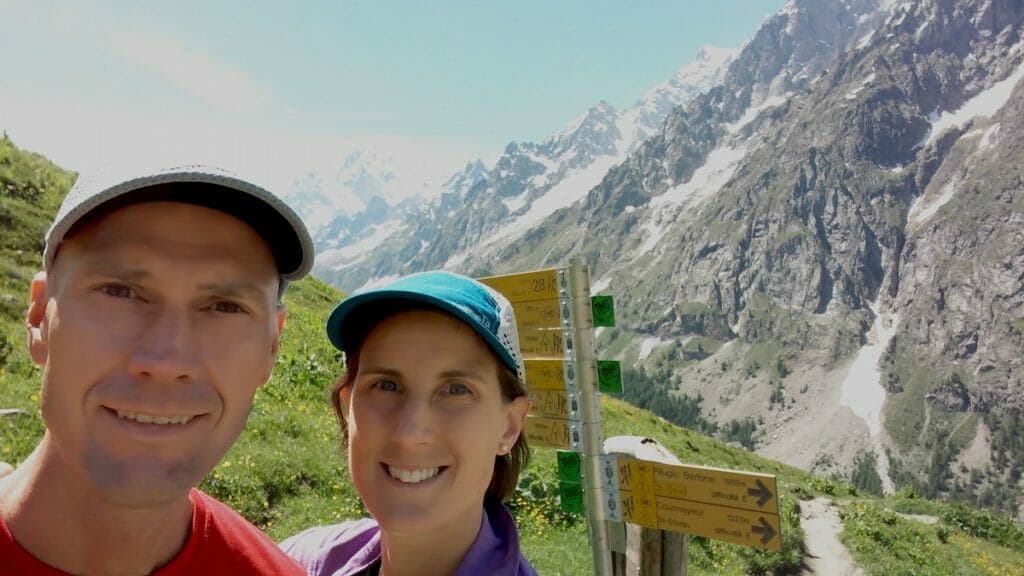 By running with just your chosen companions, you will know your group dynamics and be comfortable with everyone, from the moment you land in the Alps. Trips like this are a great way to deepen a friendship, or as special treat for a group that runs together back home. And, of course, if you're on the trail with your partner, it's a wonderful way to share a special experience with someone you love.
A No-Hassle Sense of Adventure
"Running down into the valley that morning through the snow – while catching glimpses through breaking clouds of the surrounding cliffs and many waterfalls on the opposite valley wall – was one of those uniquely and incredibly rewarding experiences that you get only by pushing past your comfort zone and really challenging yourself!" – Andrew Kraus, guest on a self-guided Swiss Bernese Oberland tour with his wife, Allison.
Our self-guided trips appeal to trail runners with a sense of adventure, and people who enjoy a little bit of navigating and problem solving on their own. While the trails are generally very easy to follow, and there are ample opportunities to stop at a hut for supplies, self-guided guests need to be, by definition, self-reliant. For example, while Run the Alps will provide background information, you will need to check the weather forecast and anticipate what clothing to bring on the trail each day. Once you're on the trail, you'll need to watch the weather and plan for contingencies. 
If you have already done some trail running, you likely already have the experience for a self-guided trip.  However, Burke Kaiser advises, "If folks are somewhat new to running or are just used to road running (even if very accomplished), I would recommend a guided trip."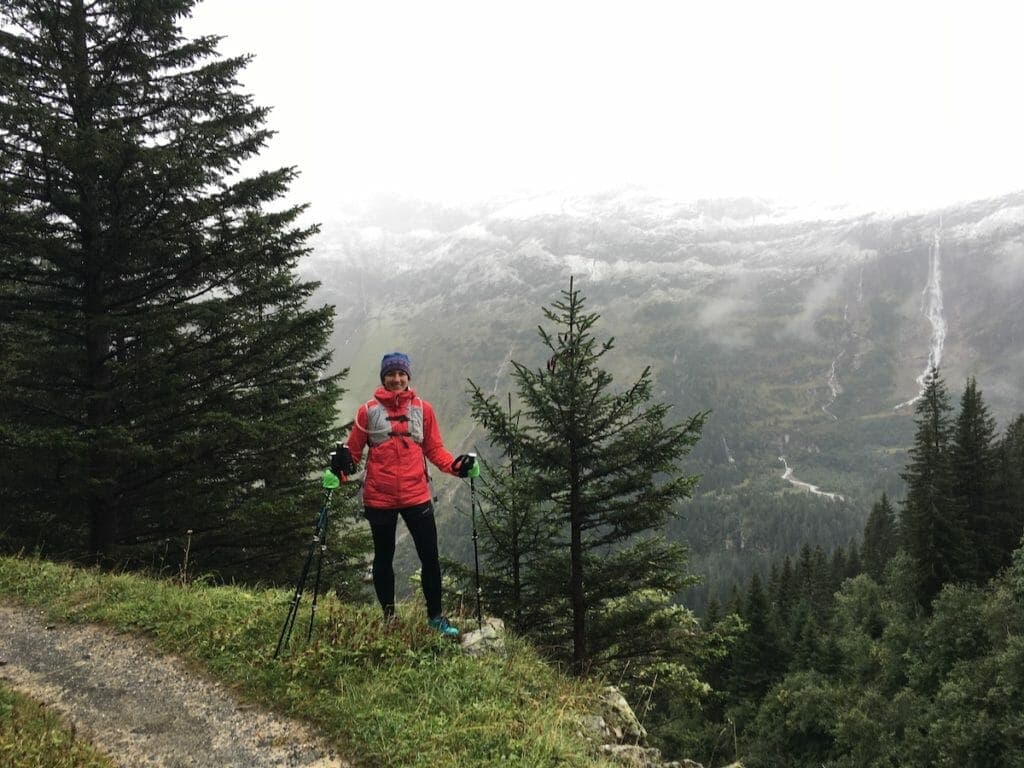 Route Materials and In-Country Support
"A hut-to-hut trip through the Alps was a bucket-list trip for us, but the logistics of such a trip proved a bit daunting once we decided to start planning it." – Andrew Kraus
Planning the logistics of a tour in another country, often in another language, can feel overwhelming. With a self-guided tour, this is all done for you by local experts who know the intricacies of that region. You'll benefit from that local knowledge, each day.
In advance of your trip, you'll receive a waterproof packet of maps, village guides, detailed daily run descriptions, and associated run overviews. You'll even get our "Aid Station" documents, with supporting information about topics such as traveling around the Alps, staying at a hut, and much more. Once you're "in-country," someone from Run the Alps will reach out to see what remaining questions or concerns might be on your mind. You'll get up-to-date information on conditions such as snow levels and any recent changes to the route. Bert Johnson remembers, "For us it was the perfect combination of exploring the area on our own, but having copious local knowledge to fall back on when we needed it."
Throughout your tour, Run the Alps is always just a phone call away if you need help, as Michelle Ko found: "I was impressed with the Run the Alps package and support. The written resources were super helpful, especially the daily pocket maps. I was also grateful for the phone support and wise advice."
Help with Logistics
If you don't care for sweating the details, like organizing baggage transfers between hotels, or figuring out how to get from your arrival airport to the start of your tour, our self-guided tours are a way to avoid dealing with that critical planning component.
Run the Alps takes care of logistics such as your baggage transfers during the trip, so each day, you only need to run with a few items for the trail. Your bags will be waiting for you when you arrive at your evening destination.
And if you're wary of online reviews, we'll book our favorite overnight accommodations each night based on your request, whether that means a cozy inn, a deluxe hotel or a remote alpine hut. We know each region well and have built close relationships with the hoteliers that provide the warmest welcome, the most comfortable accommodations and tastiest meals. "Every inn we stayed at knew to expect us and each one was incredibly welcoming upon our arrival," says Andrew Kraus. "Every stop had its own unique charm and the food was amazing." (Andrew added, "Seriously, this could have been billed as a food tour as much as a running one!")
Logistics planning and knowledge of the local communities means you can focus on enjoying the trails each day and relaxing each evening.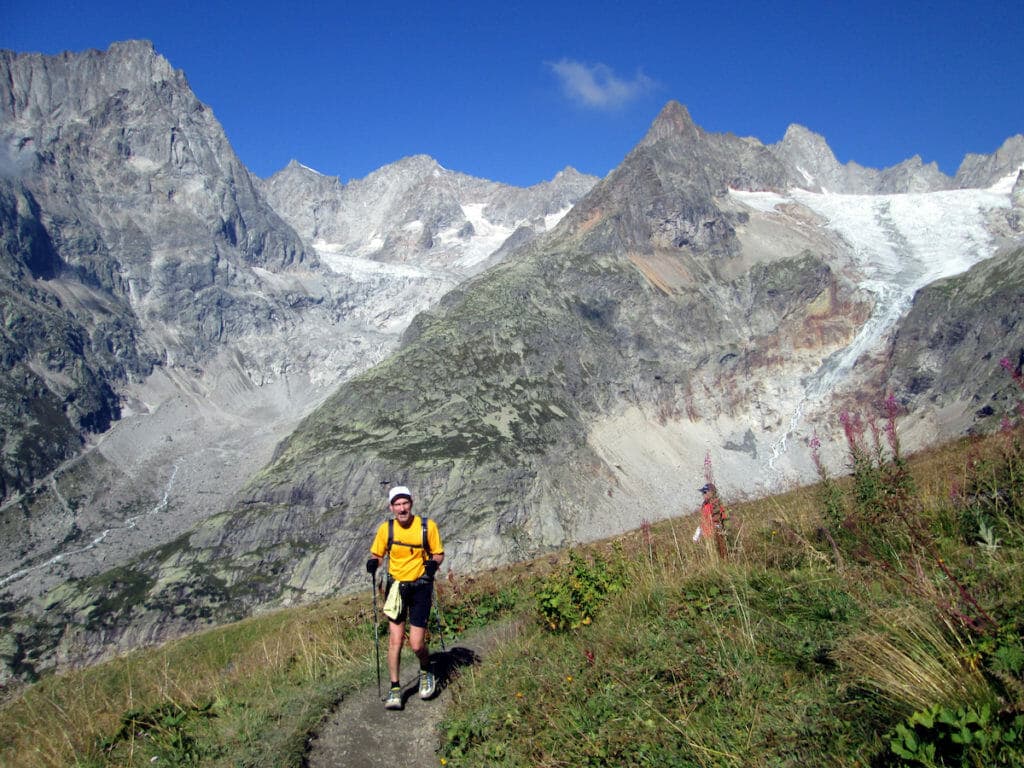 Here are two of our favorite memorable moments as experienced by our guests. We hope it'll give you an impression of what you can find on a self-guided Run the Alps tour:
"I loved hearing the clanging of the cow bells in the distance as I made my way from Courmayeur to Chamonix. These sounds were respite from some of the challenging climbs, and I felt like they were saying, Allez-Allez – keep going! Combined with the majestic views of the mountains, these moments were most memorable. The cow bells reminded me of my friends back home who bring cow bells to running races where we cheer for each other." 
Michelle Kho, Courmayeur, Italy to Chamonix, France tour
"Our first morning at Schwarzwaldalp, which is an historic inn tucked into a valley full of grazing cattle and surrounded by towering peaks, was so awe-inspiring that we knew immediately we were in for the trip of a lifetime. Seeing the sunrise over the valley walls while the air filled with the sound of bells from cows roaming about is not something I'll ever forget! And while we had beautiful weather almost every day, another very memorable moment was our stay at Obersteinberg Hut, high in the mountains above Lauterbrunnen, where we awoke to an early-season snowstorm." 
Andrew Kraus, Swiss Bernese Oberland tour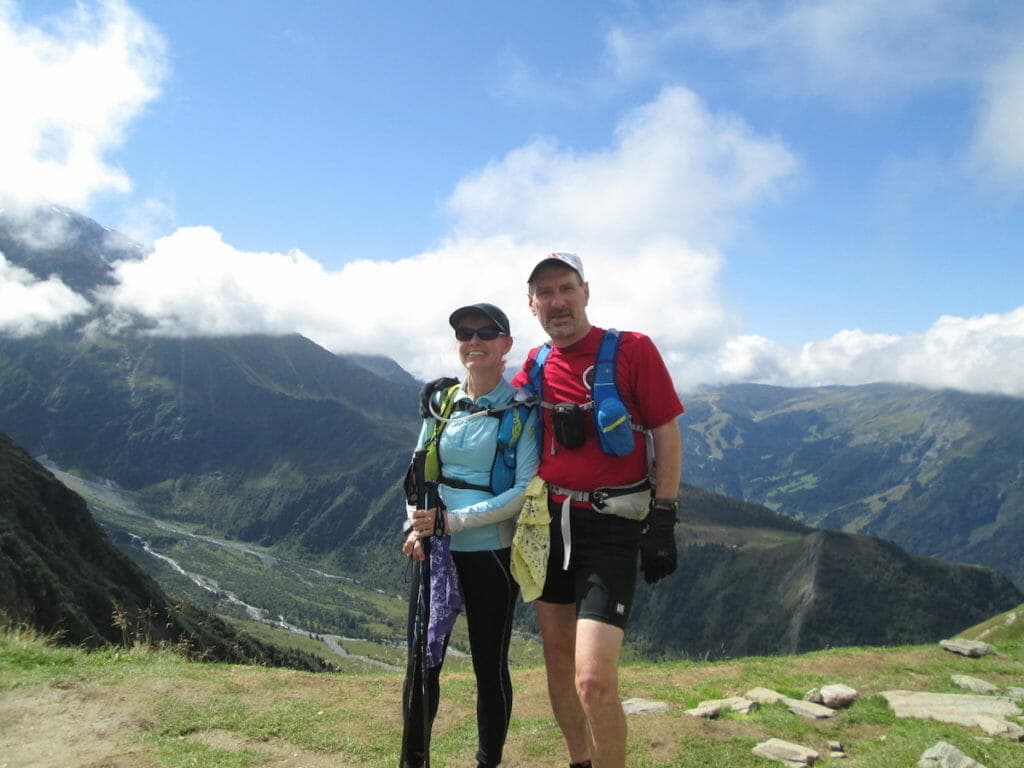 Think a self-guided trip might be for you? Take a look at our Run the Alps options.
Contact us if you have any questions, or if you'd like to explore a modified or custom trip.
Switzerland: 
Italy: 
France: 
France, Italy and Switzerland: 
The Greatest Trail Running Vacation, Ever
Many thanks to our friends Burke Kaiser from Buena Vista, Colorado, Michelle Kho from Dundas, Ontario, Andrew and Allison Kraus from Portland, Maine, Bert and Betsy Johnson from Burlington, Vermont, and Sarah Hansel from Versailles, Kentucky for their help with this article.