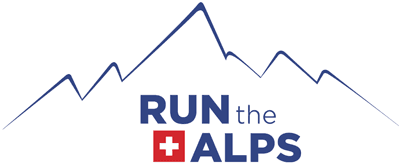 Something Truly Badass Just Happened in the Alps
Something Truly Badass Just Happened in the Alps
If you had to pick one mountain range in the world where all the great climbs and test pieces had already been done, it would be the Alps. After all, people have been climbing here for over 160 years.
But, you'd be wrong. Because this past weekend, something new, historic and truly badass just happened here.
At 2 pm on Saturday, two of Chamonix, France's strongest mountain athletes left the steps of the St Michel Church in Place du Triangle de l'Amitié, fully attired in ski mountaineer gear. And exactly 26 hours and 21 minutes later, they were on the steps of the parish church of Saint Mauritius in Zermatt, Switzerland, having skied at least 106.4 km and 8100 meters, including climbing and descending over eight passes.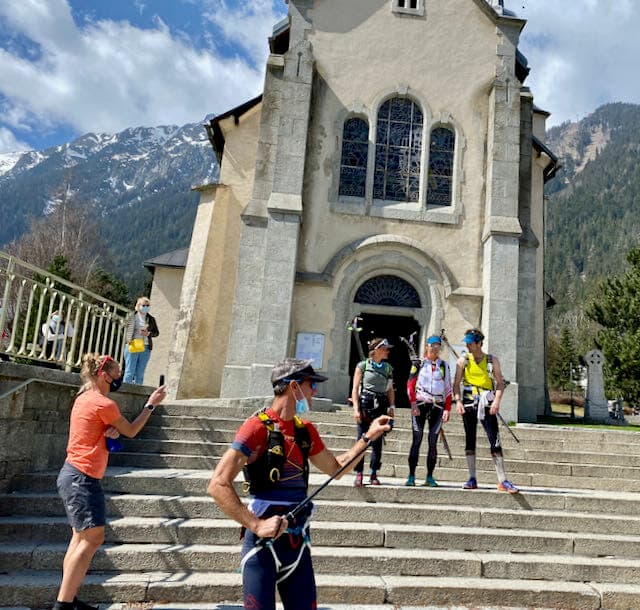 The course they travelled is the famous Haute Route between the two iconic mountain towns. And the skiers were Hillary Gerardi and Valentine Fabre, two of Chamonix's better-known athletes, in a town where elite climbers, skiers and mountain runners are practically ubiquitous.
That time of a bit over 26 hours is a record. The duo didn't break a record– they established it, in its own way a tribute to the demands of the route, both in terms of required technical skills and sheer endurance.
There is no governing body that determines the rules or routes for such an undertaking. A mens' record from 2016, by Bastien Fleury and Olivier Meynet, went by a different route and into considerably more dangerous terrain. Their time was 16 hours and 35 minutes. Other attempts have gone by the route Fabre and Gerardi picked.
Both Gerardi and Fabre are friends of Run the Alps, and Gerardi is a longtime ambassador. Originally from Vermont, in the Northeast US, Gerardi is a champion Sky Runner and is sponsored by Black Diamond and Scarpa. She works for the Chamonix-based alpine research association, CREA Mont-Blanc and is married to Brad Carlson, who is training to become a full member of the Compagnie des Guides de Chamonix, the world's most prestigious mountain guide service. Brad is a top alpine ecology researcher who also works at CREA Mont-Blanc.
Fabre spent the better part of a decade on the French National Ski Mountaineering team. Her awards read like a laundry list of the world's most prestigious ski mountaineering races: Pierra-Menta, Patrouille des Glaciers, World Championship races over the past decade, and many more. Professionally, she works as an emergency doctor for the French military. Her partner is mountain guide and alpine photographer Ben Tibbetts.
Run the Alps had a chance to talk with Hillary Gerardi less than 24 hours after she and Fabre ticked off their epic traverse of the Alps on skis at a blistering pace.
Here's how it went down.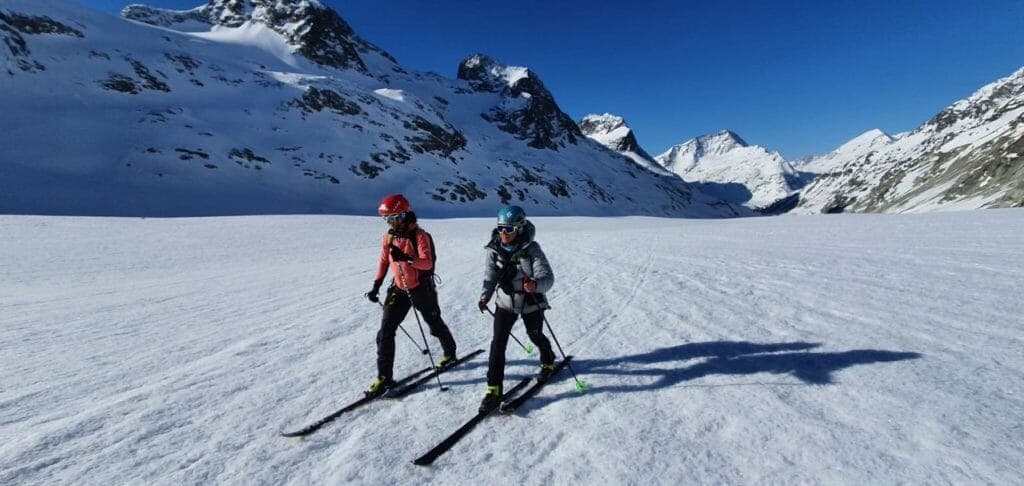 Run the Alps: Where did this idea come from and how did it develop?
Hillary: I don't remember exactly when I heard of the Haute Route, but it's probably the most well-known mountain ski traverse in the world. It's called the "Haute Route" because you get up into the really high mountains, covering some pretty cool terrain in the Alps from Chamonix to Zermatt.
Traditionally, the Haute Route takes about a week. So my first interest was in shortening that, and doing it over a few days. But then, as I became an endurance athlete and wanted to do longer missions, the idea of doing it in one push was born. I've always liked drawing lines on maps and seeing if my body could take me to these places I dream of.
I would say that my interest really got piqued when I learned that there was a series of men's records that have been set and then beaten over the last few decades. But there was no women's record. I'm always curious when I see things like that. I wonder, "Why haven't women done this yet?"
So, by undertaking this kind of project I also want to inspire more women to go for big objectives in the mountains and on the trails.
The Haute Route project really began with me knowing that I wanted to do it, and then figuring out who I could do it with. Unlike a lot of running objectives, the nature of the beast is that you can't do it alone. Being in the high mountains is really not safe if you're out there by yourself.
Run the Alps: Can you tell us about the planning and recon process?
Hillary: I knew it had to be a team effort. I've been planning and scheming this for over two years. When I found Valentine as a potential partner, we saw that we had skill-sets that could line up, so we decided to do it together. Valentine is one of the most competent and experienced alpinists and skiers that I know, and her love for the mountains is contagious. I couldn't think of a better partner for this project.
We had people join us on the way – in fact her partner Ben was possibly going to do the traverse with us because it's been a big objective for him as well. But, he quickly decided that it wasn't his day. And you have to be "all in" for this kind of thing.
One of the really cool things about this traverse – and also what is so hard about it – is how much planning it takes and how much the stars have to align in order for it to work.
Unlike a running feat where you might just ask, "Well, am I fit? Do I have good weather?," there are a lot more factors. You have to be fit. You have to have good weather. You must have the perfect conditions because there's a relatively short window where there is enough snow, but not too much snow; where there are skin tracks set; where the snow isn't going to be too powdery or too bullet-hard; where the crevasses haven't opened up too much; where the valley floors aren't completely snow-free. So finding the right window for conditions is really hard. You also need a whole battery of gear and a support team to make such a long traverse work.
In addition, to make it happen, you really need to know the route. Navigation is tough up there. You're spending a lot of time at night and there aren't trail blazes or any kind of route description that's going to tell you, take a left here, take a right there. Knowledge of the route is really important. In addition to talking to tons of people in a series of interviews and conversations over the last two years, I studied maps extensively. Then, my husband, Brad, and I did the traverse a week ago, over three days. That recon was really crucial, both for me to get a full visual of exactly where we were going, and also to get an idea of what the conditions were like. The other advantage of doing it over three days was that I was able to take the time to really enjoy the views!
The one other thing about the planning, is that you can't plan the date a month or weeks in advance. Because you need all of the stars to align, you have to be ready to mobilize at any time. So we had our hand pushed last week when we saw the weather was getting really warm and melting more snow each day. Plus, a new Covid lockdown was being called in France. So we had a "now or never" approach. Fortunately, a whole bunch of people were able to mobilize at the last minute to take part in the support. That was really key.
Run the Alps: How did it go? What were the high points, the low points, the surprises?
Hillary: Just like any long activity, at some point you get into a flow state. The couple of times that I found myself really flowing and moving seemingly effortlessly were definitely high points. Also, anyone who has spent sunset and sunrise in the mountains knows it's really incredible to see the light changing in such beautiful environments. We were up over 3,400 meters high in the mountains and the light was so beautiful.
I think the low points are pretty obvious for me. The first was well after sunset when my phone pinged to tell me that it was bedtime. And I was just about to head into a full night of skiing and I was already feeling pretty sleepy. It was really hard to maintain motivation.
The other obvious low point was at the end when my partner Valentine got really sick. She spent the last two hours unable to keep any food down. She was deep in the pain cave. It was a tough time to put our heads down and keep going. That was the biggest low for the two of us.
There were a couple of surprises, one positive and one negative. The negative surprise was on the ski descent to Bourg St Pierre, which is just north of the Grand St Bernard Pass, in Switzerland. That's where we learned that, over the past week, the snow had melted and there was none left in the valley. So, we had an unexpected run down a long paved road in ski boots. That section slowed us down a lot and was really painful. So that was not a good surprise.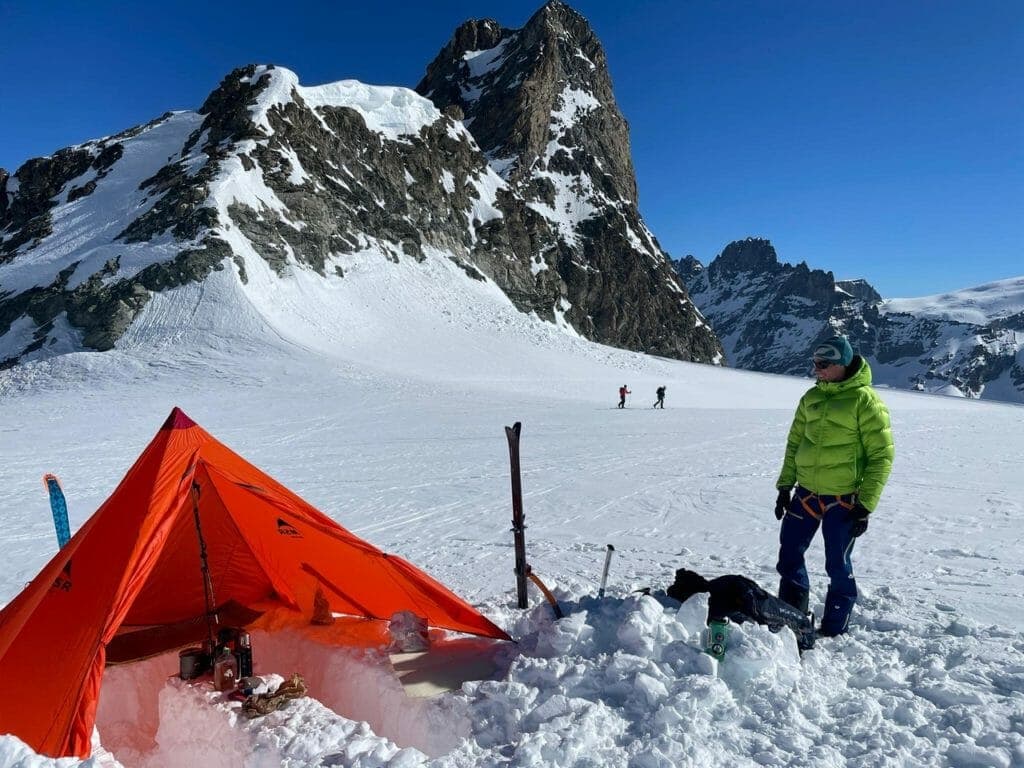 A great surprise, though, was that Brad, my friend Alex Earle and Ben Tibbetts had set up an incredible aid station at the Col de l'Evêque. That's a pass at 3380m on the Switzerland – Italy border. We knew that they were up there, but we thought they would just have a thermos of tea. Instead, they brought up a tent and dug out an amazing aid station with benches and everything. That was just such an incredible morale boost, after we had been going for 22 hours.
Run the Alps: What would you do differently, if you were to do it again?
Hillary: It would definitely be better to do the traverse earlier in the season. The reality is that there's a short window in which it's possible. Unfortunately, with climate change, that window is getting shorter and shorter, and earlier and earlier in the year. The previous records and a lot of famous high ski mountaineering races often took place in late April. But we found a lot of crucial areas were melting out fast. Some of it becomes dangerous as it melts out: crevasses open, seracs fall, and you are in areas of exposed moraines. It's clear that because of climate change that window's getting smaller and earlier in the season for a project like this one.
Run the Alps: How do you two feel today?!
Hillary: Fortunately, Valentine is feeling a lot better today. She's able to eat again which is new and exciting! And I'm really surprised at how good I feel today. I'm definitely stiff overall, and both Valentine and I have quite swollen and puffy feet and ankles. But even if I'm whole-body exhausted, I am reminded of the fact that skiing is pretty gentle on the descents compared to running. So you don't get the same collapsing legs after such a big day.
Run the Alps: Amazing. Congratulations, Hillary! Want to go for a ski?
Hillary: J'ai aqua poney.
(Editor's note: This translates as, "I'd really love to, but I have aqua pony lessons– the French equivalent of saying, "I'd really rather not." And yes, we're being polite.)
Follow Hillary on Instagram at hillary_gerardi and Valentine at tintin_des_bossons.