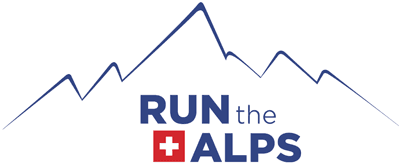 The Camaraderie of a Solo Tour of the TMB
The Camaraderie of a Solo Tour of the TMB

Here is the first thing I learn about the towns that line Europe's famed Tour du Mont Blanc route: cavort about all you'd like in your short shorts, spandex, compression socks, and trekking-pole-flanked running pack, and it's unlikely anyone will even raise an eyebrow.
After all, you—my trail-running friend—will be in good company.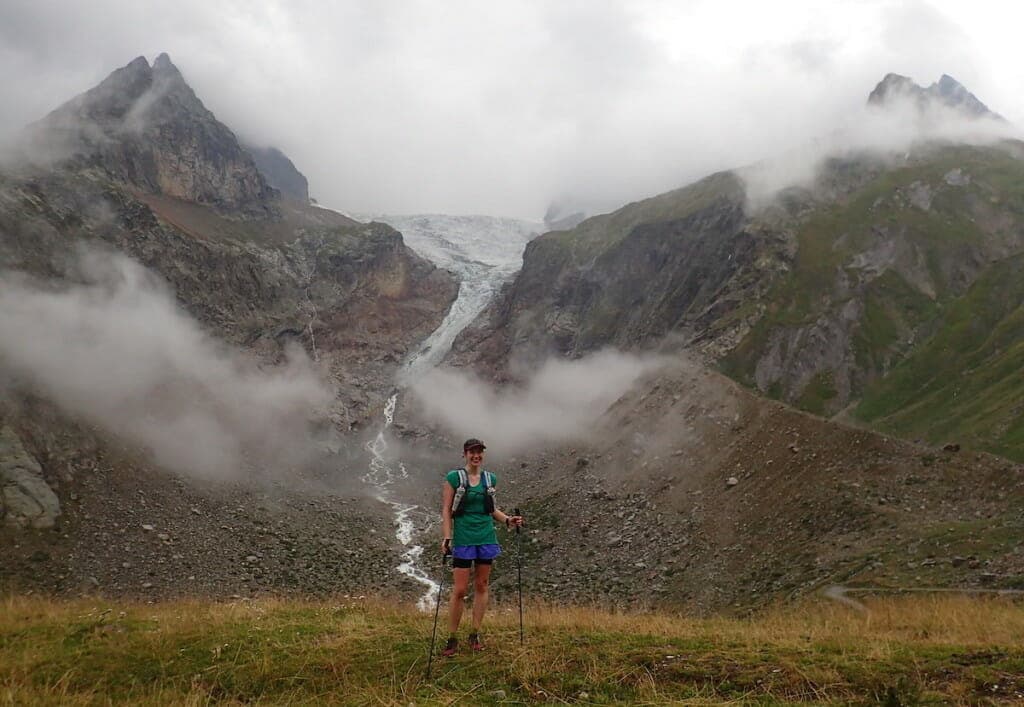 Three weeks out from my plan to run the ultra trail race around Mont Blanc, I decided on a whim to head out on a solo, two-day racecourse recon mission. Now, any of my friends can tell you that my sense of direction leaves a lot to be desired. Toss in a foreign landscape, language barrier and a bit of fog, and even the most detailed maps and trail signs are unlikely to prevent me from getting turned around.
Standing at the bus station in the Italian town of Courmayeur, groggy-eyed and clad in what I like to call my running costume—a get-up that has earned me dubious looks in American cities (yes, even Boulder)—I was already feeling lost, with only a faint notion of where I might find this 170(ish)-kilometer behemoth of a hiking route known as the Tour du Mont Blanc, or just TMB.
I should have noticed the yellow stack of directional "Tour du Mont Blanc" signs to my right, but I was busy eyeing a fellow runner decked out head to toe in Salomon compression gear, trotting along the street ahead of me. His trekking poles made pleasant, purposeful clicks on the pavement as he ran. Confident this guy knew where he was going, I fell into step a discreet 500 feet or so behind him. Sure enough, soon we arrived at singletrack.
The TMB route, which circumnavigates Europe's highest peak, sees some 10,000 "thru hikers" each year. Most of them take 7 to 10 days to hike the route. Superhumans like ultrarunners Francois D'Haene and Rory Bosio—who hold the respective men's and women's records on the route—complete it in less than 24 hours. I wasn't out to set any records that day, opting for a leisurely running pace that would take me about eight hours to cover the 45-kilometer stretch from Courmayeur to the Swiss lakeside town of Champex. I planned to spend a night there before continuing my tour the next day to Chamonix.
The runner ahead of me turned out to be a friendly chap originally from New Zealand. Like me, he was signed up for the race around Mont Blanc and out for a long training run before the race. We chatted on and off, leapfrogging all day up to the 2,490-meter (8,170 feet) Grand Col Ferret, passing dozens of hikers on our way. At the top, we wished each other well and went our separate ways—him back to Courmayeur, and me onto Switzerland.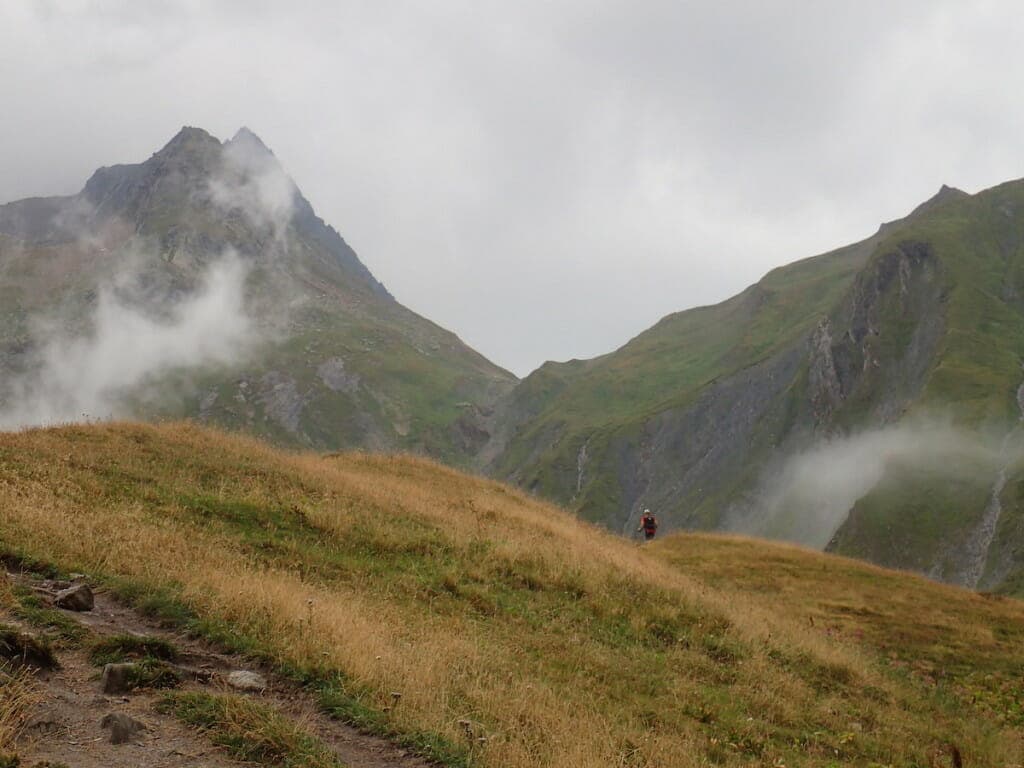 Even in foggy, drizzly conditions, the route was filled with groups of backpackers. (August is high season for vacationing Europeans.) All day long, I listened for the languages being spoken by hikers I approached from behind—French, Italian, German, Dutch, Spanish, English, and several less readily identifiable others. And soon, I came to identify the common words and phrases tossed out—"Allez!" from the French, "Brava!" or "Venga, venga!" from the Italians—as I came by on the trail.
It wasn't so different from running a race, spectators and all. Even the frequent clanging of cowbells echoing through the hills kept me motivated to push on—though they rang out from the necks of actual cows, rather than the hands of boisterous race fans.
In the town of La Fouly, I stopped in briefly at a shop to load up on granola bars, gels and (obviously) Swiss chocolate. There, a woman working at the counter was excited to chat with me about my adventures; a friend of hers, she told me, was currently in the States, thru-hiking the Pacific Crest Trail. As I set off for Champex, she waved me off with a smile.
On a side note: though I'm generally a champion for spontaneity, I can whole-heartedly not recommend "winging it" on accommodations in the Alps in August. Trotting on tired legs between hostels and hotels in the pouring rain of dusk in Champex in search of a warm bed was not much fun. After being turned away at the first few places I inquired, though, I lucked upon a hotel on the main drag that still had a single room available.
Having run in with only the limited supplies I could squeeze into my hydration pack, I had no change of shoes. At dinner at the hotel restaurant that evening, I wondered, would it be socially acceptable to peel off my wet, muddy running shoes and prop up my aching bare feet on the chair opposite me at my table?
Probably not, I thought.
And then I noticed him—a lone runner in the opposite corner of the restaurant, doing precisely that. I recognized him as having run by me earlier that day on the trail. Under the table, the runner flexed his scrubby, bare toes while, above it, he steadily plowed through a salad, large pizza, and flower vase of ice cream.
A kindred spirit, I thought, as I, too, dug into my dinner.
Indeed, even adventuring solo and 5,000 miles away from home, I was in good company.