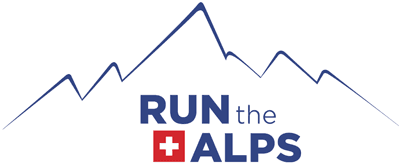 The Hidden Importance of Trail Running: A beginner's experience training for– and running– the Mont Blanc Marathon
The Hidden Importance of Trail Running: A beginner's experience training for– and running– the Mont Blanc Marathon
On 16th March 2020 French President Macron announced a national lockdown. For 8 weeks, we were all confined to a one-kilometer radius of our homes, with only an hour of exercise permitted each day. 
So, I laid my travel plans aside, dusted off my trail running shoes, and resigned myself to what I considered to be the most unpleasant form of exercise there is – running.
As weeks of confinement passed, what began as a necessary chore soon became the favorite part of my day. Trail running helped me stay both fit and sane. I wasn't alone in this dual quest, either. The forest trails by my house were busier than ever. As I ran, I also met neighbors I had never known. This wasn't just a Chamonix phenomenon, either. People all over the world were taking up running. Strava became the new way for friends to keep in touch.
Covid restrictions began easing about a year ago, and we were allowed to return to all of the trails in Chamonix, and even cross the border into Switzerland. By that time, I was starting to really enjoy trail running. In July of last year, I joined the Run the Alps team on a memorable trip to the Berner Oberland on my first multi-day running adventure.
Fast forward a year to July 1st. 
I was standing at the start line of the Marathon du Mont-Blanc, along with hundreds of other runners from dozens of countries. Due to changing pandemic regulations, the race had been pushed forward a week– but it was happening! It was a crisp and cloudy morning, and despite the 6 am start, I was super pumped up and excited for the race. Dance music was blaring from speakers at the start and we all bounced to the beat to keep warm, eager to be let loose on the course.
Looking around, it struck me that this was the biggest crowd I had been in for almost two years. I wondered what difficulties each person had overcome during the pandemic in order to be here. It's hard enough to train for the Marathon du Mont-Blanc normally, never mind during a global pandemic. 
My own training had its challenges, too. May and June were the wettest months I could remember in Chamonix, making regular training difficult.  I struggled to manage a recurring knee injury. Add in the omnipresent Covid anxiety lurking in the background, and I sometimes wondered why I was bothering. I'm not naturally self-disciplined, but, to quote Forrest Gump, "for some reason, I just kept running."  Was my training routine actually an attempt to assert a semblance of control over a life that had, recently, sometimes felt out of control? Was the race nothing more than an egotistical pursuit? It can be hard at times to know our own intentions.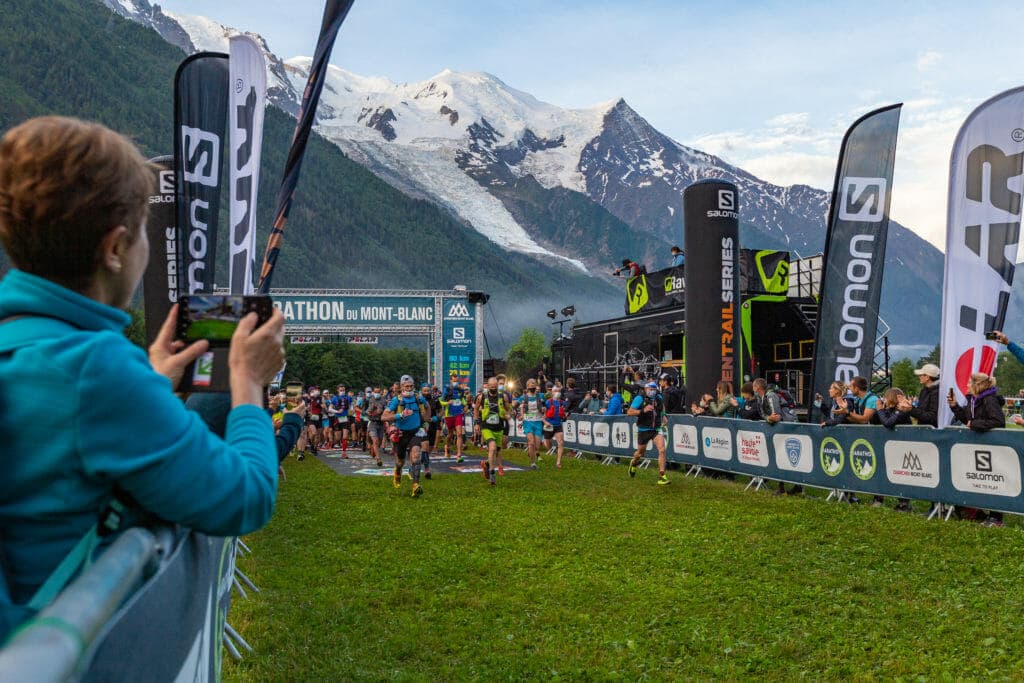 The announcer started to count down from ten. My questioning stopped, the self-doubt dissolved, and a few seconds later, the 2021 Mont Blanc Marathon was underway.
The first part of the course, along the Chamonix valley's Petit Balcon Nord, climbs very gently over several kilometers. The pack set off at a pace that was, for me, brutally fast. I'd been warned that most people set off too fast on trail races, so I tried to focus on my own pace and not be pulled along with the crowd. I'm not a competitive person– my goal was just to finish the race– but even so, it was hard to stay relaxed. I doubted if my steady pace was the right choice, but with the sound advice of my friends in mind, I saved my energy for the 2,600 meters (8,530 feet) of climbing still to come.
Everyone was so quiet and focused that it felt strangely lonely on the trail, despite the large number of competitors. The time passed, and two hours later, I arrived at the first aid station in Le Tour, at the high end of the valley not far from the Swiss border. There, I was greeted by my parents, boyfriend, and Doug Mayer and Mike Ambrose from Run the Alps, who were there to support me. It was a big boost.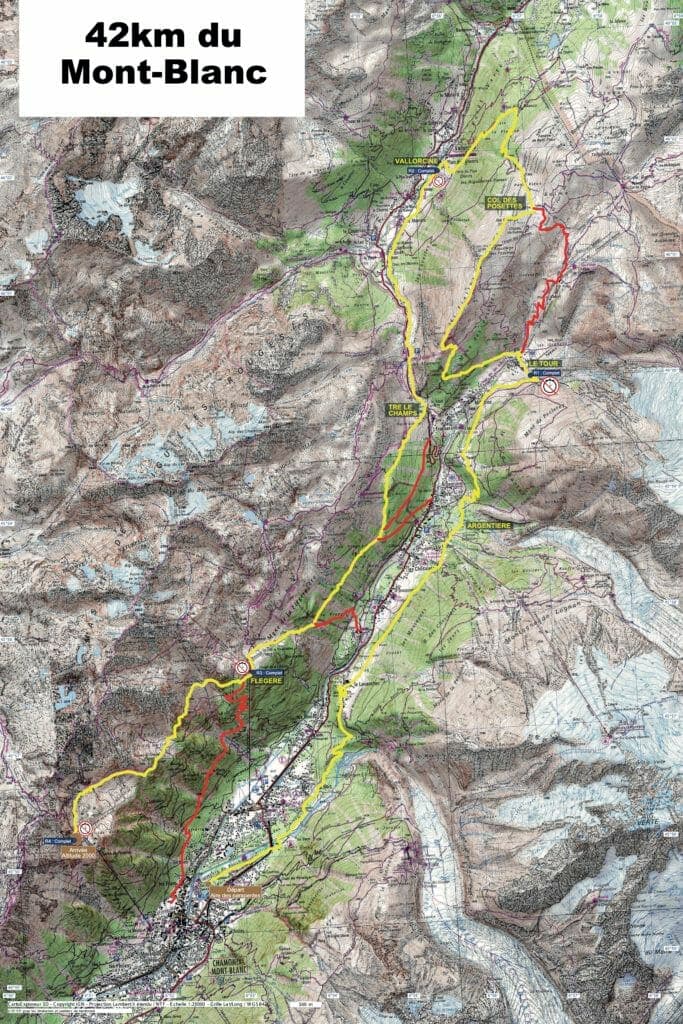 After having a quick chat with the group and downing some biscuits, I grabbed a couple of bottles of Tailwind sports drink and hurried along to the start of the 600 meter climb to the Aiguillette des Posettes, a small peak at the end of an impressive ridge that splits the high end of the Chamonix Valley. A storm was forecast for the late afternoon, and the wind was already beginning to pick up. I stopped to put on an extra layer, then tucked in behind a group going at a nice steady pace. To my left was the village of Vallorcine, its chalets nestled below the rock towers of the Aiguilles Rouges National Nature Reserve. To my right, the Le Tour glacier ended in a huge ice cliff that teetered 1500 meters above the village.
From the top of the Possettes, I was rewarded with a 360-degree view of some of the highest and most famous peaks in the Alps – the Aiguille Verte, Aiguille du Chardonnet and, in the distance, Mont Blanc. Even with the wind whipping across the ridgeline I was able to appreciate the beauty of the place.
My reverie didn't last long as the clouds moved in and the descent to Vallorcine began. The top part of the descent was quite fun and technical and I rock-hopped my way down, passing runners. After this technical section, the descent became brutal in its relentlessness, with a never-ending forest track descending 1000 meters to the valley floor. The constant pounding began to take its toll on my knees and I could feel my joints getting inflamed and sore. The growing sound of cheering spectators and drums in the distance, signalling our arrival into Vallorcine, spurred me on for the last part of the descent.
I reached the Vallorcine aid station with quads burning, unsure how my body would fare on the final 1000 meter climb up to Flégère, the top station of a lift system above Chamonix. Again, my family and friends were here to cheer me on, and I was happy to hear from them that my friend Steph Lefferts was still running strong ahead of me. Steph and I had trained together a lot for this race. In the process, we had become good friends. The thought of standing together at the finish spurred me on, even as a light rain began to fall.
As I reached the Flégère aid station, the storm intensified. The wind and rain began in earnest, and the temperature dropped. Runners huddled under the aid station tents, drinking tea and trying to keep dry. I felt my legs starting to seize up from the effort of the climb and the cold. I didn't want to hang around. I looked at my watch and with astonishment, realized I was an hour faster than I had estimated for Flégère, before the race. If I kept moving at a good pace, I had a chance to finish in under 7 hours– a fairly respectable time for this tough mountain marathon.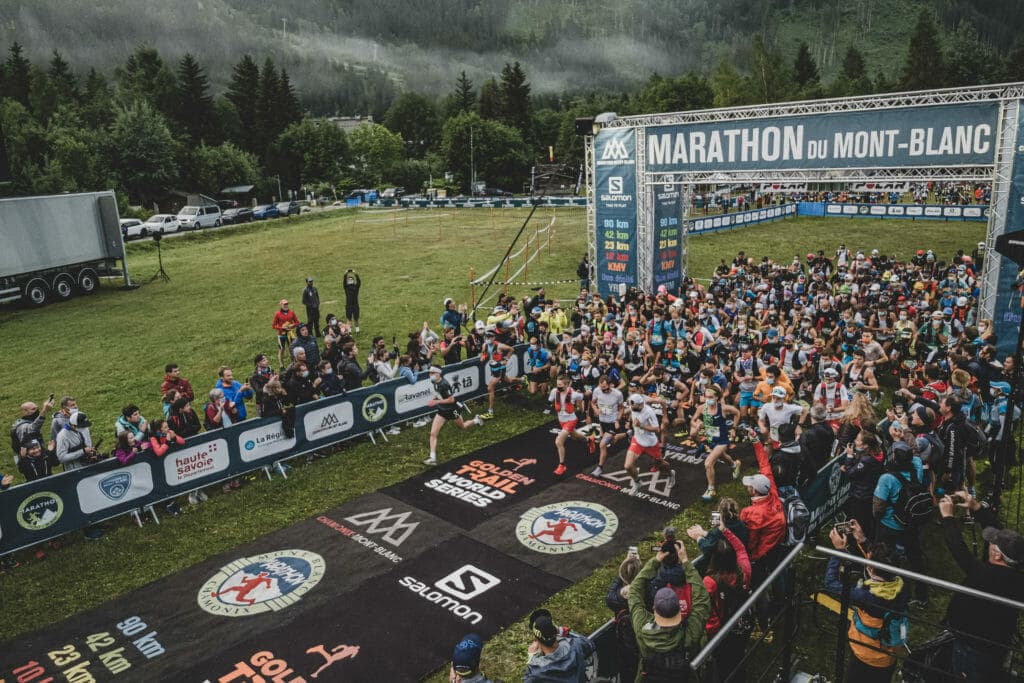 On the climb to Flégère, I was surprised to find that I had more energy than expected. Up to this point,  I had relied on my heart-rate monitor to make sure I was moving at the right effort. As I began to overtake more runners, my confidence grew. I ignored my watch and trusted that my body could sustain a faster pace to the finish.
On a sunny summer's day, running the 6 km trail from Flégère to the race finish at the wide, grassy plateau called Planpraz is incredible. It's a high balcony trail with dramatic views across to the snow and ice-covered slopes of the Mont Blanc massif. Below, one can see much of the Chamonix valley and its houses, apartments, and roads. On this 2021 race day, however, the only view was the inside of a cloud. Rather than the usual fun and flowing trail, we splashed our way through ankle-high puddles and tried our best not to slip in the mud.
Soon, I was soaked. My hip flexors tightened, and lifting each leg became quite painful. The trail seemed to drag on. I kept glancing at my watch to see how close I was to finishing under 7 hours. 
Despite the weather, hundreds of cheering supporters still lined the trail. Their enthusiasm and support inspired a sense of collective achievement, driving us on. This energy from the Chamonix community and its friends is one of the things that makes the Mont Blanc Marathon so special.
Finally, as I rounded a corner, I saw the finish line in the distance, a few hundred meters away. This final leg passed in a blur of wind, rain and happy faces lining the trail. 
Crossing the finish line at Planpraz, I felt a mixture of pride, joy and relief. The Marathon du Mont-Blanc was my first-ever marathon. In fact, it was my first-ever trail race! It was a moment of overcoming, a milestone in a difficult period, and something I'll always remember. I'm sure I wasn't the only one who shed a few tears.
We've all been through a turbulent journey this past year and a half. For many of us, getting out on the trails and simply putting one foot in front of the other has made it easier to cope with all the uncertainty and isolation. Trail running connected us to both our bodies and to the natural world near our homes. Coming out of isolation, it then served to reconnect us with friends. With the relaunch of trail races, we are once again part of the global trail running community.
A few weeks after the marathon, I was watching England's football team on TV with my family. (Soccer, to our American readers.) It was their first time in a major semifinal for 25 years. The words, "Football isn't important" were overlaid on a montage of news flashes from the last year of lockdowns, full hospitals and empty streets. As the montage ended, the camera panned across a full stadium of football fans, ecstatic to be together to watch their teams play. 
Taken in perspective with the pandemic, it's hard to say that football is important. But the montage was a nod to the collective recognition of everyone in the stadium and the watchers at home that the important things in life aren't simply the bare essentials that keep us alive. There is more to life. 
We all need consistency and a sense of connection. For a small but growing number of us, trail running gives us both of those things. 
I didn't understand why football matches had been allowed to continue during the pandemic, until I witnessed that moment of collective joy. In just the same way, I didn't understand how important trail running was to me, until crossing the finish line of the Marathon du Mont-Blanc. 
What things have you realized are important to you, after this past year?
A big thank you to Doug Mayer and Steph Lefferts for converting me into a trail runner, and to Steph for her excellent coaching and advice in the lead up to the race. Thanks too, to Mark Goodwin for strength training, David Thexton for joining me on training runs in the rain, Neil at Clinique du Sport for keeping my knees moving and Chris Pickering for helping me to discover what is important to me.
About Jen Stretton
Originally from the UK, Jen has lived in Chamonix for the past five years. She is a hiking guide and works for Run the Alps in sustainability and marketing.