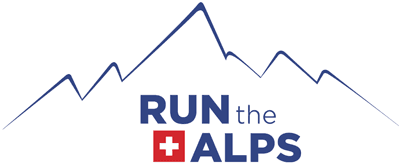 The Long and the Short of the Tour du Mont-Blanc
The Long and the Short of the Tour du Mont-Blanc
The Tour du Mont-Blanc is world-famous, drawing hikers and trail runners with its mix of beauty and challenge amid French, Italian and Swiss cultures.
As guests plan guided or self-guided Run the Alps trips, we often get asked something along the lines of, "I'm not as strong a runner as my partner. If I take advantage of options to shorten the days, how long will each day be?"
Good question – and here's our answer!
How to Shorten the Tour du Mont-Blanc
By using the region's public transport and cable cars, it's easy to shorten many of the days. The standard Tour du Mont-Blanc is just over 100 miles long with over 30,000 feet of climbing and descending, but it's possible to halve both those figures if you use all the options to shorten the route.
Here's a chart that shows exactly those options, and the distance and climbing for each of the shortened days: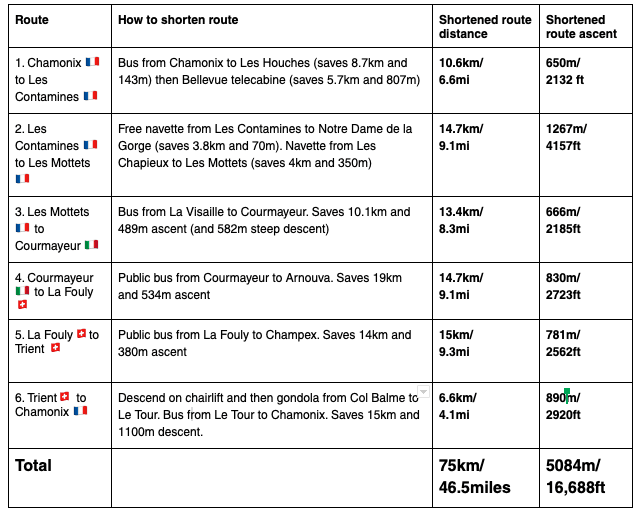 There's one important caveat here: the transportation options shown above do not always run the full duration of the Tour du Mont-Blanc season. So, if you are doing the route in late June or, say, early September, check with the local transport companies. If you are a Run the Alps guest, you can simply check with us directly for the latest information.
Here are a couple of graphs to show the savings each day if you take the options in the table above:
But what if I want to make the TMB longer?
It's also possible to make some stages longer if you have the fitness and mountain experience. Here are a few ideas, although please note that Run the Alps doesn't provide route information on these extensions, if you are running on our self-guided tour.  
Pyramides Calcaires: When you enter Italy over the Col de la Seigne, trend leftwards to the limestone pyramids. This is the "new" route of the UTMB®, since 2017.
Tête de la Tronche, Col du Sapin and Col Entre Deux Sautes: This is an absolutely stunning, longer route between Rifugio Bertone and Rifugio Bonatti in Italy.
Cabane d'Orny: An excursion between La Fouly and Champex-Lac, Switzerland, to a Swiss mountain hut at 3029m.
Fenetre d'Arpette: A more technical route between Champex-Lac and Trient, Switzerland. This involves a steep rocky trail over a pass – the "fenêtre" – at 2665m.
Lac Blanc: From the Col de Montets in France, it's possible to climb a little higher to this lake in the Aiguilles Rouges mountains, which has an amazing view of the Mont Blanc Massif above Chamonix.
There you go! Whether you want your own Tour du Mont-Blanc to be a bit longer, or a bit shorter, we hope these suggestions are helpful.
Happy trail running!
Run the Alps offers both Guided and Self-guided Tour du Mont Blanc tours. Please contact us for more information.