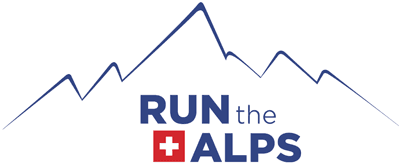 The Restless Energy of Marco de Gasperi
The Restless Energy of Marco de Gasperi
Run the Alps' Emmie Collinge describes her experiences meeting and running with the impressive Marco de Gasperi, who has developed some exciting new trail races in Valtellina, Italy.
Raised on a diet of mountains and fresh air on the outskirts of neighboring Bormio, a town in Northern Italy near the Swiss border, 39-year-old Marco de Gasperi's running career followed a fairly direct, albeit mountain-orientated trajectory. As a teenager he was winning races left, right and center, conquering peaks that left grown adults quaking and accepting invitations to compete in prestigious races. Today, while he's still arguably one of the world's strongest runners, he puts more energy back into the sport that he's been such an integral part of for over two decades.
Such is the restless creativity coursing through this lithe runner, you almost feel guilty for making Marco stand still. But standing he is, alternatively clapping for the rest of the finishers and enthusiastically gesticulating with his hands towards the horizon. He's run almost every single mountain in sight, he tells me and Phil (Emmie's partner and Run the Alps' Phil Gale). And that one over there, he points, is the highest one in the Ortles—the one he recently set a new record on, one which he'd dreamt of as a boy.
The view is amazing from up here, one of those days when the blue sky is wholly untouched, not a single wisp of a cloud in sight. Now that I've recovered from the exertion of just moments before, where I'd gasped for breath as I scrambled up towards the finish arch, the air feels wonderfully fresh, although my balance is still a little off. The podium for the inaugural Santa Caterina Vertical looks even more precarious when you're standing on it, but Marco generously gives me a helping hand.
Masquerading as both competitor and organizer today, Marco's face no longer reveals the effort he put in, grinding his way across the gradient in the 30˚C heat to the finish at 2,700 meters. We're both more than satisfied with our second place finishes, and he willingly helps to map our route down from the peak we're perching on, as we look for the most runnable tracks down to the small town of Santa Caterina.
Quickly establishing himself on the international mountain running scene, Marco proved his capabilities time and time again across a vast spectrum of distances since the mid-'90s. In an almost unrivalled feat, he's taken home a total of 23 medals at the World Mountain Running Championships, including 6 individual gold medals, having won his first gold as a junior in 1996. But it's the authentic Swiss Alpine races like Sierre-Zinal that have really captured his passion, a race that he has won three times. "In Europe there are few better places to run in the mountains than the Swiss Alps. They've retained a superior respect for nature that just doesn't exist elsewhere, apart from some places in Austria. I mean, St. Moritz aside, the harmony between nature and humans has been treasured, while so many others places, particularly in Italy, have been ruined."
Phil and I first met the very amiable Marco on his home turf. Just 45 minutes down the road from his home in Bormio lies Sondrio, a fairly sophisticated Italian city at the base of steep, terraced vineyards that climb up to more than 2,500 meters. The city's main square had been taken over by the 2014 Valtellina Wine Trail, and was home to a spacious marquee for the post-race meal, a large SCOTT Sports trailer and a number of other stalls representing various other brands. Most of them, we realized, were Marco's own sponsors.
The 2015 race marked the third edition and its expansion to include three different distances (11 km, added to the 21 km and 42 km). The vineyard-traversing, castle-encircling race is organized by Marco and a handful of friends including fellow elite mountain runner Emanuele Manzi, with the help from tourist organizations, wine makers and local producers. "I really didn't consider it a very good idea at first," says Marco with a laugh. "It kind of just started as a bit of a bet. But I knew we had to be realistic. The idea was born when I was staying in France's Champagne region. I went out for a run and saw an arrow on the ground pointing into a vineyard and cantina. When I got back to Valtellina I told some friends who run restaurants in Chiuro and Tirano, and they pushed me into organizing it."
The concept of the Wine Trail has rapidly taken off, with all three distances selling out far before this year's event. Why is that we wonder? "There's a long tradition of racing here in Valtellina, and the Wine Trail taps into that," he continues. "It's important that all the locals feel that it's their race, but, naturally tourism is also important too. We don't do these races to make money; they're basically little bets of things we'd always wanted to try on foot ourselves, and they're a great way to spread the word about Valtellina."
The second time we met Marco was in March, our first foray further up the valley to Santa Caterina Valfurva, a place that Phil is more than familiar with as it marks the start of the notorious Passo Gavia, a popular haunt with cyclists. At 1,700 meters above sea level, it's a resort that is known for its alpine and cross country skiing, less so for its running. It was another bright day for the 14-km race up and over the ski tracks, weaving a loop around the roof of the town.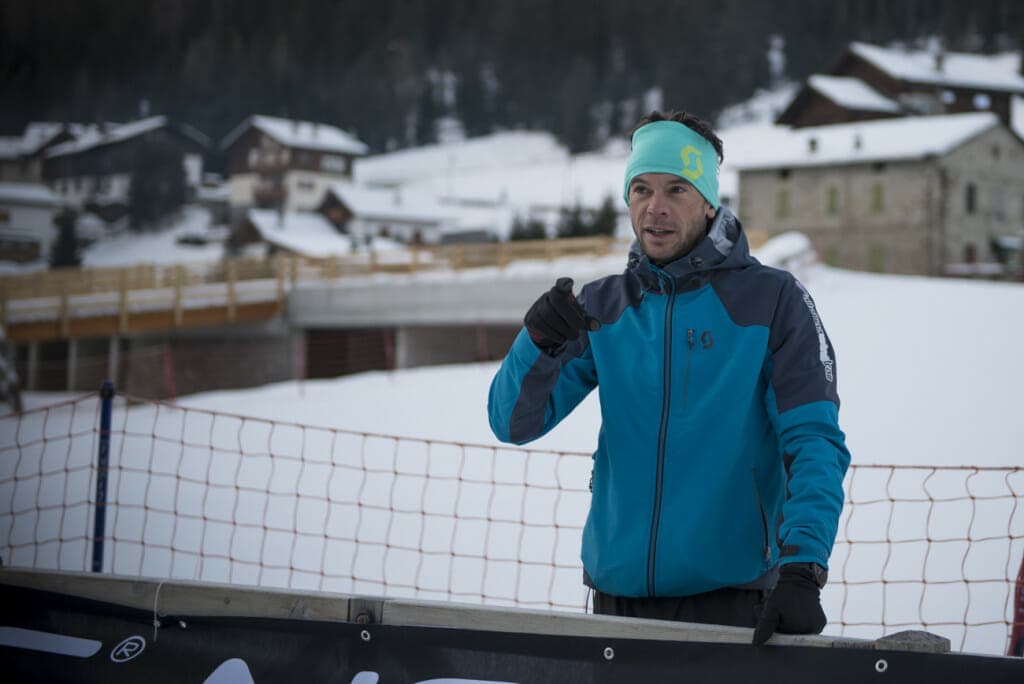 The third time we met was in April at the Valtellina Tube Race, and by then he was greeting us like old friends. Climbing 2,700 steps up the side of a water tube, this race garnered wide media attention at its inaugural staging this year. It became the talk of the valley and far further afield, living up to its billing as the 'hardest kilometer in the world' with an ascent of over 500 meters in its 800 meters of length. Anyone who took part could assert that with an average of 60% gradient it was a tough one, and knowing that this was one of Marco's training haunts, we got an insight into the strength that this man has, a man that was rapidly becoming a friend of ours.
This summer, as he staged the first running of the Livigno Sky Marathon, a route that hovers around 3,000 meters and will join the World Skyrunning Series in 2016, Marco graciously invited us to be among the first few to trial the route. However, while his other races had kept me in my comfort zone, this one looked likely to test my limits, and Marco was forced to hold my hand and deal with my tears as my own lack of mountain confidence came the fore. His own decades spent in the mountains mean he moves deftly, traversing with ease, and he's a natural guide. Offering encouragement and support, he smiled warmly, declaring that he's spent the past few years helping Elisa Desco, his partner, to improve, and now it's my turn.
Marco laughs again, looking out over the view at the top of his all-new vertical kilometer, as we question why he keeps organizing such novel races, ones that have such an innate ability to tap into the psyche of runners, embedding themselves in their hearts. For him, growing up surrounded by Northern Italy's strongest mountain athletes, the motivation to run was always there, as was the love for the outdoors and for his valley. For anyone who has met Marco, there is one thing that stands out as his true character—aside from his open manner and making time for everyone—and it's the phrase inscribed on a bracelet he wears declaring, "Skyrunner inside."
Here are the events mentioned above organized by Marco de Gasperi:

Santa Caterina Winter Trail, March 2016
Distance: 14 km
Just up the valley from Bormio, the Santa Caterina Winter Trail had its inaugural race in 2015. A romp through thick snow for the first kilometer, it then headed onto the intimate resort's network of cross country ski tracks, before heading further up and along the opposing mountainside.
Valtellina Tube Race, April 2016
Distance: 1 km
Perhaps the valley's most talked about event of 2015, the inaugural Valtellina Tube Race witnessed a flurry of feet as hundreds of competitors geared up to climb the 2,700 steps.

Santa Caterina Vertical, June 2016
Distance: 3.1 km

Livigno Skymarathon, June 2016
Distance: 42 km
Both entering the Skyrunning World Series, these two events aren't for the faint-hearted or the weak-legged, but the views and the satisfaction are worth every ounce of exertion.

Valtellina Wine Trail, November 2016
Distance: 11 km, 21 km and 42 km
Three point-to-point races all ending in Sondrio's main square where you'll feast on local delicacies and delectable regional wine until all the finishers are in. The perfect way to end any running season, but watch out for those vineyards; they're tougher than they look.