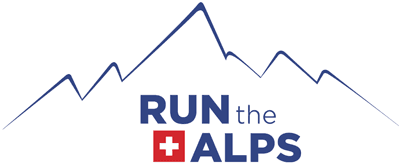 2023 Edition: The Trail Runner's Underground Guide to Chamonix
2023 Edition: The Trail Runner's Underground Guide to Chamonix
Home to hundreds of kilometers of single track trails, vertiginous climbs, cozy mountain huts, and Europe's premier trail races, Chamonix, France really is the world's trail running capital.
But, what to do when you're in town? Run the Alps polled our guides, staff, and other trail running friends in the valley to assemble this useful guide.
Where's the best little-known trail run? Where's the perfect spot to grab a healthy lunch? Where's the place to escape the chaos of town for an afternoon? Here are a few ideas to get you started – a number of which are just a little off the beaten path. We hope it keeps you happy, healthy, and fully caffeinated during your time visiting our home base.
Enjoy – and drop us a note or comment below if you have suggestions or updates for us– and while you're wandering around town, check out our reviews of our favorite cafes in Chamonix! Want to have your very own self-guided week of trail running and racing in Chamonix during the Mont Blanc Marathon series? Sign up for our self-guided trail racing tour in Chamonix.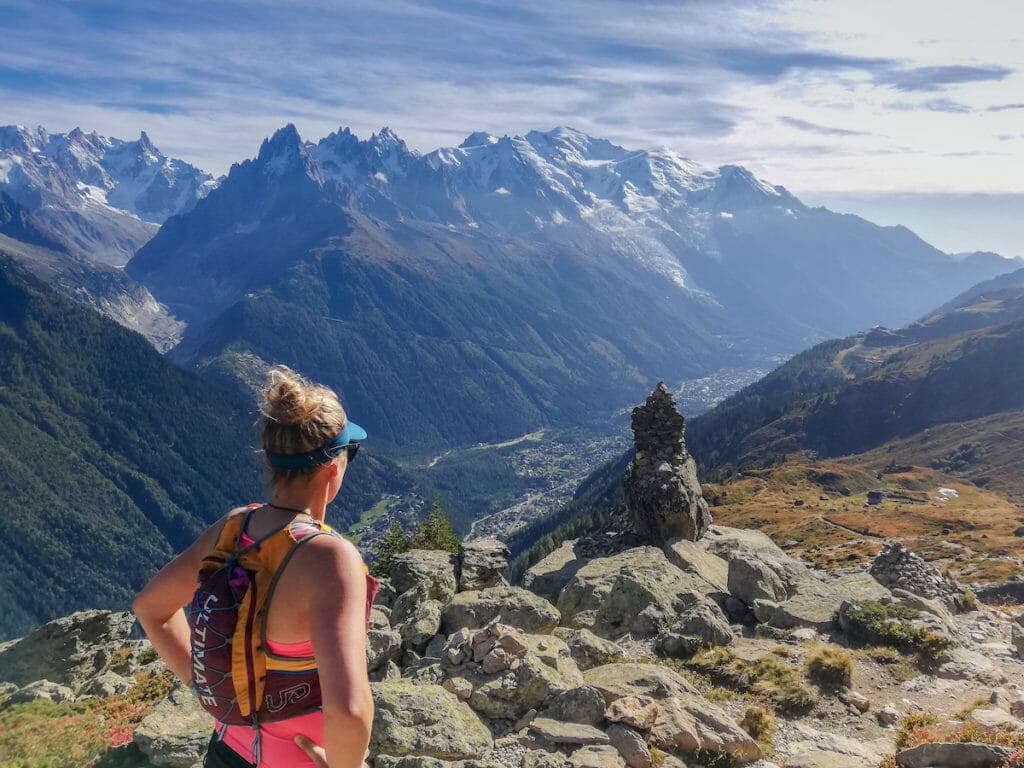 Where to Stay in Chamonix: The Hub Chamonix 
If you're a trail runner, The Hub Chamonix is the place to book a night. Okay, we're very biased– Run the Alps is a partner in The Hub, and we use it for our self-guided guests who are looking to get to know the Chamonix trail running scene. What is it? Simple: a deluxe chalet located in a quiet neighborhood a 15-minute walk from Chamonix Sud. There are private rooms, a shared bunk space, large communal area– and outside is a large, secluded yard and (yes!) a hot tub.
The Hub Chamonix is overseen by two Community Managers who are both trail runners themselves. You'll meet casual trail runners, pro athletes, and folks in the business of trail running. At the Hub, there's gear to borrow, and plenty of good ideas from the Community Managers and other trail runners passing through. In short, it's a great place to get inspiration, information, rest and have a little fun while you're trail running around the Chamonix valley.
Getting Around in Chamonix Without a Car
Here's a secret: hitchhiking is really easy in the valley. There's a good vibe in Chamonix valley that extends to getting rides when in need, too. (True: Run the Alps' Doug Mayer was picked up within a few minutes this winter… by Chamonix Mayor Eric Fournier!) P.S. In French, it's called "Faire Le Stop".
---
Where to Run in Chamonix Valley
With hundreds of kilometers of trails in the Chamonix valley, it's hard to know where to start. Problem solved– Run the Alps has curated a half dozen of our favorite, classic trail runs in the Chamonix valley, with our friends at FATMAP. The High Trail Runs of Chamonix is a public online guidebook complete with FATMAP's beautiful mapping and advanced tools. Plus, the maps can be downloaded for online use. Check it out!
Quietest Trail Run
Escape from the crowds by running to Refuge Möede Antherne via the Brévent lift, or take the train to Le Buet and run via Col de Salenton. (Take in the 360-degree view from the summit of Le Buet, as an out and back, if weather permits.) Run down to Servoz after, and take the SNCF valley train back to town.
Best Local Ridge-Line Run
For a sweet high altitude ridge line run without hammering your quads with vertical, head on bus or train to Les Houches. Take the Bellevue lift up and coast along the ridge to the Prarion summit and back for several kms of smooth, quick terrain with stellar views.
Best Little-Known Climb
Runners love to head straight up the famed "Kilomètre Vertical" when they get to Chamonix (and don't get us wrong – we love the VK and are on it all the time!), but there are so many more trails to check out. Want a similar climb with far fewer people? Just a short bus or train ride to Montroc, you can climb the Aiguillette des Posettes. It's steep in places, but has great footing, and the view at the top of the whole valley is stunning. Oh, and the Mont Blanc Marathon comes down this way, before its final climb to Flégère and Planpraz.
Little-Bit-of-Everything Trail Run
For a bit of everything you'd imagine an epic trail run to be – exposure, mini technical bits, views, undulating balcony, away from the crowds – check out Sentier des Gardes route right above Chamonix.
Best Glacier Viewpoint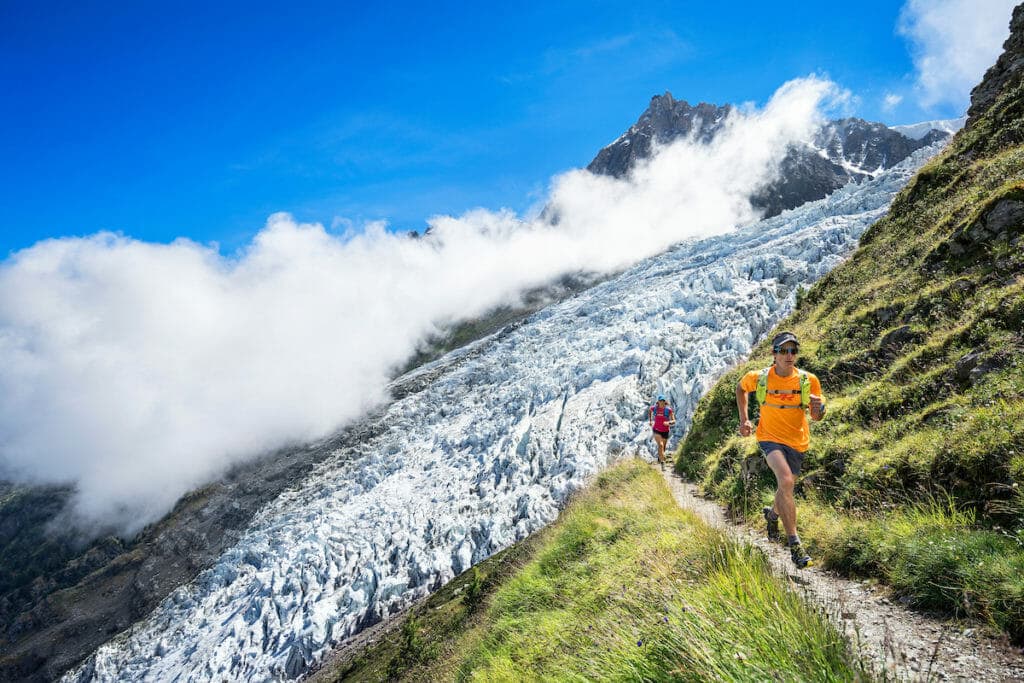 Hike or run up, and then up some more, to La Jonction. It's the meeting point of the Bossons and Tacconaz glaciers, and is a remarkable, wild-feeling location high on Mont Blanc. On the way up or down, drop by the little Chalet des Pyramides refuge for a drink, or lunch.
Trail Running Beta
Check out the town's trail running site, Vallée du Trail. There's links to area races, suggested running routes, and updates on conditions. Run the Alps and FATMAP have also produced a small, free booklet listing popular trail runs around town. Copies are available at The Hub Chamonix, and often at Moody Coffee Roaster. There's also a new web site in town, Chamonix 360, which offers a developing list of trail running route options.
How to Join a Run
Many of the shops in town offer free trail runs with their ambassadors. Run with Patagonia ambassador Chloë Lanthier or join a run with The North Face, Terrex, or others. Just drop into their stores and ask! The energetic Jana Gibalova organizes runs each week through Wild Trail Chamonix at no cost, which is a great group where you can meet local runners and get more insider information! If you're in town for the last Wednesday of the month, head to Big Mountain bar for their sociable Trail Club run – all runners get a beer on the house after the run!
---
Best Places to Eat and Drink in Chamonix
Best Beer in Town
Head to Big Mountain Bar on Avenue Ravanel le Rouge. This excellent craft beer bar offers 12 beers on tap, eight of which are brewed by Big Mountain in the valley, plus a huge selection of other drinks. You can also get tasty platters and pizzas if you're in need of a quick bite.
Best Tarts in Town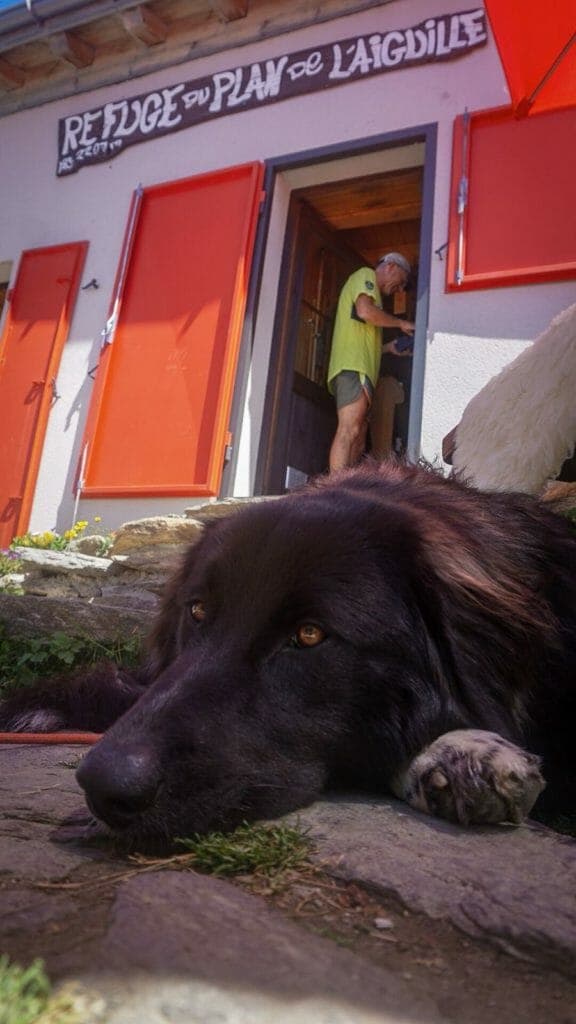 You'll need to run up 1100 meters to Refuge du Plan de l'Aiguille. But it's worth it. Claude and his crew make a variety of pies fresh every day – apple, apricot, raspberry, blueberry, lemon, cherry, among others. While you're there, say hi to their playful dog Belle for us.
Best Cafe to Quietly Work
Head to Galerie Café des Aiguilles on Rue des Moulins. There's great food and coffee, beautiful art that changes every few months, and – always a priority these days – good wifi.
Best Picnic Spot
Spend the afternoon lounging in the sun and watching the paragliders land on Savoy field, the grassy meadow at the bottom of the Savoy Ski slope between Rue Joseph Vallot and Rue Mummery. On the way over, make sure to grab salads, wraps, or bowls from our favorite healthy lunch spots, Ela. (See below!)
Best Healthy Eating Spot: Ela
When you've had enough fondu and raclette, head to the tiny Ela, where the hard-working staff churn out enormous quantities of super-healthy salads, wraps and more. (We recommend the falafel wrap!)
Best Burgers in Chamonix
Everyone loves Poco Loco for its crazy ambiance– Chamonix's smallest hole in the wall is so narrow, sometimes you wonder if it makes more sense to climb out of the second story window when it's time to leave. But for the best burgers, our choice is Maison du Burger, on Rue du Docteur Paccard.  You'll be overwhelmed by the menu choices, but you can relax and think about the options from their chairlift seats out front.
Best Fine-Dining Splurge
For great local Savoyard cuisine, try La Calèche, or for something a bit more modern and intriguing, head to Run the Alps staff favorite, Mumma— a wonderful spot for delicious fusion cuisine. They serve excellent cocktails, too!
Best Down Home Eatery
For delicious, satisfying, unpretentious dining, look no further than Bighorn Bistro and Bakery. They offer breakfast, lunch, and dinner with classic American dining that feels reminiscent of ski lodges you'd find in Big Sky or Jackson Hole. For US visitors, it's a little piece of home on your European trail adventure in Chamonix!
Best proper English breakfast
Refuel after a big morning on the mountain with options for a full English breakfast, burritos, smoothies, muffins, and cakes for a decent price at the Blue Bird Cafe in Chamonix Sud. Enjoy your food while listening to an eclectic music selection – including a lot of David Bowie. It's easy to spot: located opposite the Aiguille du Midi Lift station.
Must-Have Cup of Coffee
Chamonix has no shortage of comfy cafes. But our very favorite spot in town is Moody: it's got the best coffee around and delicious treats, and Ian and Georgina are always friendly, even on the busiest of days. It's a cozy joint, which means seating is sometimes full, but you can always grab a cup to-go or hang out in the courtyard outside.
Best trendy eatery
When it comes to trendy food and drink in Chamonix, look no further than Caphorn Restaurant and the adjacent Bar du Moulin. Tucked away right next to the river, both venues offer a stunning view of the Mont Blanc glacier with top-tier Asian-French inspired plates and cocktails in a kitsch-y atmosphere.
---
Other Things to Do in Chamonix
Escape From it All – Right in Town!
Getting a little overwhelmed by Chamonix's sometimes hyper social scene? Just a minute above the St. Michel church are the Japanese Gardens, known as Les Jardins de Fujiyoshida. The quiet, well-maintained space is just 100 meters from the tourist office, but no one will find you. Head to the Tairraz Crystal Museum and you're there. Bring a book!
Body Repairs
Need a nagging hamstring or achilles worked on? Neil and the gang at La Clinique du Sport can help. Many of them are trail runners, too – Neil has run UTMB, and most of the other folks regularly drop into trail races around the region. Everyone there is active in one form or another!
Best People-Watching Location
That's easy in Chamonix, but here's our pick: L'Atelier Cafe. Hang out and watch the scene go by. There's free wifi, and a really nice staff. (Say hi to Yohann for us!)
Best Place for a Sports Massage
Run the Alps works directly with two great people in town, Fran Waes and Scott Cornish. Both are certified, well-trained, and highly regarded to help you deal with aches and pains before or after that long run or race. You can contact Fran at +33 610 73 83 34 and Scott at +33 754 15 66 86. (Psst: Fran and Scott will offer discounts if you mention Run the Alps.)
Get in Some Cross-Training or a Rainy-Day Workout
The Centre Sportif, just out of town towards Les Praz and not far from the market square called Place du Mont Blanc, is excellent value. There are indoor and outdoor pools (including a great water slide!), a weight room with treadmills and bikes, plus a sauna and steam room. Great for a rainy day when you want to burn some calories or a non-impact recovery session. Since the start of the COVID pandemic, regulations vary at the Centre Sportif, with the climbing wall closed, outdoor swimming closed, but most other facilities open on a limited basis. Please check with the Centre Sportif for up-to-date news.
In need of speed?
The Centre Sportif also has a high quality athletics track, which is open for public use. Get in a quick speed session or finish your long run there with some strides. Just don't be confused if your splits are a little quicker than usual – the track is only 300 meters.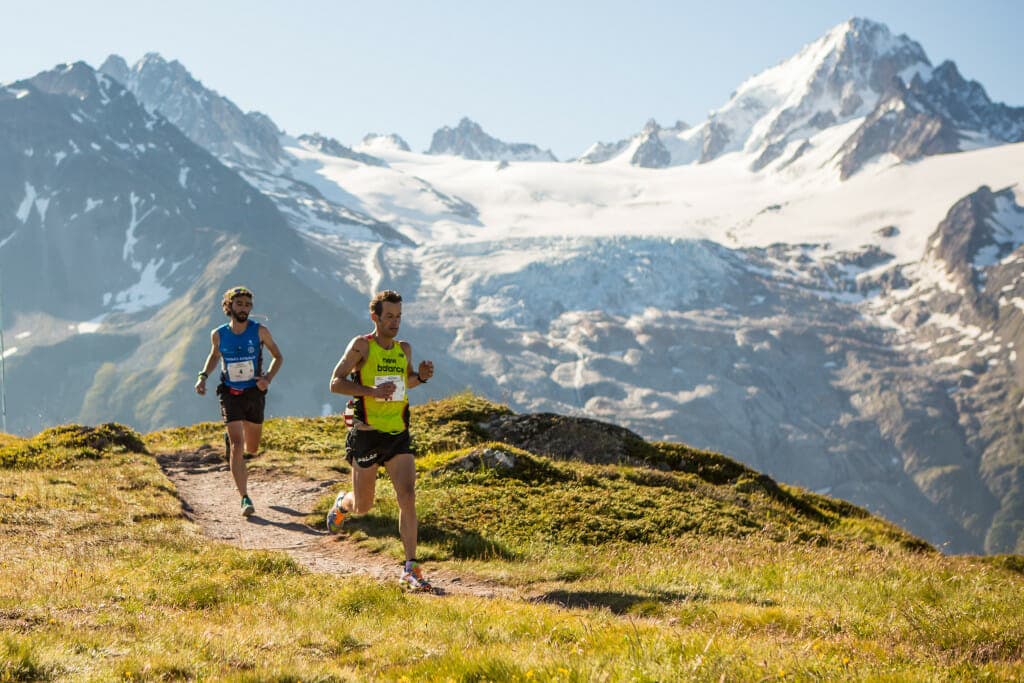 Amusement Park Distraction
Got a kid… or a kid inside? Get your mind off of race week for a few hours at the Parc d'Attractions, Chamonix's small amusement part just across from the Train du Montenvers Mer de Glace. Did someone say summer luge?!
Free Museum Entry
For a low-key afternoon, head up to the Col des Montets, the pass linking the Chamonix Valley and the Swiss Valais region. Grab a coffee in the Aiguilles Rouges chalet café and check out their botanical museum where you can learn about the local Alps flora and fauna – free of charge!
Must-See Hotel
Take the train from Chamonix to Le Buet and explore the trail network around the Vallée Bérard. There's a sweet trail (with plenty of opportunities for blueberry picking!) from the train station to the Refuge Pierre a Bérard, where you can enjoy a cup of coffee and a cake. On the way back, stop for a drink at Hotel Buet, an eccentric establishment that has been in the hands of the Chamel Family for over 130 years.
Escape the Buzz of Chamonix in Saint Gervais
Chamonix's quiet neighbor, and the town that actually owns Mont Blanc, Saint Gervais should be on every trail-runner's must-see list. Some describe it as the town Chamonix used to be 50 years ago – it has a very French heart at its center, with a charming main square buzzing with cozy cafes and restaurants. It also has a strong trail-running culture – it's the second major stop on the UTMB!
And while you're in Saint Gervais…
Make sure to check out Ferme de Cupelin, a charming converted farmhouse hotel, and one of the best restaurants around. The owners, Olivia and Romain, put on an incredible standard of cuisine that's served in the cozy hillside dining room overlooking Saint Gervais and Mont Blanc. The food is delicate, flavorsome and clearly pushing for a Michelin star.
---
A Few Miscellaneous Trail Running Tips
Some of the best running in Chamonix – is a bit outside of town, farther afield in the Chamonix valley! Get away from the crowds and check out the trails around Servoz, or plan a route back to Chamonix via Flatière or Brévent. Up in Le Tour and Montroc, run the Peclerey loop above the historic Le Planet residence, or the quiet trails on the side of the Aiguilette des Possettes. If the weather is bad, head to the Petit Balcon Sud or Petit Balcon Nord, both sheltered in the forest. There are loops of a variety of distances you can do under the cover of the trees. Don't forget you can run point-to-point and get the train back to Chamonix from down the valley – or even over in Switzerland!
… And when you are running
Here's our secret to trail running in Chamonix: We never run. At least, never uphill. Take solace in the fact that you can hit a sub 1-hour Vertical Kilomètre with determined hiking!
Special thanks to our contributors: Alister Bignell, Robbie Britton, Simon Conroy, Jen Dickinson, Emily Geldard, Misha Gopaul from Fatmap, Simon James of Run the Wild, Julia Maxwell, Doug Mayer, Charley Radcliffe of The North Face/Chamonix, the crew at The Hub Chamonix, and Giles Ruck.