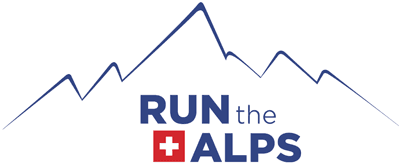 Hats, Sunglasses, and Gaiters for Trail Running in the Alps
Hats, Sunglasses, and Gaiters for Trail Running in the Alps
Gear to Keep you Covered
Trail running is often said to require little or nothing more than a pair of shoes. But we'll admit to owning and using a bit more gear than that. Some of our most important gear is protective – it keeps us covered in a variety of conditions, including sunny summer days. 
But there are an overwhelming number of choices– the paradox of choice can cause paralysis. We get it! So, whether you're running in the Alps on your own, or joining us on a guided or self-guided Run the Alps trip, we've collected advice and gear recommendations from Run the Alps guides, staff, ambassadors, and friends with extensive experience running trails in alpine environments. 
From head to toe, here are a few key pieces to consider for trail running in the Alps: hats, sunglasses, and gaiters.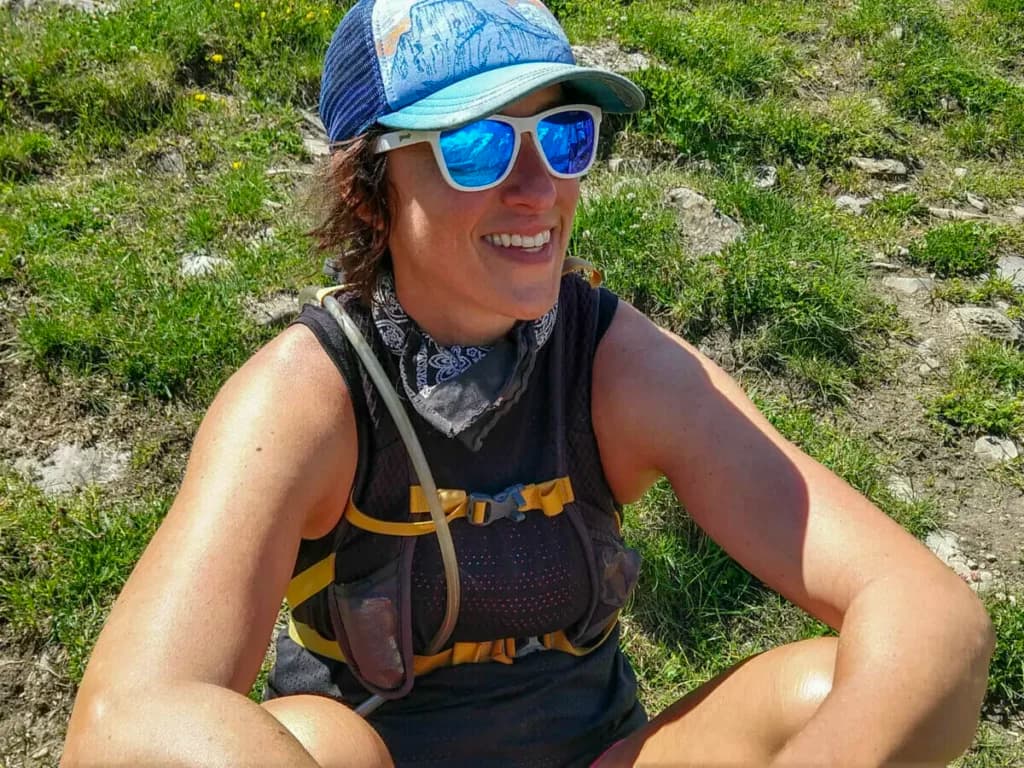 Running Hats for the Alps
Run the Alps friend and legendary US trail runner Buzz Burrell takes running hats seriously. "Hats are a big deal," he says. "I don't walk out the door without wearing a hat."
Why are hats such a big deal? Sun protection. 
The sun is strong here in the Alps and you can spend long hours in direct sunlight. Plus, stopping to reapply sunscreen to a sweaty face isn't particularly fun and, frankly, doesn't always work that well.
Keeping it short and sweet, these are the primary benefits of a running cap:
Protecting your face, ears, neck, and scalp from the sun
Wicking moisture to keep sweat out of your eyes
Keeping rain off your face
Blocking the sun from your eyes
Providing warmth during colder runs
Some runners will never be "hat people", and hey, we respect that. However, if fit or comfort is your issue, there are a variety of lightweight running hats that have good breathability and moisture wicking qualities.
And on those colder mountain days a warm running hat like a beanie or a headband is a must.
What to Look for in a Running Hat
If you're in the market for a new cap, here's a few things to consider to find the best running hat for you:
Lightweight: All our experts mentioned the importance of weight when it comes to a running hat. The perfect weight will depend on personal preference and how much coverage you want.
Fit: Many running hats will have a range of adjustability for size. Some runners prefer a bit more structure to their hats while others want more flexibility and packability.
Sun coverage: not all hats are the same when it comes to sun coverage. A wide or full brim or neck cape will have the most sun protection, but those features may add weight, reduce your field of vision, or not be your style. 
Breathability: Most running caps prioritize breathability with moisture wicking fabric, mesh panels, or ventilation ports.
Coverage: If your dome is, shall we say, challenged for coverage, as it is for some older runners, make sure your hat avoids a mesh top, which can lead to a checkered sunburn pattern on your scalp that is both entertaining for friends and partners and potentially sensitive or even painful. 
Our Favorite Running Hats for the Trails in Summer
Over the years, our guides and staff have put numerous running hats through the paces in the Alps and around the world. These are the ones that have gone the distance.
This might be one of the best running caps ever. OK. Yes, we're biased, but we take pride in the amount of thought and effort put into the design of this hat. This cap is lightweight and breathable for hot summer trail runs, but stylish enough to rock at even the poshest Chamonix café. The topo line design comes from the iconic Possettes ridge above Le Tour, France in the Chamonix valley, giving you that special connection to the Alps wherever you go.
The flexible bill and micromesh fabric also makes the hat foldable, breathable, and easy to pack.
The Outdoor Research Sun Runner Cap comes with a detachable cape to shield the back of your neck and ears from the sun. Run the Alps guide and Alps resident Emily Geldard finds that the "desert flap" not only keeps the sun off the back of her neck, but also keeps her cooler by fanning her as she runs. 
And here's a bonus tip from Emily: opt for a pale colored hat to reflect the sun. 
Patagonia's Duckbill Trucker Hat is a favorite among trail runners, including Run the Alps content producer Kim Strom. The lightweight trucker hats use 100 percent post-consumer recycled nylon that's quick-wicking, breathable, and packable. The cap provides enough structure to feel like a classic trucker hat, but the flexibility to roll up and stuff into your running vest.
Admittedly, we're biased here, too, as Insane Inside creator Martina Valmassoi is a friend of ours at Run the Alps. The Salomon athlete and Italian skimo star designs all these caps herself, and you'll see them all over the Alps on runners of all skill levels. With names like "Tag a Peak," "WTF!" and "Show your Soul," her designs are lively, fun and simply make you smile! Inspired by Italian cycling caps, they are all ultra-lightweight and perfect for long trail runs. 
Another of Kim's favorites isn't technically a hat, but serves the same purpose. "If you have a tiny head, sometimes trucker hats block your peripheral vision," she says. "The visor has a really short brim just enough to shade your eyes but not obstruct your vision."
The Advisor is also a win for those hot headed folks who want maximum ventilation – it's hard to beat being completely open. The fast drying visor features an integrated sweat headband and reflective trim as well to keep you visible and keep the sweat out of your eyes.
Who says you can't incorporate the latest fashion trends into your running style? The Vaga bucket hat is a favorite of Run the Alps guide Sam Hill. The bucket hat style provides 360 degree uv protection and has an adjustable toggle to fine-tune the fit. The UK-made hat is flexible enough to fold up and fit in your pack, but Hill appreciates the hat's ability to maintain its shape as well.
Plus, the hat comes in a variety of colors to suit your personal style.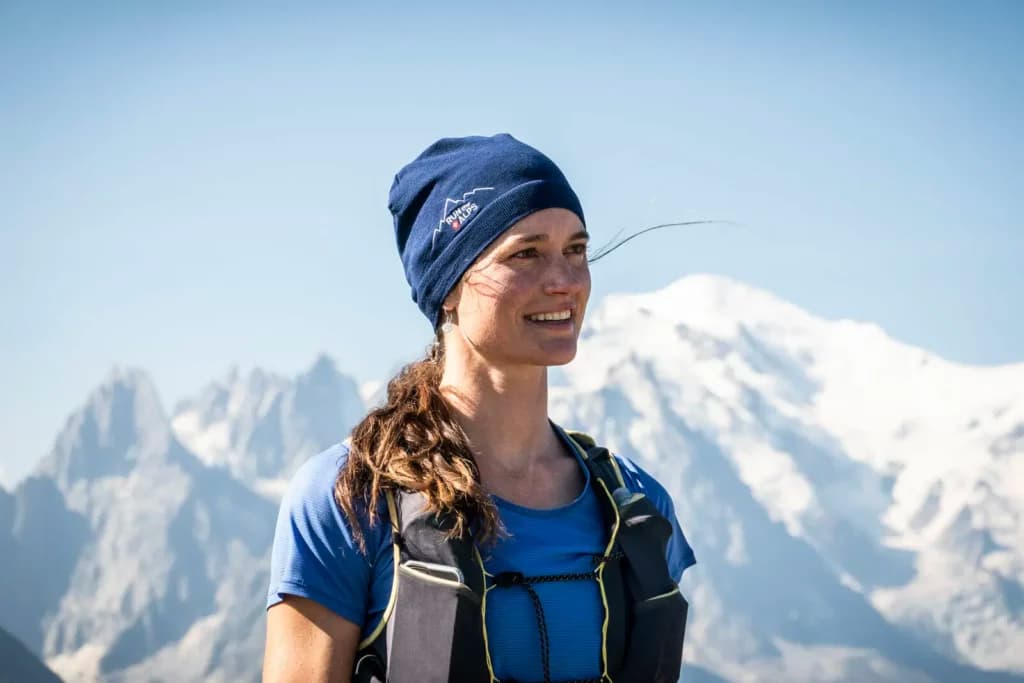 Our favorite option? The Run the Alps Breezy Mornings Merino Beanie, of course. This UK-made merino beanie hits the sweet spot balancing cozy with thin packability. Made of 75 percent organic merino wool, the beanie is breathable yet warm, wicks moisture to keep your head dry, and is odor-resistant.
Merino is our top choice for running beanies, and this is a super thin and lightweight merino from Icebreaker. It's barely there, breathable, wads into even the smallest pocket, and is great for year round wear.
Running Sunglasses for the Alps
When you first hit the trails in the Alps on a sunny day you'll quickly notice the sun is bright. At points, eye-wateringly bright. Don't forget your running sunglasses.
We won't get too preachy about eye protection from harmful UV rays, but keep in mind: the sun gets stronger the higher you go. Many trails in the Alps go above treeline, and stay there for the views, meaning strong sun and little shade. Add in reflective snow and light-colored granite and there's a whole lot of brightness that can damage your eyes.
What to Look for When Buying Trail Running Sunglasses for the Alps
Before we geek-out over running sunglasses tech, let's make one thing clear: you don't need a pair of running-specific sunglasses. At the very least, take your everyday shades to provide at least some limited UV protection.
That said, having sunglasses specifically for running could make your trail run adventures more enjoyable, and we're all for making a good trail run better. These are the features our experts listed as being the most important and beneficial:
Good fit: The best pair of running sunglasses are the ones you forget you have on because they fit your face and are comfortable. Look for frames that fit your head and have a soft nose bridge. Bonus points for flexible, grippy arms.
Full-spectrum UV protection: Full-spectrum or broad spectrum blocks both UVA and UVB rays which can cause long term eye damage.
Good ventilation: When you're working up a sweat, you don't want that sweat fogging up your shades. A pair of sunnies that keep the lenses lifted away from your face will allow better airflow and keep them more fog-free.
Photochromic lenses: Photochromic lenses get darker or lighter depending on the light conditions, which can be especially useful in the Alps where trails regularly shift between shaded forests and fully exposed terrain.
Field of vision: Frameless or half-rim shades will provide the best field of vision and full use of your peripherals.
Style: At the end of the day, the best sunglasses are the ones you want to wear. If robocop-mad scientist isn't your look, choose a different pair you'll feel confident wearing.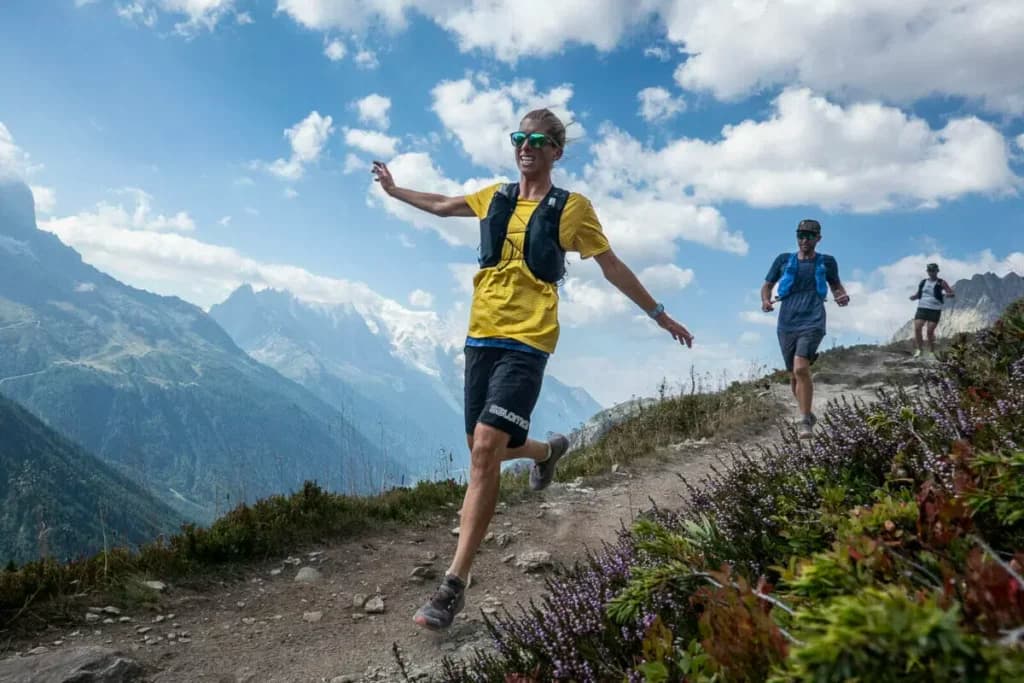 Our Favorite Running Sunglasses for the Alps
Julbo is a favorite sport sunglasses brand among many trail runners, including Run the Alps content producer Kim Strom, ambassador and pro skyrunner Hillary Gerardi, and trail running guide Emily Geldard. Specifically, they all like the Aerospeed and Aerolite for how lightweight they are — just 26 and 22 grams!   
"I'm also a really big fan of Julbo's photochromic lenses that darken when it's bright out," says Hillary. "Having a photochromic lens that isn't too dark when you're in the woods, but then gets darker when you're on top of the mountain, is really useful for me."
Buzz Burrell, Run the Alps friend with decades of trail running expertise under his belt and who always wears a hat on runs, opts for a pair of sport sunglasses from Home Depot. For under $20, Burrell notes that while they aren't as good performance-wise as the Julbo Aero line or Oakley sunglasses, they're also a tenth of the price and still work about 80 percent as well.
"If you break them or scratch them, which is quite possible," says Buzz, "a $150 pair of sunglasses is a hard one to waste, so Home Depot works pretty well."
These glasses are still anti-fog, scratch resistant, non-slip, and weigh 34 grams.
Best Entry-Level Trail Running Sunglasses: Goodr OG
If you aren't sure about committing a lot of money to trail running specific sunglasses or want a more classic, less performance look, Goodr has a host of inexpensive polarized sunglasses in all different colors and styles. As a newer trail runner, both Goodr OGs and Mach Gs worked well while on the trails in the Alps – a tip from the author. 
Similar to the Home Depot sunglasses, they won't perform quite as well as some of the more specialized, high-quality brands, but they're comfortable, have polarized lenses, and look good in any situation– not just running. Plus, at $25-35 each, dropping, losing, or breaking a pair causes a little less stress. 
Run the Alps guide Sam Hill has been testing out SunGod's Ultras while on the trails in the Alps and really likes the fit and design. "They're the first pair of sunglasses I've had for running that just don't bounce on your face," says Sam. "They fit really well and are super light. Plus you can change the lenses on them." 
At 26 grams, they're just as light as the Aerospeeds and have their own photochromic lens tech called 8KO®. The interchangeable lens option also means you can swap out lenses for different conditions or if the lens gets scratched.
What About Prescription Running Sunglasses?
If you normally wear glasses and need a specific prescription, there are options for you too. SportRx offers custom prescription shades for running with popular sport sunglasses brands including Oakley, Smith, Rudy Project, Julbo, Tifosi, Nike, and Zeal. 
Trail Running Gaiters for the Alps
If you've ever had to stop mid-run to get debris, sand, and rocks out of your shoes, the idea of running gaiters may sound ideal. They can be a useful piece of trail equipment to have in your kit, especially if you regularly run in scree, sand, or heavy brush.
If you're the type of runner who always seems to take the trail home in your shoes, trail running gaiters may save your run. In some areas, gaiters may be as standard as sun glasses or a hat, but what about in the Alps?
Do You Need Trail Running Gaiters in the Alps?
We'll cut right to the chase: of the Run the Alps guides and staff we polled, none of them wear trail gaiters in the Alps. In general, they agree that most runs in the Alps don't need trail running gaiters.
If you want to take that answer and continue on with your day, we won't blame you.
However, while hitting the trails in the Alps sans gaiters may be normal, there are a few cases when gaiters are still a good choice.
If you wear gaiters normally: If you're used to wearing trail gaiters, we certainly wouldn't fault you for strapping them on in the Alps as well.
If you constantly kick things into your shoes: If you have a talent for getting things into your shoes while you run and it bothers you, trail running gaiters may be your solution.
Running in snow: Much of the summer running we do at Run the Alps doesn't include much snow travel, but if you plan to get into more high mountain running adventures, gaiters can help keep snow from packing inside your shoes.
Benefits of Trail Running Gaiters
The main benefit of trail running gaiters is keeping your shoes free of annoying debris that can upset your stride or cause you stop to empty your shoe, and they're typically less bulky, lighter weight, and more breathable than standard hiking or snow gaiters
Plus, you have a variety of design options to suit your needs. Some trail running gaiters have easy universal attachments to work for any shoe, while others have brand-specific attachment designs or are fully built into the trail running shoe.
Cons of Trail Running Gaiters in the Alps
The main reasons not to wear gaiters with your trail shoes in the Alps? Breathability, comfort, and price.
Run the Alps guide Emily Geldard notes her main reason for skipping the gaiters is that her feet get too hot and sweaty from the gaiters holding in heat. While trail running gaiters tend to be more breathable than hiking gaiters, it's still an extra layer to collect heat and sweat.
And there's the price. You can pick up a decent pair of running gaiters for $25, but that's at least worth a few stops for tart at one of our favorite mountain cafés.
What to Look For in Trail Running Gaiters
If you're sold on getting some gaiters and want to give them a shot, Run the Alps guide Sam Hill recommends going for a trail shoe that incorporates an integrated gaiter. He suggests the La Sportiva Cyklon, which he uses when going into high mountains to keep out snow or other debris.
If you are going for a separate trail gaiter, Buzz Burrell recommends paying special attention to the durability of any understraps because that's what'll take a beating. He suggests the popular Dirty Girl Gaiters that many trail runners appreciate for keeping out everything from rocks to light snow. They come in fun patterns too.
Get More Gear Guidance
Want more trail running gear tips from Run the Alps guides? We've got you covered. Check out some of our other gear recommendations for your Alps adventures.