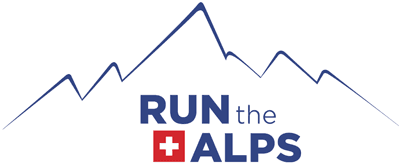 Up—Way Up—in the Dark: Courmayeur's Mont Blanc K1000 Vertical
Up—Way Up—in the Dark: Courmayeur's Mont Blanc K1000 Vertical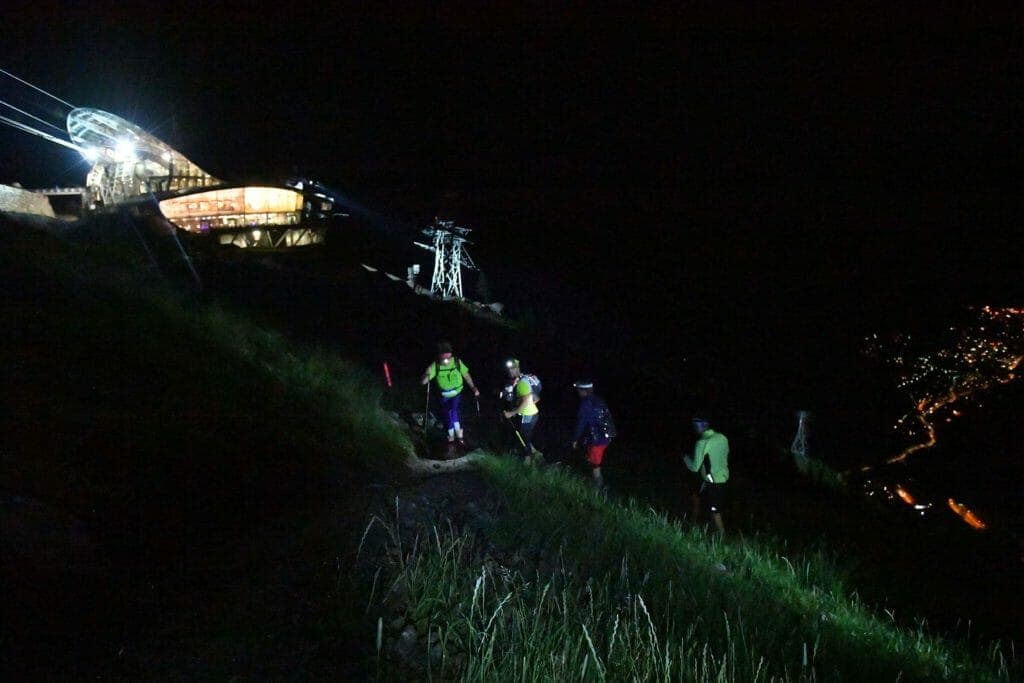 "We will do it in the Spanish way!"
I have no idea what he means, but the race director at the first edition of the Courmayeur Mont Blanc Vertical Kilometer (K1000) is smiling and exuberant, as he explains the course during the race briefing.
Only five minutes of the 30-minute gathering is in English, the rest is in Italian. Becoming bored, I speculate about what else I'm missing. Tips for avoiding deadly rockfall? Notes on the locations of abysses? Maybe advice for how to beat the lone American guy? It's more mundane, for sure, but that's where my mind goes.
Three hours later, in pitch darkness high above Courmayeur, I finally understand what Spaniards apparently so love in trail running. The course starts cutting the switchbacks. This must be "Spanish Style." It is so steep, that I worry that one of the shoes of the runner with whom I am doggedly fighting to hang on to will hit me in the face. No, I soon realize, it's steeper than that. If I get close enough, his shoe will simply go over my head.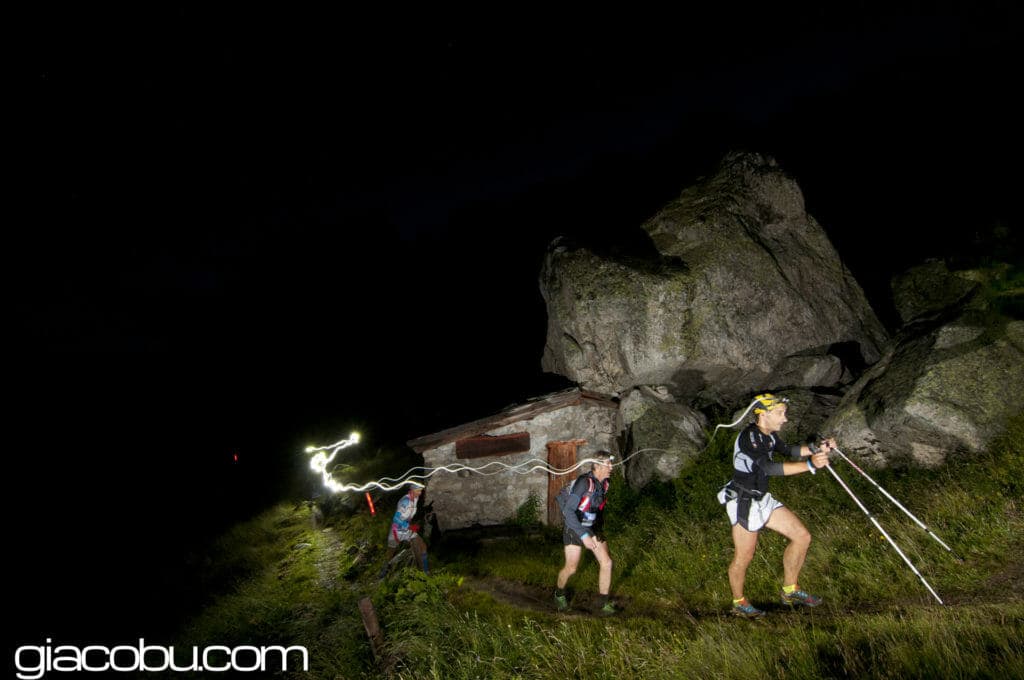 Certainly more than the Swiss, and perhaps more than the French, Italian trail runners love the vertical. The more extreme, the better—and while we're at it, why not start the race at 9:00 p.m., just to add to the dare?
And the K1000 race is only the warm-up for the weekend. Tomorrow's event will feature the same course… and more. In the K2000, runners trade their poles for mandatory helmets where the K1000 finishes, and the route gets incomprehensibly vertical. One misstep, and you're in terrain where climbing shoes and a harness are more appropriate than Salomons. There are ropes, marked corridors, and mountain guides to point the way. Last year was the first year of this new Extreme Skyrunning event, and I watched as finishers arrived at Point Helbronner. Some had thousand-yard stares and looked like they had just come in from the front lines.
Though just the "Little Sister" of the K2000, the Courmayeur Mont Blanc Vertical Kilometer did not disappoint. Starting in the center of Courmayeur, at the end of a cobblestone road and next to century-old cafes, the course rambled out of town on village roads. When the pavement ended, the route switchbacked up through forests and pastures, until we hit a sign: "Climb begins here." In the States, this would be a sarcastic joke—we're already well up in just a few kilometers. But here in the Aosta valley, home to the Gran Trail Courmayeur, Tor des Geants, and countless other vertiginous courses, the notice is blandly matter-of-fact.
The warning sign is no overstatement, either. At times, my headlamp shines into what seems to be a wall of dirt in front of my face. It's narrow, too—on occasion, my outside pole finds nothing but air.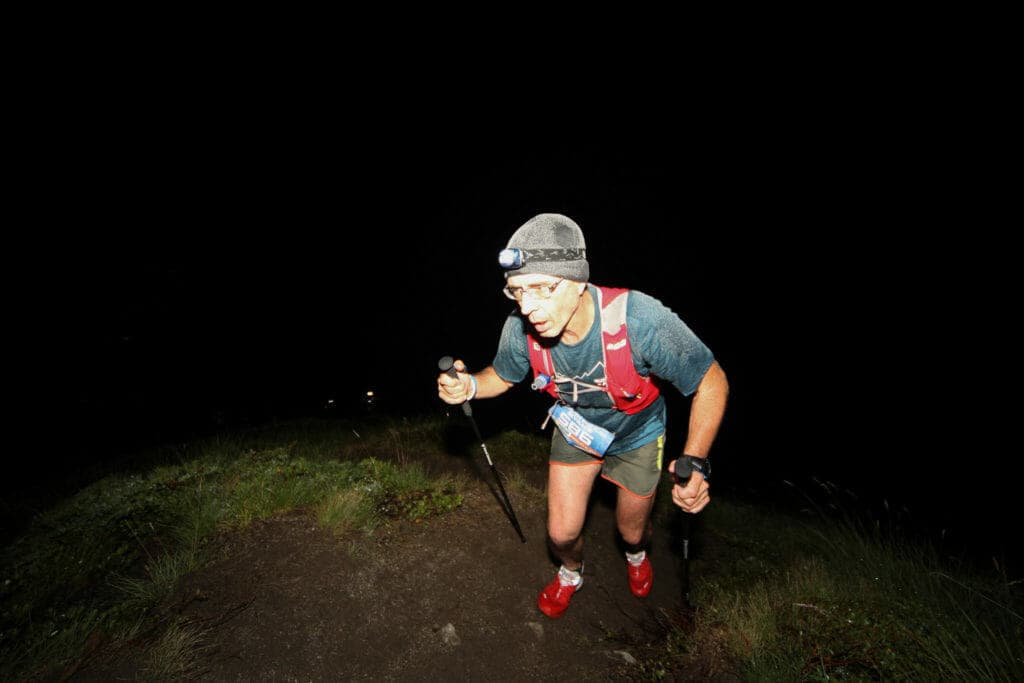 A few hundred vertical meters later, the red glow sticks begin. We're in high, sharply-angled pastures now, and the course is lit up like an airstrip designed by a mischievous, drunk engineer. A helicopter might hover with one strut on the mountain here, but if it tried to land, it would roll until it met flat ground, a kilometer below. Still not steep enough for Italian race designers, we cut the switchbacks in that section that would make Spaniards smile, scrambling through freshly cut juniper bushes. My face is almost in the bushes. If I had more oxygen, I'd be laughing maniacally.
We are lucky to be here. It is a beautiful summer evening—there's a gentle breeze, almost-cold alpine temperatures, and I catch glimpses of stars. When the terrain finally allows it, I glance down towards Courmayeur. Surrounded by pitch darkness, the town glows and my mind flashes to, of all things, Star Trek's USS Enterprise. Beam me to the finish, please, Scotty.
Soon enough, though, the bright lights of the mid-station are in sight. The course eases, and I've played my cards reasonably well tonight—there's still energy to sprint the flats. The finish is surreal, at the dramatic, new mid-mountain Helbronner tram complex. Fluorescent lights wash over me and flood my vision, and I realize just how alone I've been in my dark bubble, pushing hard up the side of Mont Blanc for the last 70 minutes.
This is Italy, though, and the evening is still only half over. There's dinner waiting, and an awards ceremony in a plush theater incorporated into the modern facility. I bump into two well-known UK runners, Robbie Britton and Natalie White, recently relocated to Chamonix. Robbie has finished third in the world in the 24-hour Championships, works as a running coach, and next month will be running Tor des Geants. Natalie is three-time English fell-running champion with a Bob Graham Round to her credit. Both are eminently likeable and low-key. (On his coaching web site, Robbie says, "I fucking love a good hill!") Natalie ended the evening with second place among the women. I also visit briefly with Tite Togni—such a warm and energetic force of nature, it's hard not to feel like I've known her for decades.
A tram ride later, Robbie, Natalie, their friends and I are walking back into the village center. We part ways, and my last few minutes are spent reversing the start of the course, walking slowly through the deep solitude that has overtaken this village, ringed by Europe's largest mountains in the remote, northernmost corner of Italy. It was exactly the calm my brain needed, after a whirlwind night of sweat, steeps, and no shortage of great company.  I soaked it in, and felt my senses finally begin to wind down.
Whatever comes next, I think, this will be one of the highlights of the trail running season for me. I'll be back as soon as I can.
For More Information: