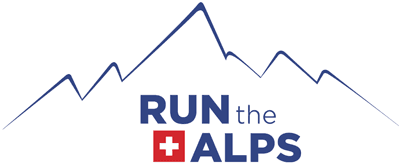 What to Expect Visiting Chamonix for Trail Running
What to Expect Visiting Chamonix for Trail Running
Chamonix, France is one of those places where, as a trail runner or general mountain lover, it's hard to go just once — you pretty much always want to go back. When I first got off the bus at the Chamonix Sud bus stop, it was 9:30pm one warm July evening. The glacial mountains glowed from the last trace of daylight and there was a calm in the air. I looked up at the snow-capped mountains towering above chalets that looked like gingerbread houses, complete with blooming flowers in the front and thought, "How is this even real?" 
You can look at all the stunning photography of trail runners in the Alps and think you have a grasp on what sort of views to expect in Chamonix and even then, the mountains will knock your trail running socks right off. Stunning balcony trails, turquoise alpine lakes, brightly colored paragliders floating next to the mountains — it all feels a bit too perfect to be real. But yes, this place is, in fact, real. 
When I first learned about trail runners who've moved to Chamonix, I heard story after story of runners' plans to come for a short visit, or perhaps for six months and then… just never left. If that sounds bewildering, just wait until after your first run here in the valley. After that first shake-out trail run from your doorstep, straight into the mountains with singletrack trails through the woods, wildflowers, and jaw-dropping mountain vistas, it's easy to see why. 
And that's just the start of exploring Chamonix and the surrounding trails it has to offer.
You can read more tailored information on everything from the best cup of coffee to the best local ridge-line run in our Trail Runner's Underground Guide to Chamonix. However, if you want to learn more about what to expect during those first few days arriving in Chamonix, keep reading. We'll cover the frequent intro questions we've gotten over the years, and offer a slice of what it's like visiting Chamonix for trail running — though for the full experience, you'll just have to come see for yourself!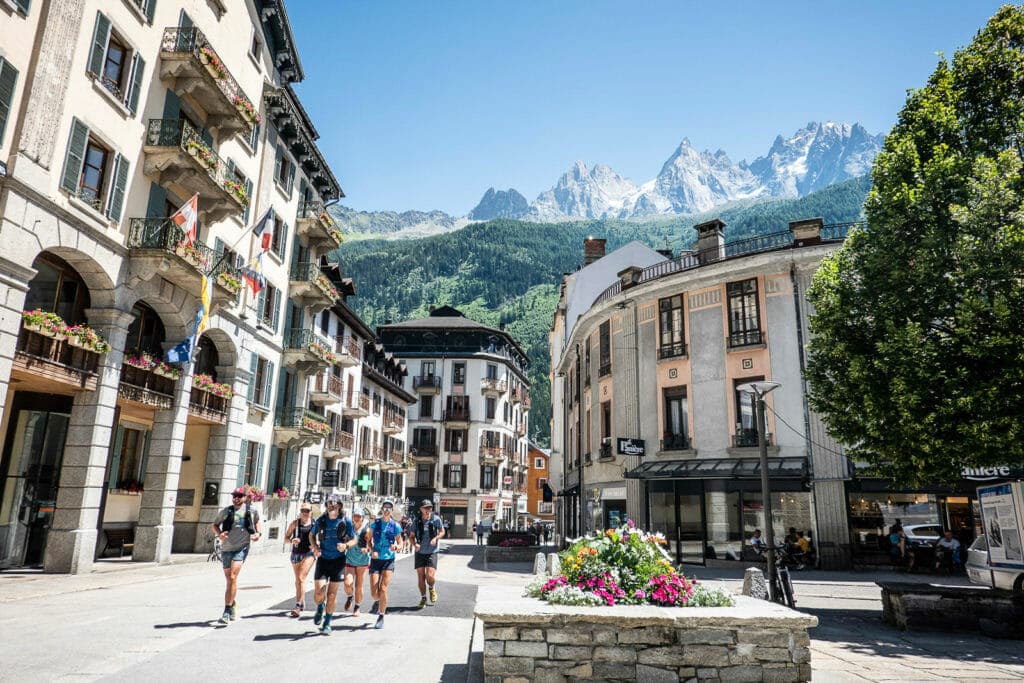 How to Get to Chamonix
One of the easiest ways to get to Chamonix is flying to Geneva, Switzerland. From there, you can get a bus or shared shuttle directly from the airport to Chamonix. There are a few different bus services to choose from — BlaBlaCar, FlixBus, and Swiss Tours to name a few. I took FlixBus for around $20 one way. Alternatively, you can opt for direct shared shuttles like Mountain Drop-offs, which is a little more expensive, but will drop you off directly where you're staying in Chamonix, rather than the bus station. If you're someone who likes to dodge a little additional travel after hours schlepping around airports, a company like Mountain Drop-offs is worth a few extra euros. 
If you're a fan of trains, there's another option that's kind of fun: Fly  into Zürich and take the train system to Chamonix with SBB, the Swiss national train system, and connect to the Mont-Blanc Express trains from Martigny to Chamonix. We love the ease and convenience of Swiss trains! Zurich is a nice option, too, because many airlines offer direct flights there from regional hubs around the world. So, if you're lucky, it's one less chance to miss a flight or have an airline ship your bags, to, say, Abu Dhabi. 
Getting Around Chamonix
Chamonix isn't a huge car town, and that's a good thing. With buses and trains that are free for tourists and a relatively walkable center, having a car can be more trouble than it's worth if you're planning to stay nearby. 
Instead, a bike can be a great way to get around town quickly. Most streets in the center have bike lanes or are specifically bike-friendly and the bike path along the river Arve is a great way to get in and out of town. If you're staying with Run the Alps partner, The Hub Chamonix, they have bikes for guests to share, as do many hotels. 
Do You Need to Know French in Chamonix?
While French is the official language in Chamonix, it's such a touristy area, almost everyone speaks English. If you can kick off a discussion with a few words of French, it's certainly thoughtful, but it's not necessary. My meager attempts at French usually led to people transitioning to English to make it easier for both of us.
Chamonix Weather in Summer
As a mountain town, Chamonix can have very unpredictable weather. When I checked the weather forecast while I was packing, it showed thunderstorms and temperatures from 60s to high 70s. I packed rain gear and a mix of shoulder season and summer clothes. Then I got to Chamonix, and France had a heatwave meaning temperatures were in the upper 70s and 80s in the valley during most of my trip.
All that to say expect relatively comfortable temperatures, but be ready for a few rainy or extra hot days. But if you happen to be around, say late August, there's a good chance you'll hit the unseasonably cold snowstorm that tends to pass through UTMB Mont-Blanc weekend.
One thing's for sure: if the sun's out, it's going to be STRONG! Definitely remember sunglasses and sunscreen. With higher altitudes in the mountains and sun reflecting off snow and light-colored granite, the sun packs a punch.
Exploring Your First Trails in Chamonix
Choosing a first run in Chamonix is a little like choosing what to get at a chocolate shop: there are so many options, it can be overwhelming, but whatever you choose, you can't really go wrong. As the world's trail running epicenter, there are hundreds of miles of world-class trails all easily accessible from the center of Chamonix. You can traverse impressive ridgelines, explore endless fields of wildflowers with a stunning mountain backdrop, tackle some seriously steep hills, or do a bit of everything all in one. 
Just keep in mind, the climbs are unlike almost anywhere else in the world — steep! Don't be afraid to start off slow and embrace the power hike.
I did a portion of Le Petit Balcon Sud around sunset and could not get over how beautiful Mont Blanc looked with the alpine glow.
For detailed suggestions, Run the Alps has curated a selection of runs on Fatmap, and our friends at ALPSinsight have produced a detailed overview of options along with some beautiful photography. And if you're coming on a self-guided Run the Alps trip? No worries– you'll get plenty of run descriptions, complete with route options, bailout options, and emergency info. 
Using the Trams and Lifts
As much fun as climbing 800 to 1000 meters in a few kilometers can be, sometimes — especially when jet-lagged — it's often nice to skip part of the climbing. That's where the Alps' chair lifts, gondolas, trains, and cable cars come in handy. If you're short on time or energy, the cable cars up to Planpraz, La Flégère, and Aiguille du Midi make it easier to explore more of Chamonix.
To me, it felt like cheating using the lifts. I'd much rather get up through sheer human power. But I realized using the lifts wasn't being lazy — it was being resourceful, so I could appreciate more of Chamonix's trail running than I would otherwise have been able to. It's also a great way to save your legs from the massive descents. Plus, riding in a gondola up a mountain in the Alps? That has to be a bucket list item.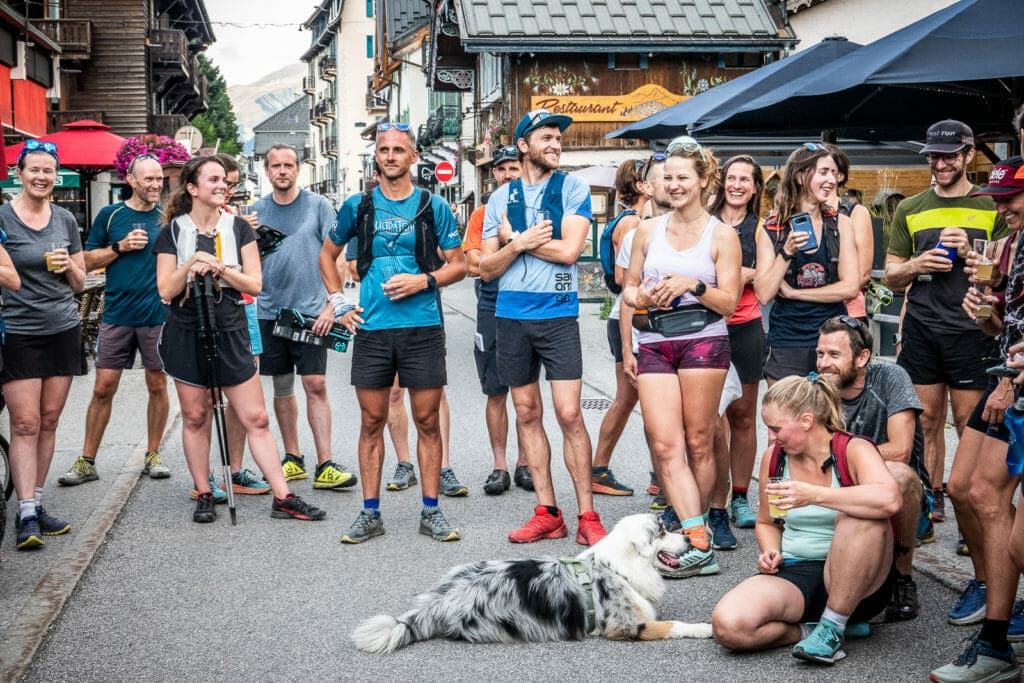 Finding the Chamonix Trail Running Community
The only thing better than the views and mountains in Chamonix might be the community of trail runners the area has brought together. Trail runners from all corners of the world make the pilgrimage to tackle the area's challenging terrain or be a part of the world-famous races in Chamonix such as the Mont Blanc Marathon and UTMB Mont-Blanc series.
Group trail runs happen regularly through a variety of different groups so any given week, you can find numerous opportunities to meet new trail running friends. Some of those events include:
Wild Trail Chamonix coordinates group trail runs year-round every Wednesday at 8am and Friday at 12:15pm. 
Patagonia has a guided run hosted by longtime Patagonia ambassador Chloe Lanthier each Wednesday morning during the summer at 8:30am starting from the Patagonia store in town. 
Big Mountain Trail Club hosts a group trail run at 6pm the last Wednesday evening each month with prize raffles and a free beer.
Chamonix is a place that lives and breathes mountain sport and the whole town celebrates that fact. Trail running shoes, shorts, and technical vests are a classic look around town. You'll see some of the world's best trail runners getting in training sessions up the VK, and coming and going from town at all hours of the day and night. And when they're done, you can spot them grabbing a fresh microbrew at Big Mountain Bar on Avenue Ravanel le Rouge. Big Mountain is an important last stop during your day out. You'll be able to exchange stories with trail runners from around the world. You'll hear about what run they just ticked off, and get ideas for your own Chamonix mountain adventures still to come.