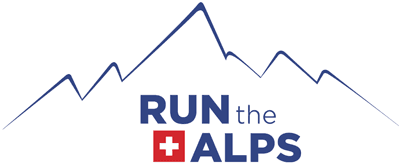 Want to Run with Dogs in the Alps?
Want to Run with Dogs in the Alps?
Love dogs? We do!
Join us for a Unique Four-Footed Trail Running Trip this summer!
Are you a trail runner who likes nothing more than having a four-footed friend at your side? Now, we've got a special trail running trip just for you.
Here in the Alps, dogs are more than companion animals. They fill vital roles supporting the work of their two-legged friends. They work on farms, they guard animals in summer pastures, search through avalanche debris for victims, or search for hikers in the high mountains. 
Trail running here, we often encounter these four-legged friends. It may be a friendly dog living up at a refuge, sheep dogs out on a high pasture, or the impressive "guardian dogs" – Alps dogs with a serious job to do, protecting sheep and goats from predators. 
Over the years, we've noticed how many of our guests adore dogs and love to see how they are a key part of life in the Alps. 
We feel the same way! So, over coffee one day, we wondered aloud, "Could we create a trail running tour all about our dog friends here in the Alps?"
Now,  that's exactly what we've done. Our "test edition" of our Trails and Tails tour is here in time for summer 2022. 
This special tour will give us a chance to meet with the four-footed celebrities of the Alps. As we meet these dogs, we'll also learn about the important roles dogs play in these mountains, and how they are trained for their work.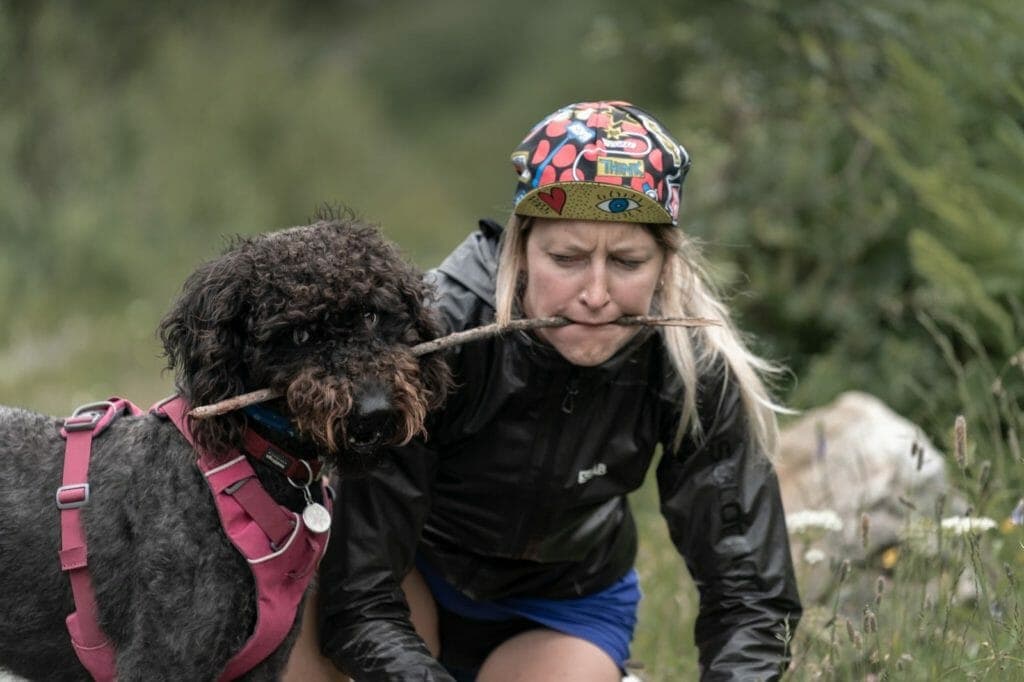 This point-to-point trail running tour is designed to intersect with key locations in the Alps that have a specific connection with dogs. We'll start in Chamonix, France, where our runs will be accompanied by our very own Run the Alps Director of Hospitality and Ambassador of Joy, Izzy. We'll also meet with Enzo, running partner of Chamonix-based ultrarunner Mimmi Kotka. 
Next, we'll visit with hiking guide and dog trainer, Xavier Pauget. Xavier is passionate about dogs and trains both dogs and their human partners, in everything from avalanche rescue, guarding livestock and searching for lost hikers. We'll join Xavier as he shares with us the work of guardian dogs, and we'll learn how to interact with these special dogs. We will also see a search demonstration with his dog, Caramel. 
From Chamonix, we'll travel through the Mont Blanc tunnel to Courmayeur, Italy. In Courmayeur's town center, a statue of a sled dog commemorates a group led by Courmayeur-born explorer Felice Ollier. In 1900, Ollier and his team of explorers and faithful sled dogs were lost when they abandoned their ship, the North Star "Stella Polare" after it became locked in Arctic Sea ice. Two other groups survived.   
After enjoying some warm Italian hospitality, we'll run along one of the truly scenic sections of the Tour du Mont-Blanc and over the "TMB" high point of Grand Col Ferret, then into Switzerland's Val Ferret. We'll stay overnight at La Peule, a rustic mountain refuge with simple, shared accomodations. La Peule is a working farm located in a remote valley. Here, dogs are a vital part of farm life. The farmers will talk us through how these "chiens d'Alpage" are used on the pastures, and show us how they make cheese on the farm! 
Our tour will end with some of the most famous mountain dogs in the world, as we leave the Tour du Mont-Blanc route and run on quiet alpine trails to the home of the most famous of dog kennels at the Hospice at Grand Saint Bernard pass, high on the Swiss-Italian border. The large, gentle, fluffy Saint Bernard dogs that we know and love were originally bred to work at this hospice as rescue dogs, starting over four centuries ago. Named after the Italian Monk Saint Bernard of Menthon, who established the Hospice to shelter travelers, these dogs rescued people stranded on their journey across the border. 
After a night in this historic mountain pass, we'll head by private taxi down to the Swiss Rhône valley city of Martigny, where we'll stop at the Saint Bernard museum, "Barryland," operated by the nonprofit Barry Foundation. This unique association is named for Barry, a legendary Saint Bernard who saved over 40 travelers, before passing away on a rescue. 
We'll bid adieu to you in Martigny, as you head off to Montreux for your final night in the Alps, and a chance to have a relaxing evening in this famous, beautiful city on the shores of Lac Léman – also called Lake Geneva – known for its international jazz festival. Montreux is just an hour and fifteen minutes by train to the Geneva airport, so you'll be well set up to depart the following morning.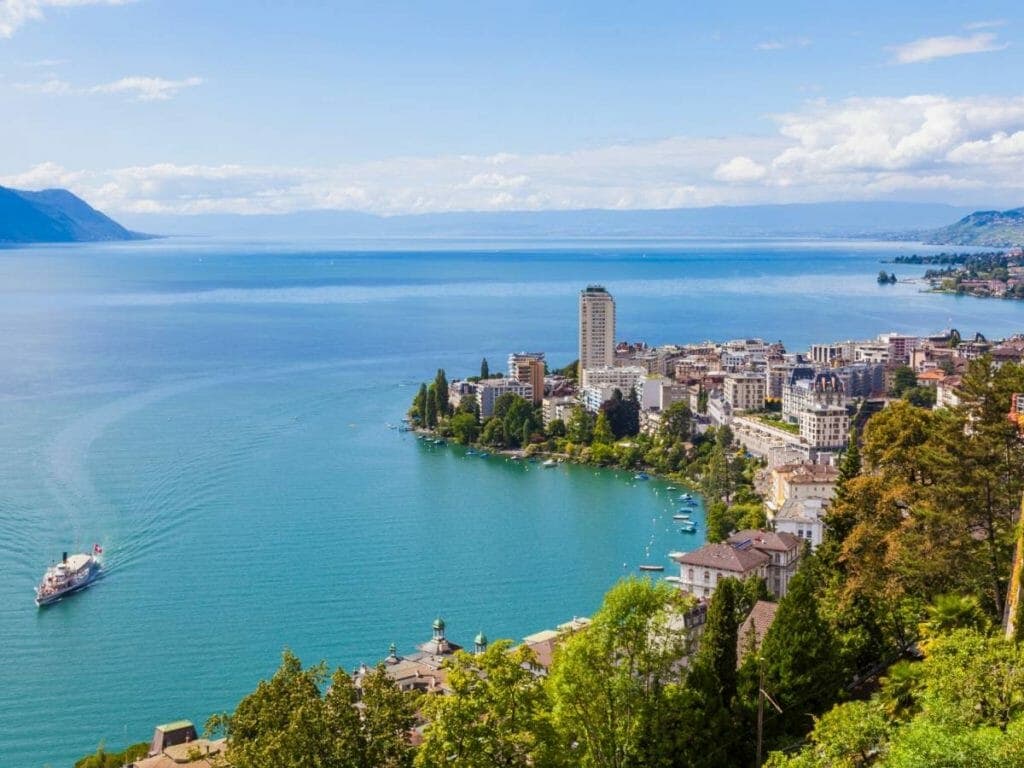 If you love trail running and you love dogs, please get in touch with us to find out more about this tour. You can drop us a note right here. We hope you'll join our pack this coming summer! 
Learn more: 

You can read more about the impressive guardian dogs of the Alps here.