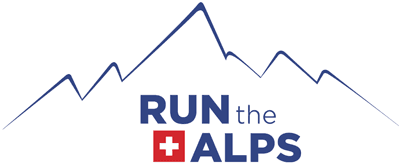 Was that Bigfoot on Chamonix's Vertical Kilometer?
Was that Bigfoot on Chamonix's Vertical Kilometer?
Early yesterday morning, Chamonix-based trail runner Hillary Gerardi headed out for a run on the town's famed Vertical Kilometer with photographer Dan Fitzgerald. Gerardi, a sponsored Black Diamond athlete, is also an Ambassador for Run the Alps. She and Fitzgerald were headed out to capture some photos for an upcoming Run the Alps project.
The 3.8 km vertical kilometer climbs 1,000 meters from Place du Triangle de l'Amitié, next to the St. Michel church in the old section of Chamonix, to the Planpraz mid-station of the Brévent lift. According to Gerardi, it was a perfect morning— cool fall temperatures, mostly clear skies, with quiet trails.
Well, not entirely quiet.
Shortly after leaving the gravel road and beginning the dozens of switchbacks under the lift, both heard a rustling alongside the trail. Fitzgerald held the shutter button on his camera as he spun around, capturing this nearly perfect image: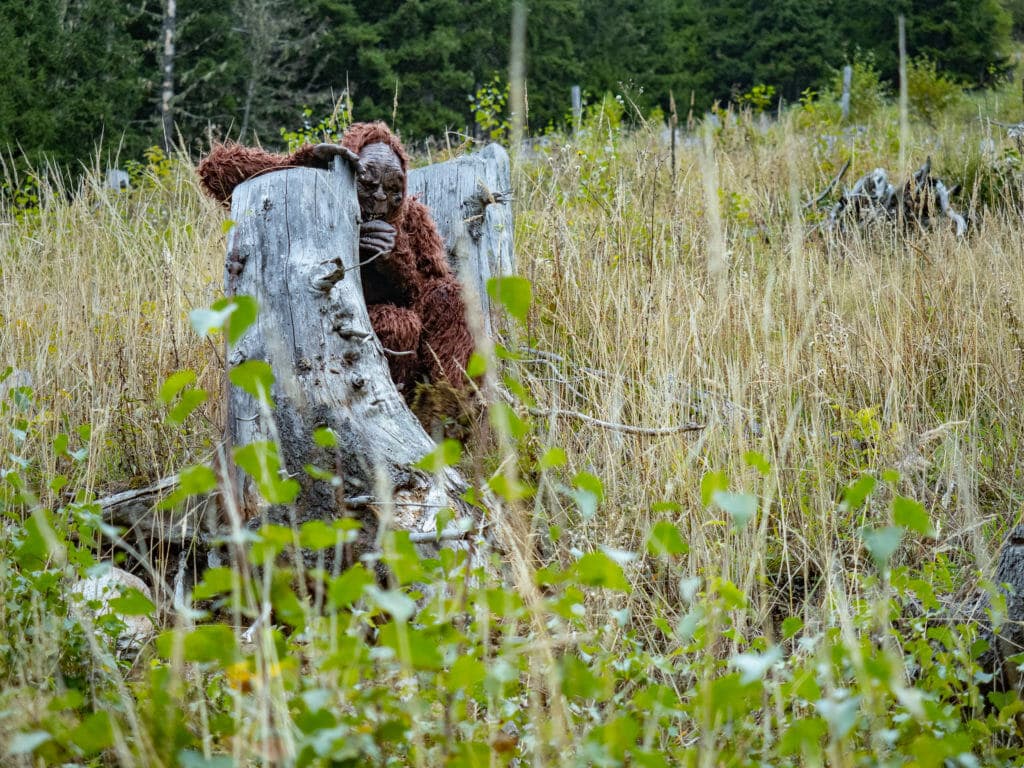 Moments later, he got this remarkable photo, with Gerardi running past the unknown animal:
Fitzgerald's images are quite clear, and appear to show the legendary Bigfoot— not known to be present in Europe. The very existence of the species has been hotly debated for decades. The large biped didn't seem fazed by the presence of the two runners.
"He barely moved from the trail. If he had been another runner, it would have been downright impolite," said Fitzgerald.
Gerardi, tightly connected with a number of trail running brands, quickly noted something intriguing. "He— and this Bigfoot DID appear to be a he," she offered, "was pretty well equipped. I mean, Black Diamond Distance 15 pack, and Salomon's new Ultra-Glide trail running shoes. Those are hard to find," marveled Gerardi. "He must have a connection on the inside– maybe a pro deal?" And Gerardi was quick to spot something else, too. "Bigfoot was carrying a baguette from Le Panier."
Incredibly, as the two moved upward, Bigfoot ran in near lock-step. According to Gerardi and Fitzgerald, the large biped seemed adept at moving over the demanding, highly technical terrain for which the vertical kilometer is known. "A lot of people go slowly on the VK, because of the cables, iron rungs, and the ladder. But he kept moving. It was like he knew the route really well," said Gerardi. Bigfoot, said Fitzgerald, seemed inquisitive, and was particularly interested in his photography equipment. "It was as if he knew he was posing for social media photos," said Fitzgerald.
The two did not feel threatened at any time, and continued to move upward. As they did, something rather poignant happened. "We sort of got to know each other," said Gerardi. "I know it sounds nuts, but I felt as if I was in the presence of another trail runner— another sentient being who just loved being out on the trails. I suppose you could sort of say that we befriended each other."
Fitzgerald continued to shoot, capturing a number of remarkable images of Bigfoot, who alternated between being shy and more assertive. "At one point, he even took my phone and posed for a selfie," said Fitzgerald, adding that Bigfoot was flustered by the image processing options. "I think he was trying to make a reel for Instagram and wasn't having much luck."
The two tried to communicate with the animal, who Gerardi estimated was a rather underwhelming 175 cm tall, and weighing perhaps 65 or 70 kilos. "We're pretty sure he spoke French," she said. Gerardi herself is fluent, having lived in France for a decade. "But it was hard to understand— kind of like a mix between Quebecois and a Swiss Valaisanne farmer. But I am pretty sure he asked me a number of times for a pain chocolat amande."
Climbing the ladder approximately 800 meters up the route, Bigfoot hit his head on a large, protruding rock. "It's funny," said Fitzgerald, "Everyone hits their head there." Fitzgerald started to laugh, but quickly fell silent after Bigfoot shot him a foul look. "He didn't like me laughing, that much was obvious," Fitzgerald said.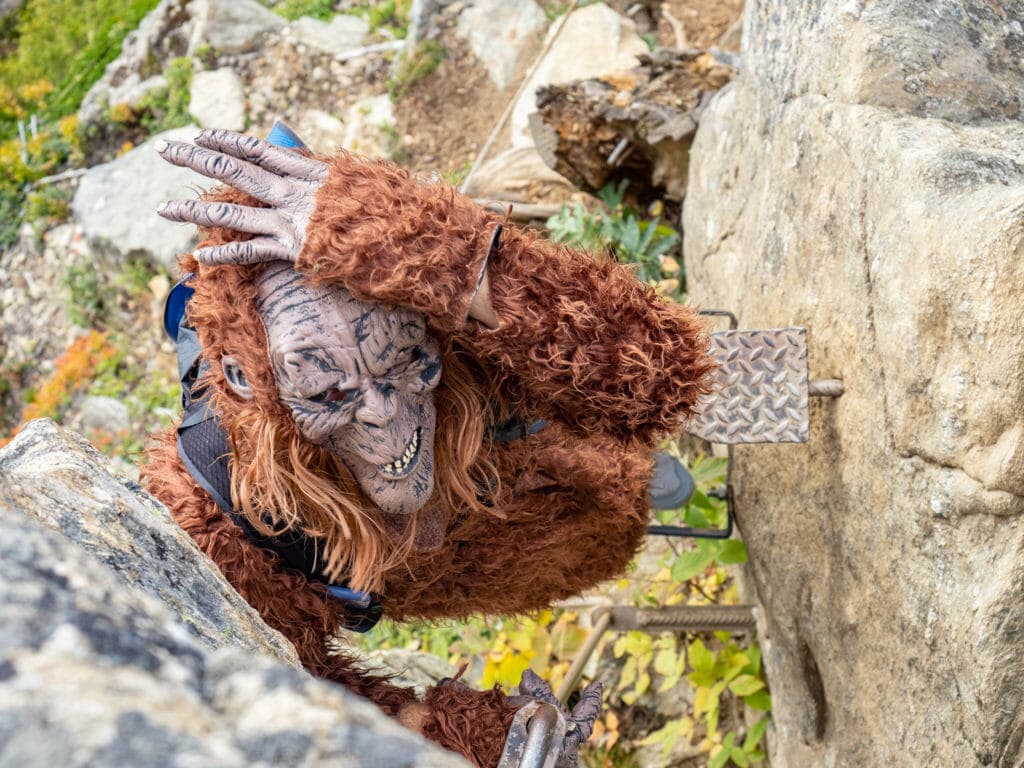 Farther up the route, Gerardi and Bigfoot shared the view across to the Mont Blanc Massif, at one point draping their arms over each others shoulders, and later high-fiving each other. "He was very casual, and if I do say so, a bit forward," said Gerardi. "But that's one of the amazing things about trail running!" she added. "You get out in the mountains together, and two people, who are seemingly very different, can connect over a shared experience!"
Later, the two stopped after Bigfoot offered the runner some of his baguette. "I had some Trail Butter and a Moonvalley Bar," she said. "It was a perfect match." Gerardi is sponsored by Trail Butter, and is close friends with one of the partners of Moonvalley, Chamonix-based trail runner Mimmi Kotka.
Gerardi and Fitzgerald remain curious about one thing: where did the biped get the baguette? "It was fresh," remarked Gerardi. "Either he has someone helping him out in town, or he paid for it," she speculated. Calls to La Panier were not returned.
Two hours after setting off, the curious trio reached Planpraz. For Gerardi, it was far from her fastest time— in 2018, she won the Vertical Kilometer race in a time of 42:54. The race is part of the Marathon du Mont-Blanc series of races that take place every year at the end of June.
At the top, Bigfoot glanced at what appeared to be a Suunto watch on his wrist, let out an enormous groan, and ran quickly off towards the Lacet trail, which descends easily to Chamonix.
"I'll never have another day like that on the trails ever again," said a mystified Fitzgerald.
As for Gerardi, she's not so sure. "You know, I'd kind of like to see him again," she confessed. "Once you got over his terrible breath," she said, "he was kind of cute."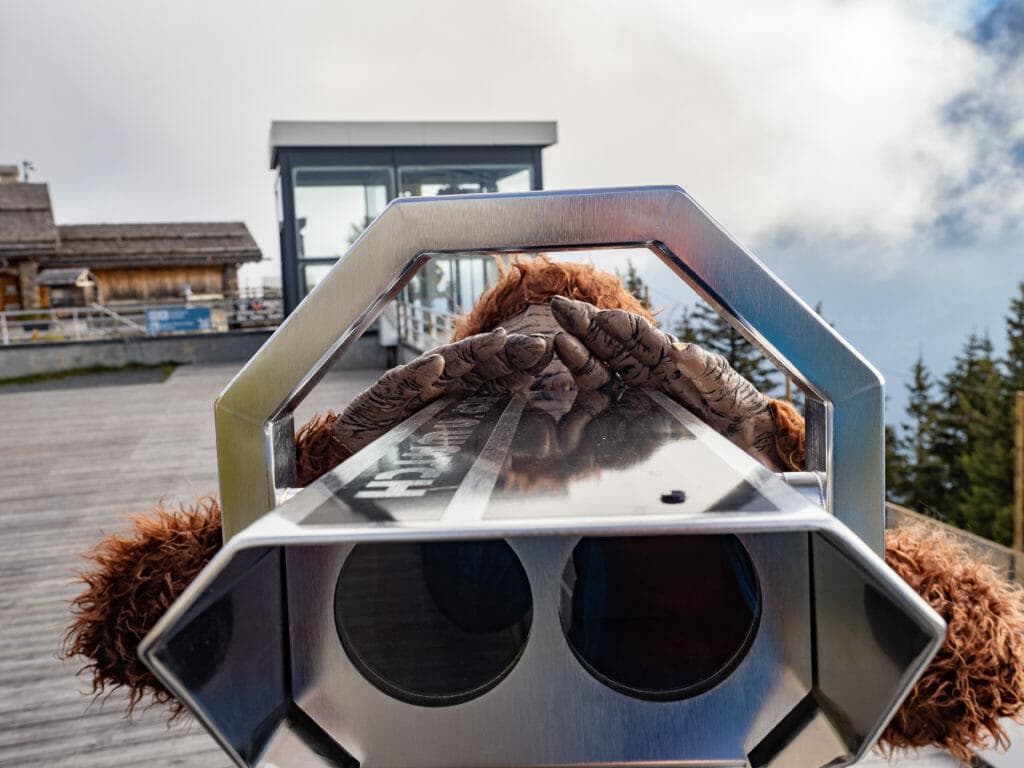 Read more about the Chamonix Vertical Kilometer:
Tips for Running the Chamonix VK
Redlining in Chamonix: Racing the VK