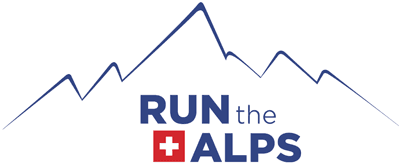 Wildstrubel Wild 25
---
Guest Blogger: Richard Harvell is Head of USA Publishing at Helvetiq and the author of the novel The Bells. He lives in Basel, Switzerland.
---
I hadn't been running much during Europe's sweltering 2022 summer, and so I liked the looks of the UTMB Wildstrubel® Wild 25 course. It was the shortest distance of the options 110, 70, 50 kilometers. I told myself it was actually two races: first an 11km slog up almost 1000 vertical meters, then a flowy 15km descent into Crans-Montana. I wasn't ready for 26km, but I could probably manage 11 plus 15, right?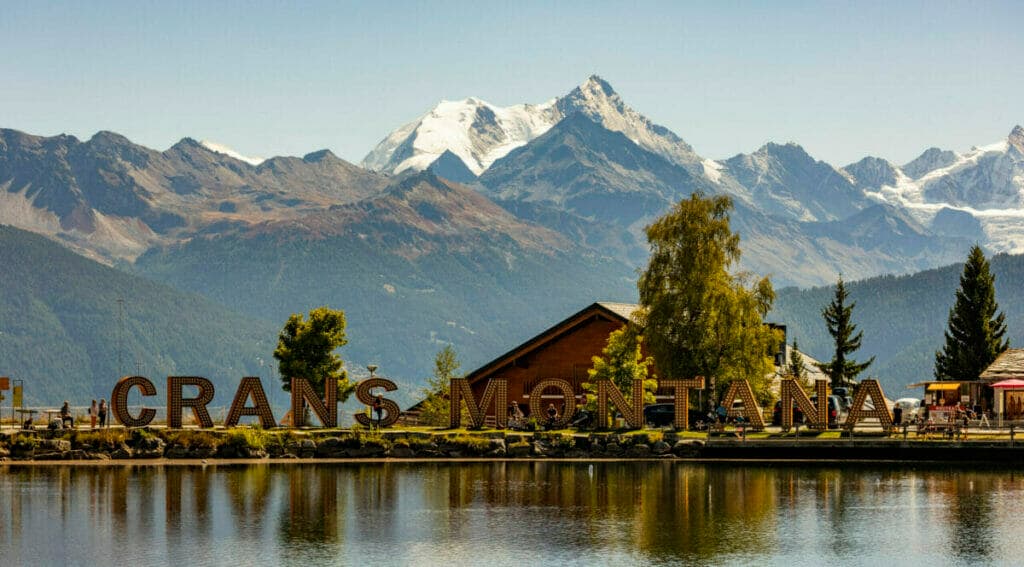 That I was there at all was thanks to my time at UTMB Mont-Blanc® in Chamonix two weeks before with Run the Alps' founder Doug Mayer. Doug wrote a book for the publisher where I work, Helvetiq: The Race that Changed Running: An Inside Look at the UTMB (publication June 2023). I'd been inspired by all the grit and joy in Chamonix, and thought I should experience a UTMB race as a runner.
I traveled from my home in Basel, Switzerland the morning of the race and worried I wouldn't make the start—with only 51 minutes to get from bus to starting line. I don't know if it was Swiss efficiency or UTMB's magic touch, but it took me all of 9 minutes to get my bib and drop my bag. That gave me a good half hour to get cold.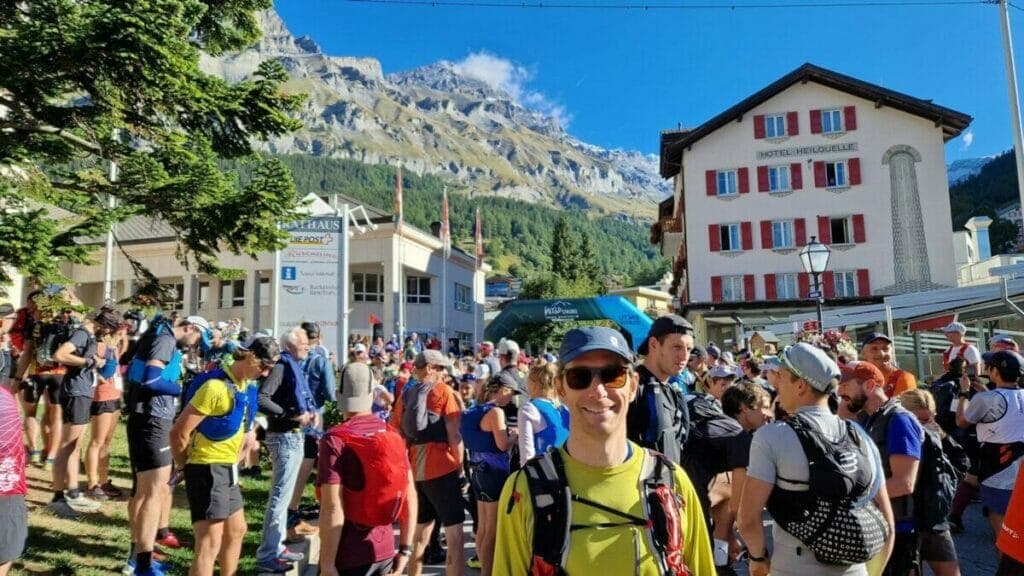 I wasn't the only one who underestimated the chill of 9am at 1400 meters above sea level in Leukerbad. I didn't see much of the cute little town, but I did fill my water bottle from a public fountain before I realized it was hot water from the town's thermal springs. 
And then we were off—well, slowly off. I think I made a miscalculation by not jostling for position. The first couple kilometers were slow going in the crowd of nearly a thousand runners, and once the trail narrowed, things slowed to a standstill for a spell. Then again, maybe I was saved by the delay—I like climbing, and probably would have gone too fast for my own good. As it was, I was still feeling fresh when we passed out of the Larschi forest for a long section of dizzying trail blasted out of the cliff.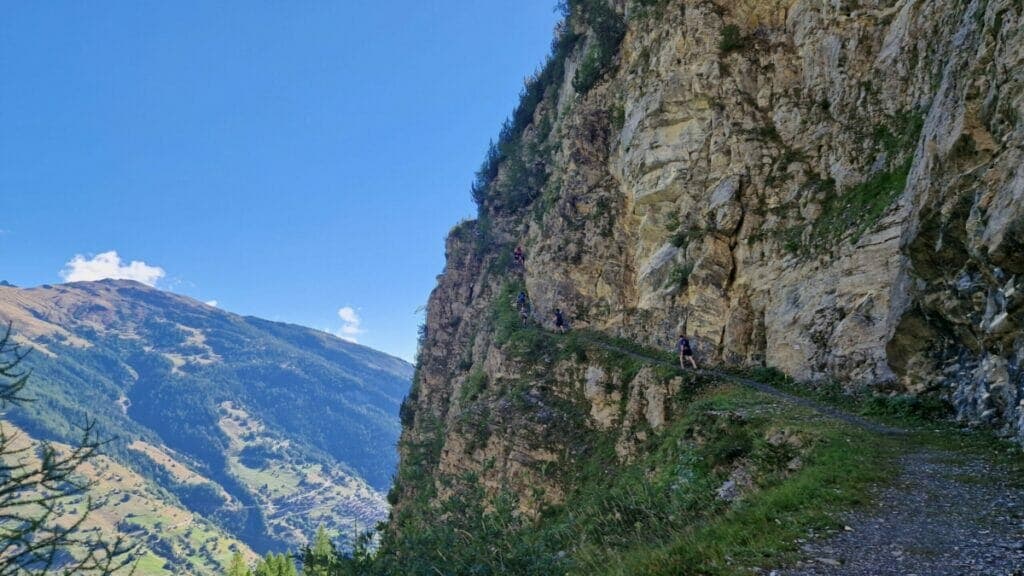 I'd hardly ever run with poles before, but I was glad I had them along. There was little running happening once we left the forest, but lots of pulling on the poles. I felt the elevation around 2000m, and judging from the gasping going on around me, I wasn't the only one. But the climb eased up about a kilometer from an aid station at Varneralp, and I really enjoyed that highest and most scenic section, with many snow-capped 4000ers visible to the south. 
At the aid station, I told myself I'd already finished one race. The second was just 15km and downhill (almost) all the way. Everyone was so friendly at the aid station it felt almost impolite to leave so soon.
I'm not a big fan of running downhill, but the first half of the descent was a blast. On a rocky section, I got cursed out (I think) in French for jabbing my poles behind me, and so I stopped to fold them up at Cave du Sex (whose name I was not really able to appreciate at the time).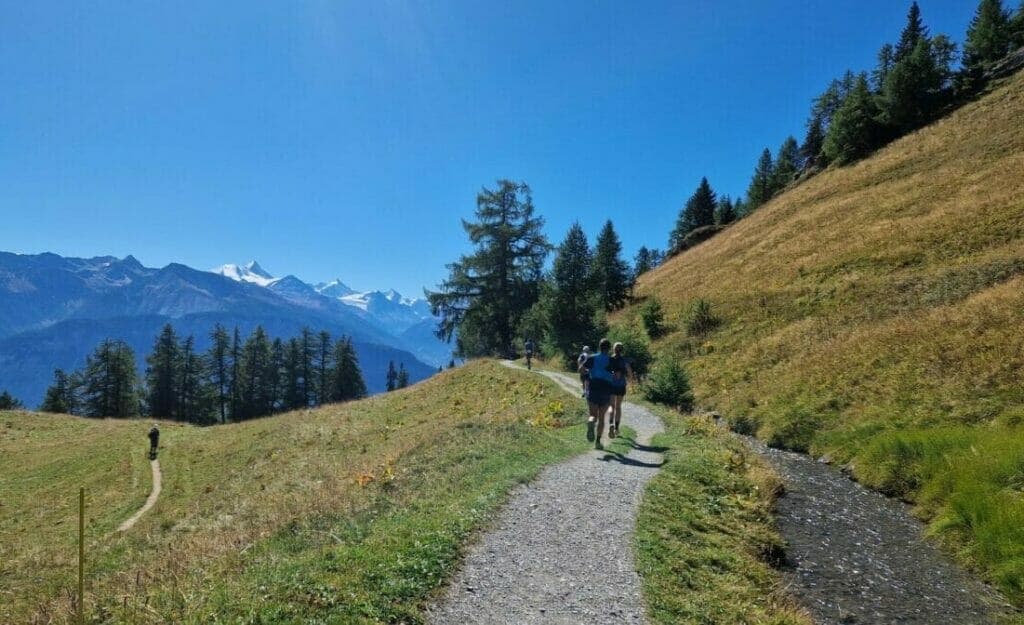 After that, the trail took on a walk-in-the-park character, with gravel paths along babbling irrigation canals. There were, in fact, a number of walkers-in-the-park going the other way, and we had to weave through them.
I'd been running for about 3 hours when I started feeling nauseous. A short walk and a snack picked me up, but I was starting to really want Crans-Montana to appear. We seemed to be running around it. I could hear the finish line for half an hour before getting there. The race passes the main village where Crans and Montana meet, and then doubles back, which gave us a chance to run along the two lakes for the last kilometer of the race, and receive ample applause from spectators.
I crossed the finish line after 3 hours and 40 minutes, which put me squarely in the middle of the pack overall. Of the goodies handed to me– medal, beer, food coupon and more– it was the entry for the hot springs back at the start line that was the most tempting. But that would have meant a 26km run the other way.