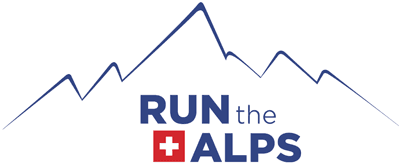 Trail Runner's Guide to Zermatt, Switzerland
Trail Runner's Guide to Zermatt, Switzerland
At the foot of the Matterhorn, Zermatt, Switzerland is one of the most famous towns in the Alps and rightly so. Surrounded by 4,000-meter peaks, it's got plenty of climbing, mountaineering, and high-elevation glacier skiing.
What's less known about Zermatt, is that this lively mountain village also has lots of dramatic trails for runners as well, and it's home to one of the Alps' best-known trail race series, the Matterhorn Ultraks each year in August. 
While the town has a bustling feel, one major difference sets it apart from most other tourist hubs: Zermatt is car-free. Aside from the electric hotel shuttles that buzz around town, just about everything is done on foot or by bike.
Planning a trip there or curious about the trail running scene in Zermatt? Run the Alps gathered the inside scoop on all things Zermatt from our guides, staff, and trail running friends who've spent hours on the trails in and around Zermatt. We've collected all that information into one, handy guide to Zermatt so you can enjoy our favorite places in this iconic valley.
If you'd like someone else to plan your trip, Run the Alps can create a self-guided trail running tour designed for your skill level and goals. Our self-guided trips include hotel bookings, baggage transport, turn-by-turn run descriptions, and more. Sign up for your very own Run the Alps self-guided trail running vacation in Zermatt, Switzerland. 
Each August, we also offer a guided trail running trip to Zermatt, that includes the option to run one of the Ultraks trail races. You can read more about that annual Run the Alps trip to Zermatt, here.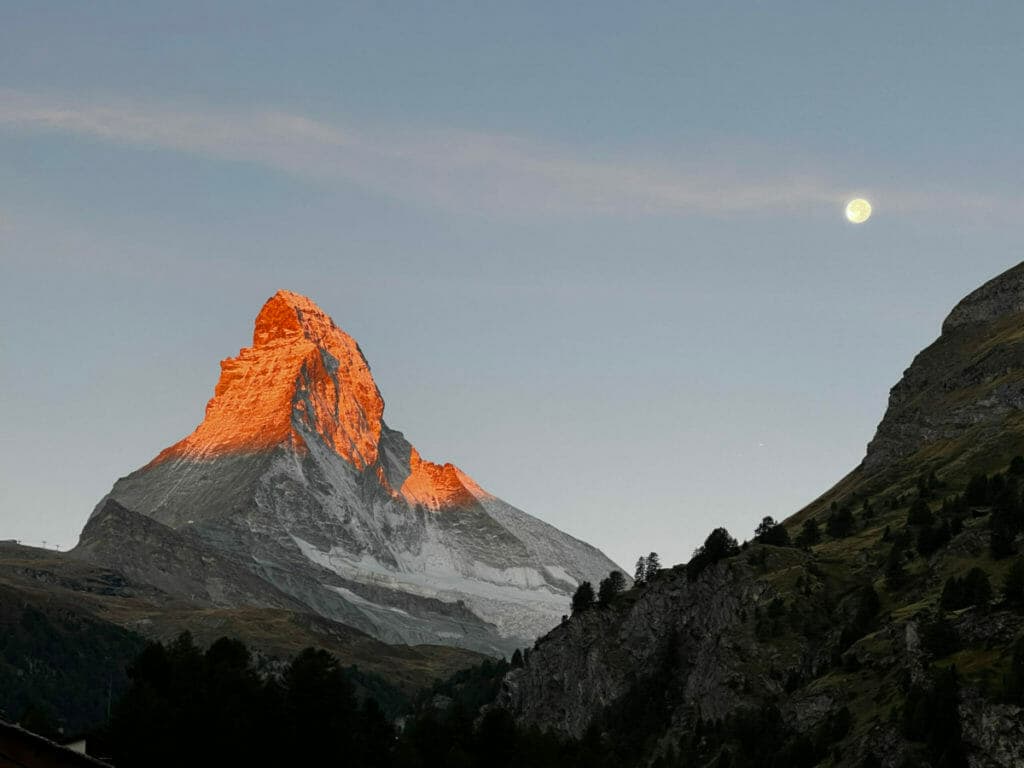 How to Get to Zermatt
Flights
The best airports to fly into are Geneva or Zurich. From either airport, catch one of the frequent trains connecting to Zermatt. All things being equal, Geneva is a slightly better choice, with fewer connections and less travel time. 
Trains
Since no cars are allowed in Zermatt, there are two main ways to reach town: by train or by foot. Luckily, the famous Swiss train system is one of the most reliable public transit systems anywhere. It's easy enough to hop on one of the regularly running trains from the Rhone valley city of Visp, which itself is easily accessed by train from much of Europe. If you're driving, Täsch is the end of the road before boarding the train up to Zermatt.  There is a large parking garage there, but you'll pay for long-term parking at airport-level rates. There are also private parking services available.
Getting Around Zermatt — The Car-Free Town
With no private cars allowed in Zermatt, the most common way to get around is to walk the town's narrow streets among the hustle of locals and tourists. You can get to most places within the main town with a short walk of no more than 20 minutes. Zermatt also has two, free e-bus lines that run between 7 A.M. and 6:30 P.M.
Where to Stay In Zermatt: Europe Hotel & Spa
Europe Hotel is our favorite choice of hotels in Zermatt. In the center of town, this 4-star hotel has been managed by the Julen family for three generations. It's a Run the Alps favorite, and our first pick for our trips. 
With a friendly staff that stays largely unchanged year-to-year, large, modern rooms, and a gourmet dinner and dessert menu, Europe Hotel is also consistently reliable. The hotel offers a mix of local dishes such as beef entrecote or herb crusted rack of lamb, along with international menu choices. We've always found the hotel to be accommodating for our Run the Alps guests who have dietary restrictions. 
After a long day of trail running, we highly recommend the spa on the lower level. It never seems to be too busy, and you can soak in the jacuzzi, take a steam bath, or sweat it out in the Finnish sauna. There's also a nice quiet space, simply for chilling out!
Gear Shops in Zermatt
There are a number of excellent sports shops along the main street of Bahnhofstrasse. Stoked is a popular trail running shop, along with Matterhorn Sports, which sells a wide array of trail running gear. There is also a Decathlon retail store on Hofmattstrasse if you've forgotten to pack any trail essentials.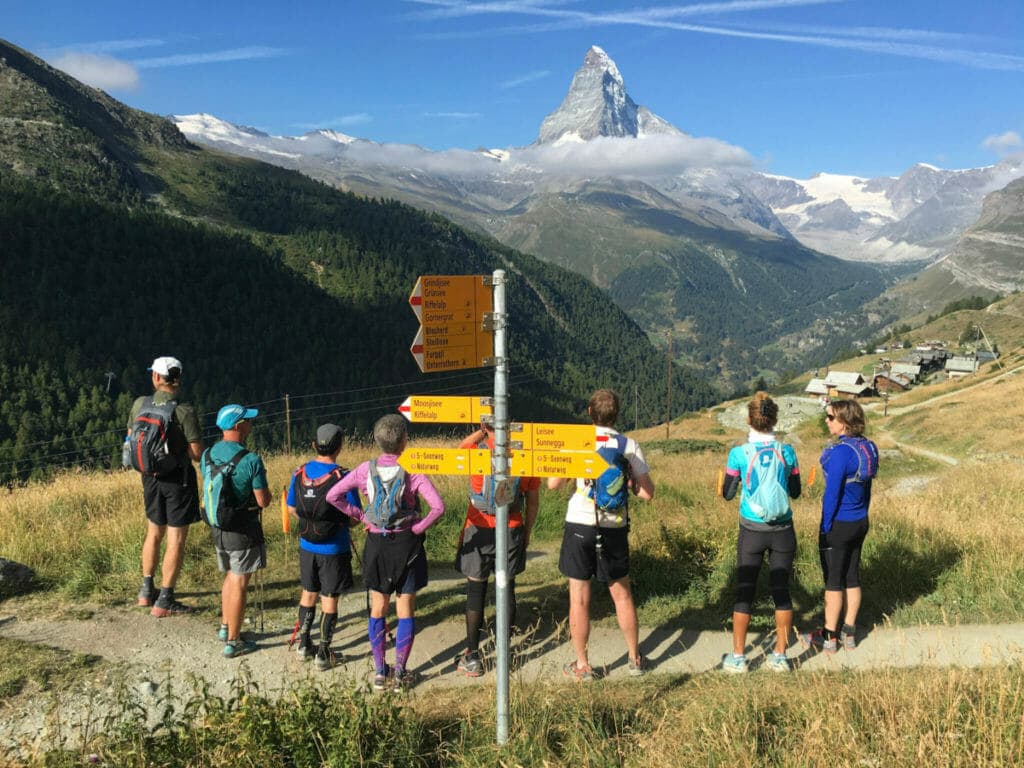 Best Running Trails Around Zermatt
Zermatt has some of our favorite trails with challenging climbs, panoramic views, and flower-filled pastures. On top of that, add tons of mountain huts and cafes for delicious mid-run pastries, traditional air-dried meats, and coffee or refreshing iced tea. 
If Zermatt has a downside, it's that one side of the valley is pretty impacted by the alpine ski area for which Zermatt is famous. But between lift lines, there are plenty of wide open pastures and rustic shepherd huts. And across the valley, on the north side, the trails are quiet and infrastructure-free. 
The trails closest to Zermatt, especially featuring classic Matterhorn views, can get crowded during peak tourist season, but there are many trails to choose from and it's still possible to find those quieter routes. Here are some of our suggestions.  
Best Matterhorn Views: Mettelhorn and Matterhorn Panoramaweg
This run is Run the Alps writer and editor Kim Strom's favorite trail run from Zermatt. For a big vertical day, you can't get much better than going up the Mettelhorn. You'll get unbeatable views of the big peaks around Zermatt including the Matterhorn and a feeling of accomplishment summiting the steep-topped Mettelhorn. This trail run has lots of vert, so be ready to spend a fair bit of the day fast-hiking. The final section includes a glacier-crossing, but you won't need technical gear, as there are no crevasses. However, traction is a must, and the route ends with a final scramble up a steep, rocky slope. 
You can see a more detailed route description for running the Mettelhorn from our partners at ALPSinsight.
Best High Pastures: Berggasthaus Trift Hotel
For a slightly shorter run that still has some substantial climbing and big views of alpine pastures, head up to the mountain hut, Berggasthaus Trift Hotel. On one side, this rustic mountain hotel is closed in by high peaks and glaciers. On the other side, an opening down-valley provides views across Zermatt and distant, snow-capped peaks. This quirky but quaint hut offers a variety of specialities including their refreshing ice-tea. We'll bet you ten Swiss francs that the owner, Hugo, will be up-selling you on the morning's tart! Be careful– the desserts are very tasty, and he's a charismatic fellow!
Opt to go directly up the canyon along the river or add some quad-burning climbing up to the beautiful high pastures of Wisshorn before heading down to Trift for a well-earned time-out.
Getting Close to the Matterhorn: Run to Hornli Hut
Get close up to the Matterhorn without having to get out the climbing gear by heading all the way up to the Hornli Hut. This hut is the legendary basecamp for climbers on their way to the summit. Pass through Schwarzsee and enjoy stunning views with fantastic, challenging trails all along the route. Arriving at the hut really does feel special– it's one of the most famous locations in all of mountaineering, and you'll see climbers sorting gear and resting for an ascent of one of the world's legendary climbs. 
Best Alpine Lake Run: Riffelsee Run and Gornergrat
While the trail boasts almost constant postcard-worthy views, on a clear day, the winning view on this run is an alpine lake, Riffelsee, just below Gornergrat with the Matterhorn towering in the background. The Gornergrat itself has dramatic 360-degree views of glacier-covered peaks. Even though it can be touristy during the busy summer months, in our opinion it's still worth a visit. It's also the end point of the Zermatt Ultra-marathon. There are several  excellent caffeine and culinary stops along this route, too!
Little Bit of Everything: West Side of Matter Valley and Zmuttbachfall Waterfall
Flowy singletrack, high alpine views, shaded forest paths, and a waterfall, this loop is one of Run the Alps guide Sam Hill's favorite runs around Zermatt. The approximately 10-mile run has a respectable amount of climbing along with plenty of runnable, first-class trails with regular views of the Matterhorn. 
Europaweg: Coming into Zermatt by Trail  
The Europaweg is a well known hiking trail connecting Grächen and Zermatt. The fairly smooth, rolling trail contours the hillside for 40 kilometers between the two villages, passing several mountain huts and crossing the Charles Kuonen Suspension Bridge along the way. At nearly 500-meters in length, the hanging bridge above the town of Randa, is the longest pedestrian suspension bridge in the Alps. The Via Valais climbs from the valley to this bridge and joins a section of the Europaweg before arriving in Zermatt by foot.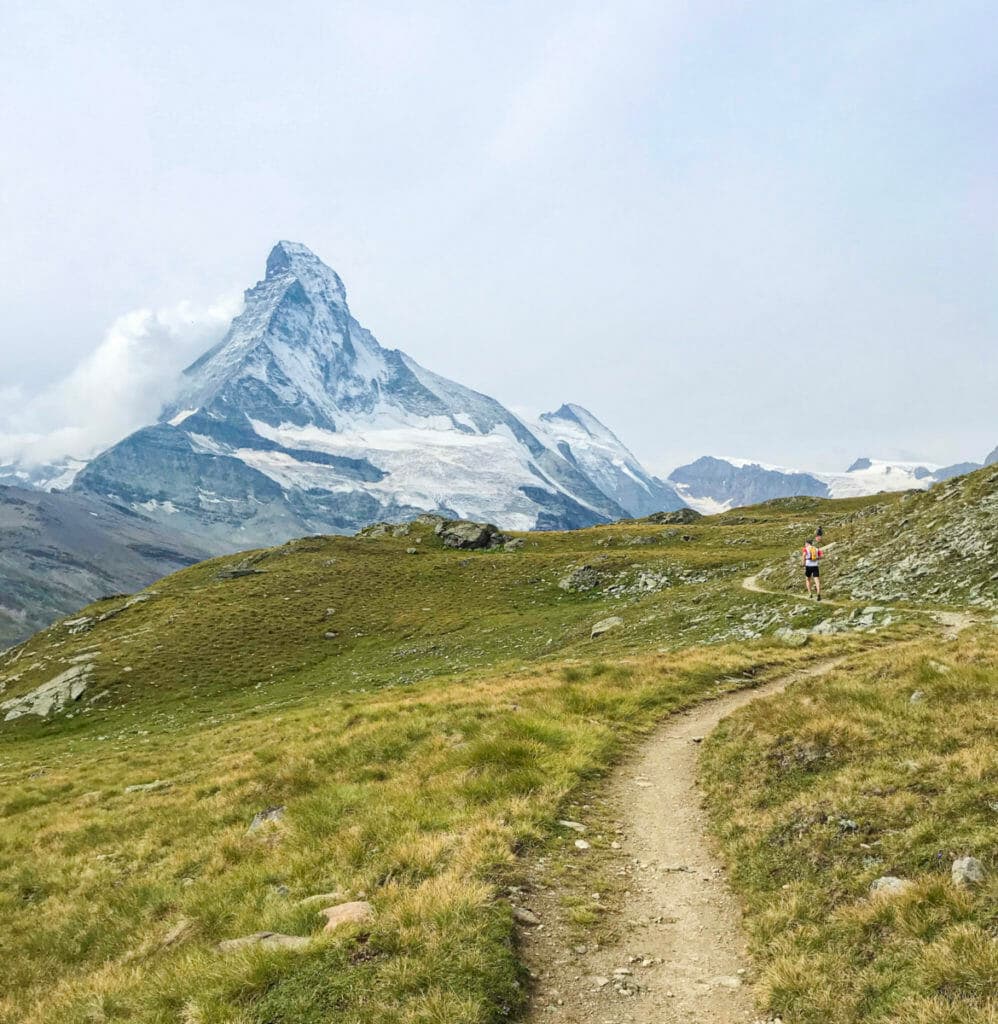 Where the Locals Run
Zermatt and the Matter valley are home to a small but vibrant community of trail runners. Run the Alps checked in with a few notable locals, to learn their favorite places to go. Here's what they had to say.
Martin Anthamatten
Internationally ranked Skyrunner, high mountain guide and ski mo racer
Martin and his brothers are are perhaps the best known outdoors family in the valley. For his favorite run, Martin heads to the trails between the Schönbiel Hut and the Weisshorn Hut, and also the region between Arbenbiwak and the Rothornhut. It's an area that includes some of the Ultraks Extreme Sky Race course— a route that Martin himself helped design!
Lizzy Hawker
Four-time UTMB winner, National Geographic Explorer of the Year, founder of the Ultra Tour Monte Rosa
When Lizzy is out and about on the trails of Zermatt, she heads to Höhbalmen on the wild side of the valley. "If you want to go a bit further afield," says Lizzy, "head to Jungen – Wasulicke – Topalihütte and the Höhenweg that continues to above Randa. That's just one of my absolute favorite runs!"
Siebrig Scheeres
Run the Alps Guide, Physiotherapist, Trail Racer
Hidden in the back of the crowded 5 Lakes area of the valley, Siebrig likes to head to what she calls a little gem, the Lost Valley. To get there, run up towards Sunnega and Grindjisee. Go into the valley next to Fluhalp and continue running into the back of the valley until you cross the moraine. "Once on top," she says, "you will be surprised by a beautiful view into the lost valley! Run out of the valley again along Grünsee." Along the way, Siebrig notes, there are plenty of food opportunities, in the small Hamlett Findelen, Sunnega or at the Ze Seewjinu Lodge.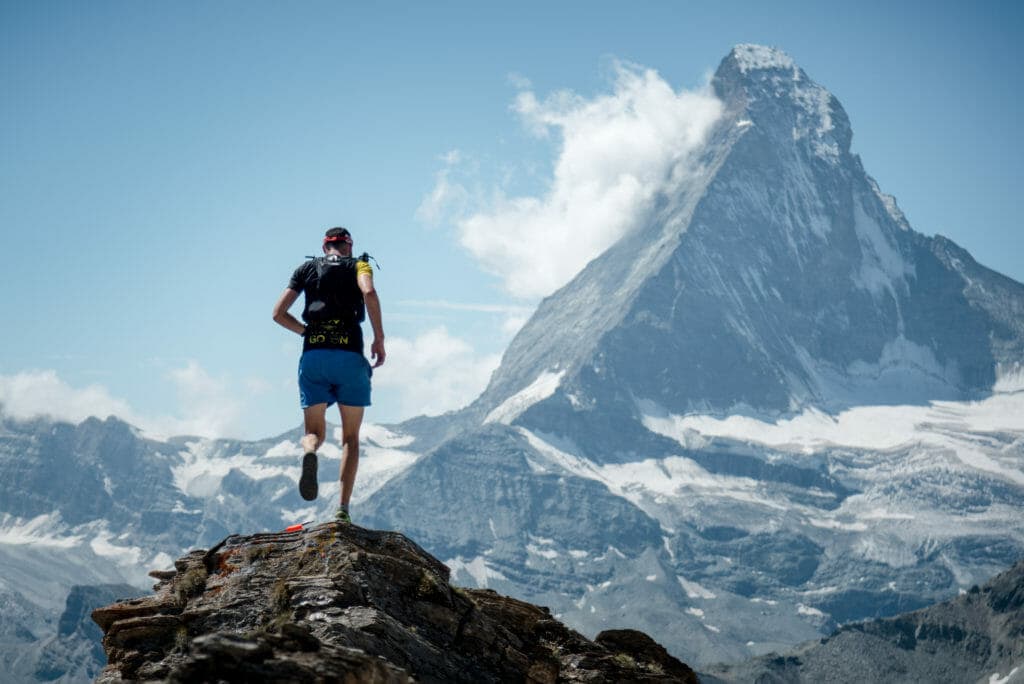 Trail Races in Zermatt
This is Zermatt's big moment of the year for trail running! With distance options of 19 km, 32 km, 49 km, the Extreme 25km, a night run, and 2 kid's races, this series offers a variety of distances for all levels and ages. Held in mid-August, the race distances offer different challenges with a variety of impressive views. The Extreme race and the 49 km distance are both official races that are part of the International Federation of Skyrunning. 
The first weekend of July, these popular and well-organized races take over Zermatt with runners and cheering crowds. The race series has distance options of 42 km, 45 km, and 21 km.
If you're looking for an ultra that will really put you to the test, the Ultra Tour Monte Rosa will do exactly that. This course was pioneered by one of the world's most famous ultrarunners, Lizzy Hawker, who used it to train for UTMB– a race she has won more times than anyone. Now a race series, UTMR starts slightly north of Zermatt in Grächen, but several of the courses pass through town. The series includes distances of 170 km, 100 km, 58 km, and 23 km.
Best Places to Eat and Drink in Zermatt, Switzerland
Along with being a mountain town, Zermatt is also known as a "foodie" destination — that's why it's one of our main stops on our great cafes of the Alps guided tour! These are some of our favorite spots.
Quick tip: Switzerland is a pretty expensive part of the world, especially for food. Be prepared to spend more money than you expect, and if you are on a budget, consider loading up at the market and picnic rather than paying restaurant prices.
Best Swiss Food: Restaurant Zum See
A couple of kilometers up valley from Zermatt, Restaurant Zum See sits on the mountain side among rustic wooden chalets. Run by the Mennig family for over 30 years, you can expect a selection of gourmet Swiss alpine cuisine like Rösti and Croûte au fromage along with delicious Mediterranean dishes.
Quick tip: Their popular Mediterranean fish soup or Prawn Provençal hits the spot if you're a little "cheesed out!" 
Best Beer Selection: The North Wall Bar & Restaurant
With a welcoming outdoor seating area, delicious pizza, and carefully selected range of craft beers and ales, The North Wall Bar & Restaurant is an ideal post-run stop.
Best Pretzel: Zermatt Train Station
Maybe it's just that first pretzel after a long train journey, but we're genuinely pretty sure the Brezelkönig at the Zermatt train station serves up some of the best pretzels in the town. Choose from different flavors including a vegan option for a relatively cheap snack.
Best Potato Pie: Fuchs Bakery
Fuchs Zermatt has four different locations in Zermatt — two with cafes. Each spot offers similar pastries, smoothies, and other light bites. Their potato pies are some of the best we've had and the Bahnhofstrasse location has amazing ​​Swartzwaldtorte (Black Forest cake) too.
Best for Live Music: Restaurant Alphitta
Above town, in the hamlet of Riffelalp, Restaurant Alphitta is a welcoming mountain restaurant with stunning views of the Matterhorn, great food, and friendly resident dogs. Run the Alps guide Becki Penrose notes the restaurant usually has excellent live music as well.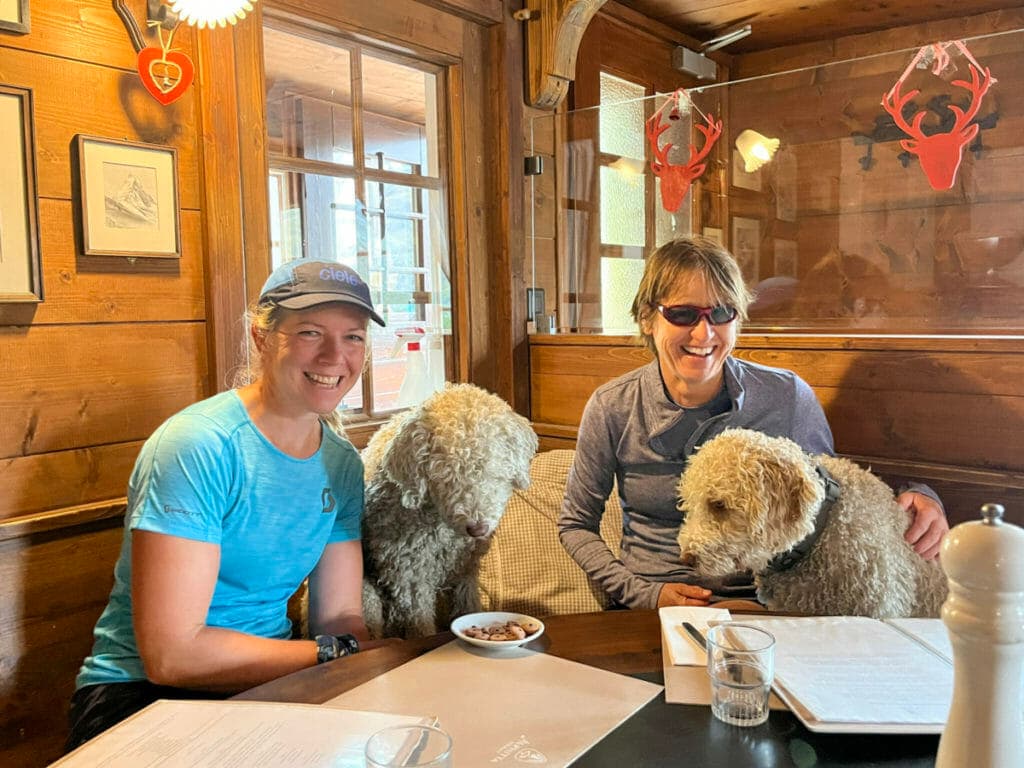 Other Things to Do in Zermatt
When it's time for a rest day or low key time around Zermatt, these are our top recommendations.
Track the Cutest Sheep in the Alps
Who doesn't love Zermatt's adorable black-nosed sheep? Carrie Craig, Run the Alps Finance Manager spent a fun day following some of Zermatt's favorite sheep using this sheep tracker. The tracker shows GPS locations for several different sheep and gives a brief description of each, including name, age, and general character.
Visit the Nearby Leukerbad Thermal Baths
If you want to get out of Zermatt for a day or two, we recommend visiting nearby Leukerbad. Soak your muscles in the famous thermal baths and let the kids — or your inner-child — enjoy the 126-meter long water slide. With ten pools of different temperatures plus sauna and massage options, you can get the full relaxation treatment.
Rest-day Hike to Z'Mutt
Four kilometers outside of Zermatt on a nice hiking trail, the hamlet of Z'Mutt offers a peaceful respite to enjoy a mellow day. Old wooden buildings, a little cafe, and lots of flowers in the summer make for a picturesque and low key outing.
It's Not All Cowbells and Croissants 
While Zermatt is a worthwhile trail destination, it's not without its downsides. Some things that can put a damper on your stay in this popular mountain town, if you're not expecting them, are the high prices, abundance of ski area infrastructure, and tourist crowds, especially in August.
Besides adjusting your expectations and maybe your budget, we have a few suggestions for your visit to Zermatt. Plan your trip for September for lower hotel prices, fewer tourists, and typically stable weather. Go into it knowing that a pizza in Switzerland is nowhere near as good as in Italy, and might set you back 25-30 Swiss francs, or CHF. Picnic when possible, and plan your splurge nights out carefully. Use the lifts to your advantage to save yourself some vertical gain, or if you prefer to avoid the crowds that form from easy-access, plan your runs on the north side of the valley. This side doesn't have the infrastructure, and so it doesn't have quite as much traffic.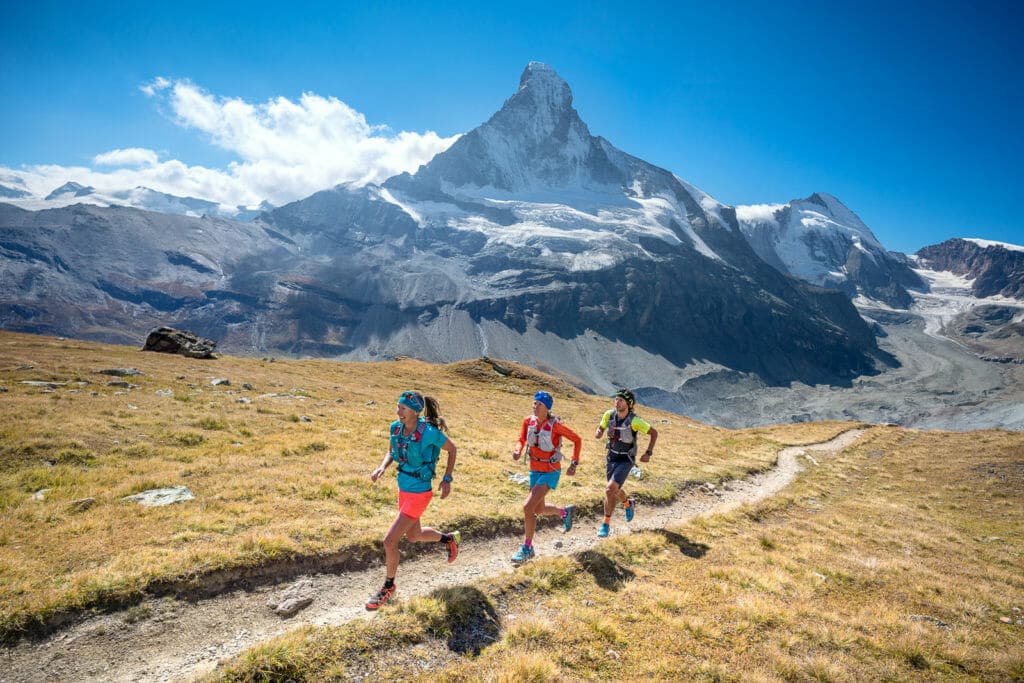 Come Run the Alps in Zermatt
We often find ourselves drawn to Switzerland's top mountain town, and base some of our guided tours here too. These trips include: Matterhorn Ultraks Tour, Great Cafés of the Alps, and Via Valais.
Want to have your own self-guided trail running adventure in Zermatt? Sign up for your Run the Alps self-guided tour in Zermatt, Switzerland.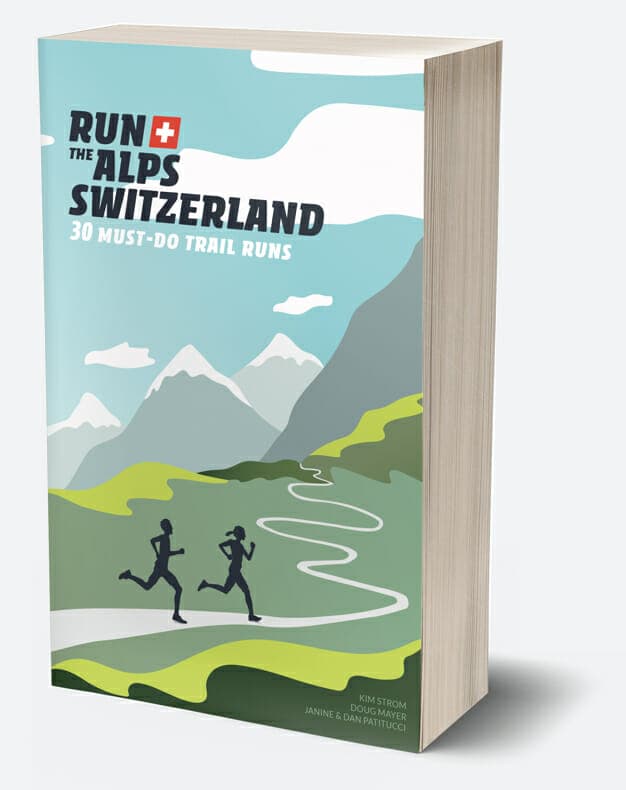 Run the Alps Switzerland
For more detailed run information in and around Zermatt, and elsewhere in Switzerland, see Run the Alps Switzerland: 30 Must-Do Trail Runs. The book is coauthored by Run the Alps' Kim Strom and Doug Mayer along with photographers Dan and Janine Patitucci.
Special thanks to our contributors: Kim Strom from ALPSinsight, Emily Geldard, Sam Hill, Becki Penrose, Carrie Craig, Doug Mayer, Giles Ruck, Georgina Fitzgerald, Simon Conroy, Martin Anthamatten, Lizzy Hawker, and Siebrig Scheeres.