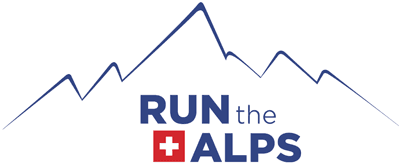 Courmayeur, Italy
Although only a few miles from the French and Swiss borders, there's no mistaking you're in Italy when you run the trails of Courmayeur. Here, at the head of the Aosta Valley in the mountainous northwest corner of Italy, flowing single track is interspersed with welcoming guardians at the "rifugios," or huts, where you can take in alpine views over a cappuccino. Trails traverse high meadows opposite Mont Blanc – or Monte Bianco – and climb alongside clear streams, up over high mountain passes with incredible views into neighboring Switzerland and France. Here's a glimpse from a recent Run the Alps trip.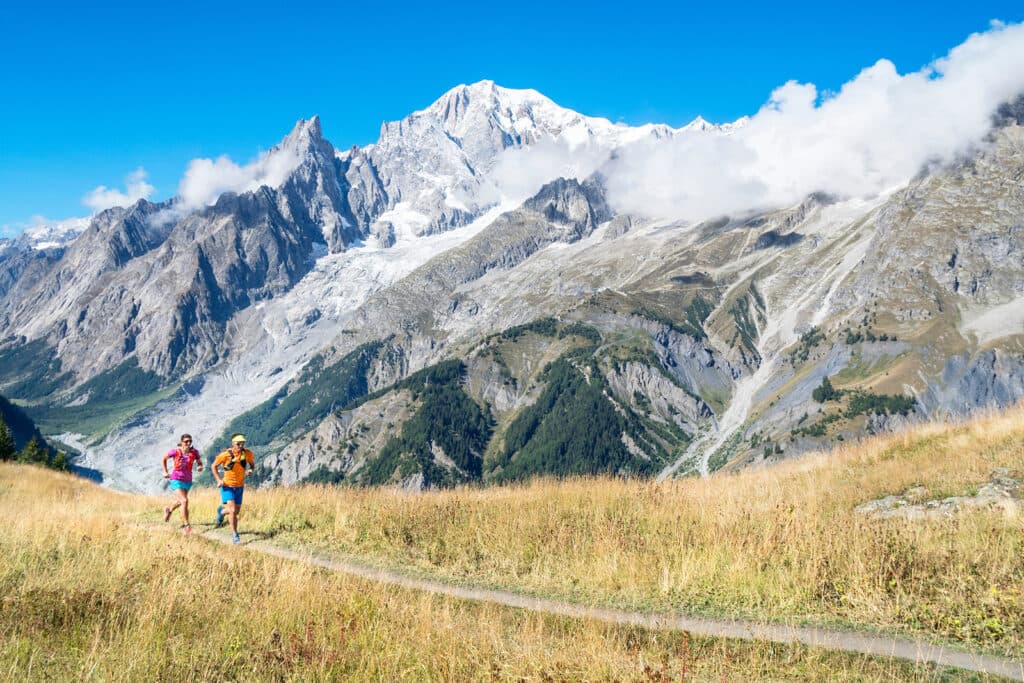 Courmayeur also has a lively trail racing scene, if you'd like to add a race to your vacation plans. Each summer, the town hosts three races in the Ultra-Trail du Mont Blanc series, the popular Gran Trail du Courmayeur series in July, the legendary Tor des Géants, now four races, and a variety of other trail events. While Val Ferret and nearby Val Veny are well-known on the alpine trail running map, the region is also home to a wide range of quiet and wild trails. Courmayeur is wonderful place to relax after a run. You'll find excellent cafés, restaurants and gelaterias as you wander along the quiet, cobbled streets of the village. Many of our self-guided guests combine exploring this region with a few days in the Chamonix valley, known as the "Vallée du Trail" on the other side of Mont Blanc.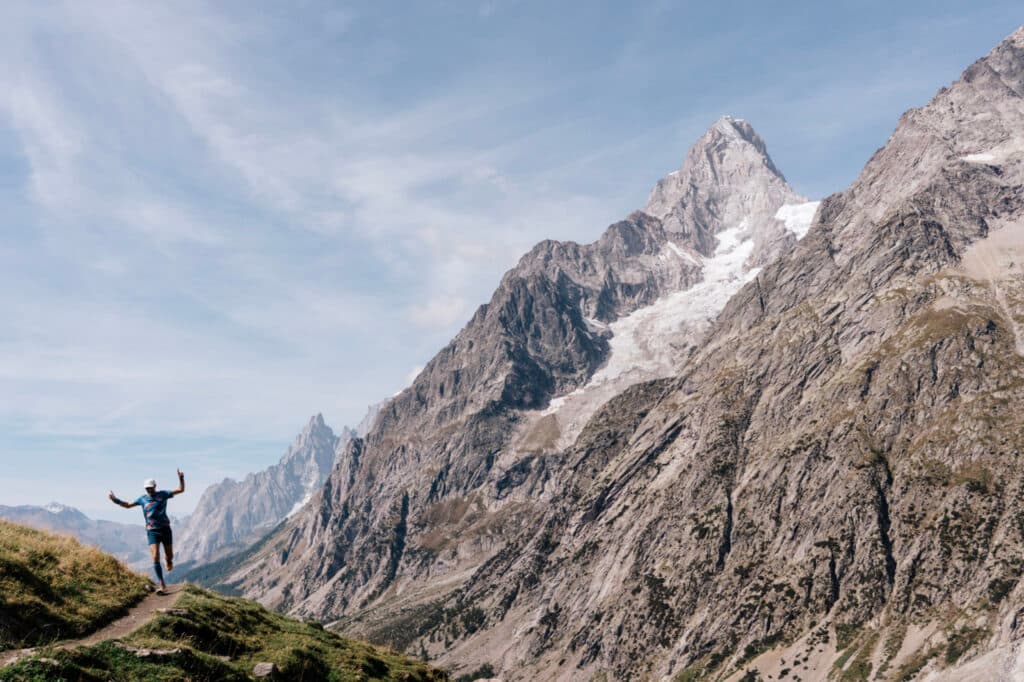 TOUR CHALLENGE
Moderate – Challenging
More Info
Self-guided tour FAQ
When you sign up for a Run the Alps self-guided tour, your trip will be planned in detail.
Each self-guided tour includes the following components:
* Three-star hotel and mountain hut bookings.
* Thorough travel instructions, regional information, our Guide to Trail Running in the Alps , and detailed run descriptions printed on durable, waterproof paper, complete with a run profile, time estimates, bail-out options, emergency numbers, and a map. See a sample of the 'Overview' section.
Our typical Courmayeur self-guided tour is 6 nights and 7 days. Pricing is $2,290 per person if sharing a double. $500 single supplement fee. 
Since tour planning time and materials are the same regardless of trip length, cost for shorter trips are not reduced proportionally. Typical pricing for a four-night trip is $ 1,980, and $ 1,780 for three nights.
Our Courmayeur trip starts and finishes in Courmayeur, Italy. Run the Alps can provide guidance on travel between your arrival and departure airport (s), to and from Courmayeur.
This trip can start as early as June 15th and as late as September 20th.
As we work with you to develop your self-guided itinerary, consider adding one of the many great Alp trail races  to your plans. Please contact us to discuss trail race options and timing.
No matter where you are, on every self-guided trip, if a serious problem arises, Run the Alps is just a phone call away.
Terms and Conditions: Read up on Run the Alps' Terms and Conditions, Covid-19 policy, and travel insurance.