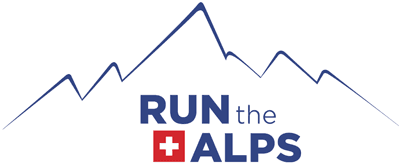 Italian Dolomites
Jun 20 - 27, 2024
8 days - 7 nights
Jun 28 - Jul 5, 2024
8 days - 7 nights
Sep 5 - 12, 2024
8 days - 7 nights
| | Duration |
| --- | --- |
| Jun 20 - 27, 2024 | 8 days - 7 nights |
| Jun 28 - Jul 5, 2024 | 8 days - 7 nights |
| Sep 5 - 12, 2024 | 8 days - 7 nights |
The Italian Dolomites have some of the best trail running in Europe! We'll run inn to inn, taking in spectacular views of the region along smooth singletrack and over high cols. At night, we'll enjoy hearty local cuisine in villages.
The Dolomites are one of our favorite areas for trail running. Trails here are flowy and accessible, and the scenery includes impressive mountains, quiet villages and flower-filled meadows. Here, the Italian, Austrian, and ancient Ladin cultures intermingle in the small, scattered villages that dot this mountainous corner of Italy. Our inn-to-inn tour takes you through the Gardena and Funes valleys in the western Dolomites. We'll trail run with light vests, as our bags are moved for us from village to village. One night at a high mountain lodge will require a slightly larger "fast packing" pack. Our tour begins in Ortisei, nestled in Val Gardena, in the heart of the UNESCO Dolomites World Heritage Area. There's miles of great running radiating in every direction. On our first full day, we'll warm up with a run visiting high huts and alpine trails.
A typical day starts with a delicious buffet breakfast at our hotel, including freshly baked bread and pastries, local meats and cheeses, cereal, fruit, eggs, coffee and freshly squeezed juice. Soon we'll be out on the trail, running through pastures and under the Dolomites' iconic limestone towers.
During his reconnaissance for Run the Alps when we developed this trip, guide Bruno Yates wrote: "I'm used to running in some pretty incredible locations in the French and Swiss Alps, and I was blown away by what we found in this part of the Dolomites – and the sheer number of world class trails. I'm looking forward to next June!" (You can read his story, here.) A few of our days will offer several possible distances, and if you want to take it easy, we'll have two optional rest days, as well. Most days finish around 4 pm, giving time to wash up, relax, or just gaze upon the outside panorama from the balcony of your room. Later, we'll enjoy dinner together at our hotel restaurants. These are multi-course affairs, often featuring delicious local Austrian and Italian specialties.
Guiding this trip will be Cam Bevan, an International Mountain Leader. Read more about his guiding experience and skills here.
Book this tour
Cost
$4,390 per person
$600 single supplement
Dates
Guides for selected date:
Make it private guided
Your companions, your dates, your tour– we do the rest.
Inquire here.
Itinerary
Our guide tells us what we'll do tomorrow. (Photo: Martina Valmassoi)
Day 1
Today, we'll meet in Bolzano and transfer by taxi to Ortisei in the afternoon.  Before dinner, we'll meet for an overview of the week's route, covering daily routines, and reviewing gear for each day's adventure.
Accommodations: Hotel Stetteneck or similar
Running through the Dolomites. (Photo: Milo Zanecchia)
Day 2
Today we'll start by using a funicular railway from Ortisei to gain the scenic Resciesa Ridge, with panoramic views and quality trails traversing the mountainside.
Accommodations: Hotel Stetteneck or similar
Yellow larch in the Dolomites in fall. (Photo: Mark Brightwell)
Day 3
From the beautiful plateau of Alpe di Siusi, some relatively flat running brings us to Saltner Hut. We then head out over the Altipiano dello Sciliar and one of the most dramatic sections of trail of the entire week. We stay overnight at Plattkofel Hut, with private rooms and hot showers.
Accommodations: Plattkofel Hut
Running towards the high walls of Sassolungo. (Photo: Mark Brightwell)
Day 4
Along today's stunning route, we'll explore the immense and iconic Langkofel/Plattkofel massif. Passing Rifugio Vincenza, a break for coffee and cake feels obligatory! For those feeling adventurous, an early-morning run to the 2958m high Plattkofel Peak, is an option.
Accommodations: Hotel Krone or similar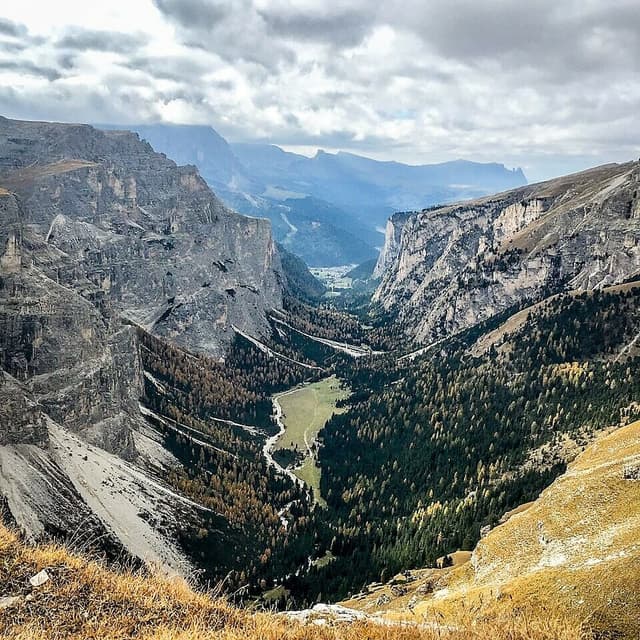 A view of Vallunga. (Mark Brightwell)
Day 5
Running from Selva this morning, we'll enjoy a circular route up into the impressive Vallunga, or "Long Valley", a long, deep chasm which has been likened to a mini-Yosemite valley.  The flow on this section of trail feels just great!
Accommodations: Hotel Krone or similar
Enjoying the meat and cheese platter in the Dolomites. (Photo: PatitucciPhoto)
Day 6
We cross from Val Gardena to its quieter neighbor, Val di Funes. Starting in Selva, we'll climb to the popular Seceda meadows high above Val Gardena, an expanse dotted with quiet alp farms, and backed by the impressive jagged Odler peaks.
Accommodations: Hotel Kabis
Gunther Messner Way. (Photo: Bruno Yates)
Day 7
We'll tackle the Odle di Eores massif, with engrossing singletrack, mature pine woodland, abundant mountain vistas and a couple of well-placed huts for refreshments along the way. Today's highlight is the "Gunther Messner way", a flowing, narrow trail.
Accommodations: Hotel Kabis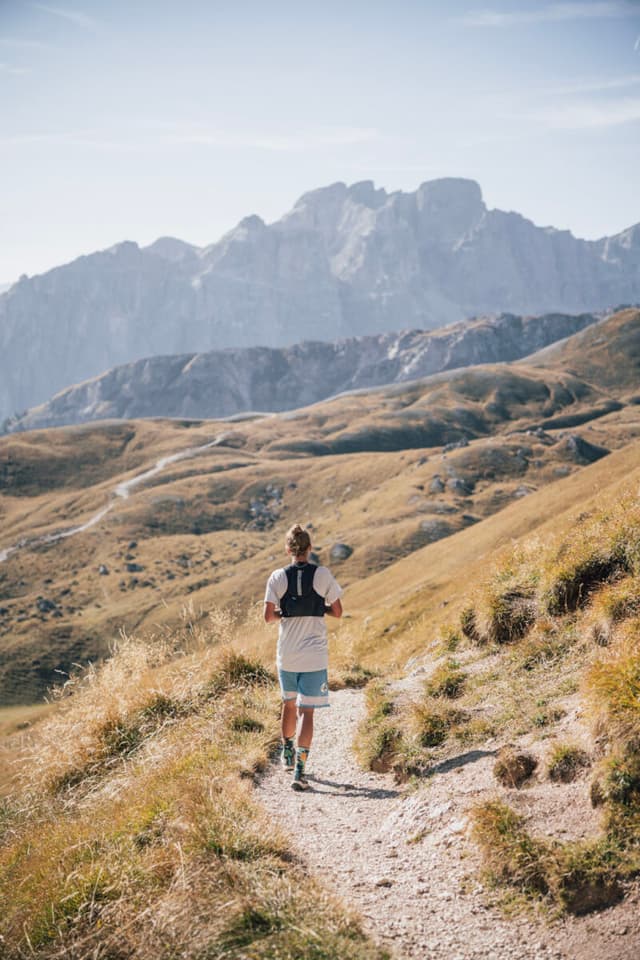 (Photo: Martina Valmassoi)
Day 8
Today we'll say our goodbyes as we take leave of the Dolomites. We'll have a morning group taxi available to Bolzano, where you can continue on to your final post-tour destination.
Meals: Breakfast
What's included
Six nights at village hotels, one night at a remote mountain inn, all breakfasts and dinners, trail snacks, guided runs daily, all transfers to and from trailheads, and luggage transfers between villages.

Plan to arrive in Bolzano by mid-afternoon the day your tour starts. We will take a group taxi from there to Selva. Flights from the US usually depart the day before. The closest airports are Venice, Verona, Milan and Munich, which are all about three to four hours away by train or taxi.

A group taxi is typically scheduled to leave Val di Funes at 8:30am and get you to Bolzano about 9:30am. From here, you can continue on to your departure destination. Private taxis can be scheduled upon request at your cost. You may have to plan on one night at a hotel in your departure city. We can assist with transportation and lodging recommendations, if you like. If you'd like to extend your visit with additional trail running, we can help with self-guided run descriptions for other regions of the Alps, or trail race options.
Tour stories
Guides for this Tour
Tour dates: Jun 20 - 27, 2024
Tour dates: Jun 28 - Jul 5, 2024
Tour dates: Sep 5 - 12, 2024

Book this tour
Cost
$4,390 per person
$600 single supplement
Dates
Guides for selected date:
Make it private guided
Your companions, your dates, your tour– we do the rest.
Inquire here.