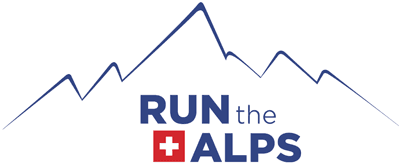 Bernese Oberland
The Bernese Oberland is one of the most spectacular regions of the Swiss Alps. Part of the Jungfrau-Aletsch World Heritage area, it includes the iconic Eiger, Mönch and Jungfrau peaks. Winding through the mountains and pastures are hundreds of miles of great trail running.
The region includes a number of picturesque villages, including Wengen, Mürren, Kandersteg, and the famed mountain resort of Grindelwald. Bags can be easily transported through this region, making for endless trail running opportunities.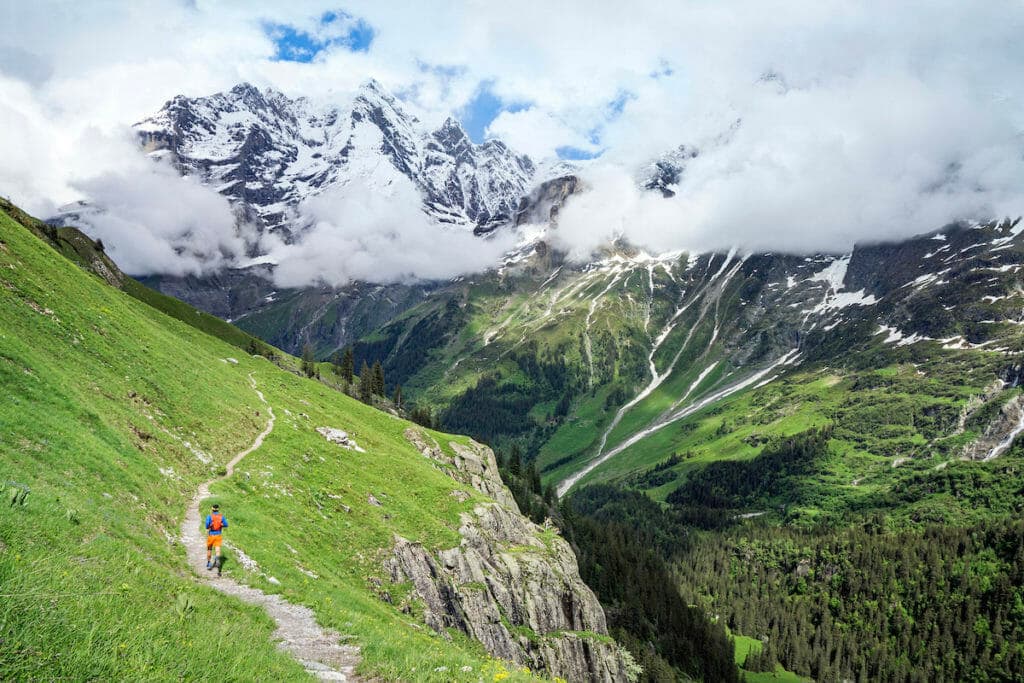 Along the way, there are great day-run possibilities. Trail run to the working alpine farm of Obersteinberg, through the steep-walled LauterbrunnenValley, or under the north wall of the Eiger. There are plenty of day-off opportunities, too—notably a trip on the train through the Eiger to the snowy mountain-top Junfraujoch station, or a visit to car-free Mürren.
In recent years, the addition of the five Eiger Ultra trail races has focused attention on the great trail running available in the Bernese Oberland. Interested in taking part? Run the Alps has a limited number of entries available. Contact us for details.
Sample Itinerary:
Day 1 : You'll arrive in Switzerland, then take a train and a bus to Schwarzwaldalp. After checking-in to your hotel, you could do a short trail run above the village, past huge waterfalls and imposing mountains.

Distance 8km (5mi), Ascent / descent 150-300m (500-1000ft).
Day 2 : Today you start with a climb up to the Grosse Scheidegg pass, then traverse the hillside, with views of the Eiger ahead, and the Grindelwald valley below. You'll arrive at the postcard-perfect Bachsee Lake, before winding down on quiet trails to the town of Grindelwald. 

Distance 17.7km (11mi); Ascent 820m (2700ft); Descent 700m (2300ft).
Day 3 : Today you'll contour along a scenic ridge, high above Grindelwald and opposite the Eiger, which towers above. You'll pass mountain lakes, then return to Grindelwald for a second night.

Distance 10-19km (6-12mi); Ascent 915m (3000ft); Shorter option available.
Day 4 : From Grindelwald, you'll run up to the Kleine Scheidegg pass, directly under the Eiger. Follow lesser-known trails through quiet meadows and alpine farms, before arriving in the quaint, car-free mountain village of Wengen.

Distance 10-16km (6-10mi); Ascent 915m (3000ft); Descent  610m (2000ft); Shorter option available.
Day 5 : Today you'll run to the end of the Lauterbrunnen valley, following parts of the Jungfrau Marathon route. You'll then run up to Obersteinberg, a high alpine farm with restaurant and accommodation, then descend through forests to the town of Mürren.

Distance 10-16km (6-10mi); Ascent 915m (3000ft); Descent 610m (2000ft); Shorter option available.
Day 6 : You have a second day in Mürren, high above the Lauterbrunnen valley. Go for a local run through alpine pastures, or ride the tram up to Schilthorn, then descend back to town. Alternatively, you spend the day exploring the town, with unparalleled cliffside views! 
Distance 10-16km (6-10mi); 915m (3000ft) ascent; 610m (2000ft) descent; Shorter option available.
Day 7 : Today you'll say good-bye to the Bernese Oberland and depart for your post-tour destination.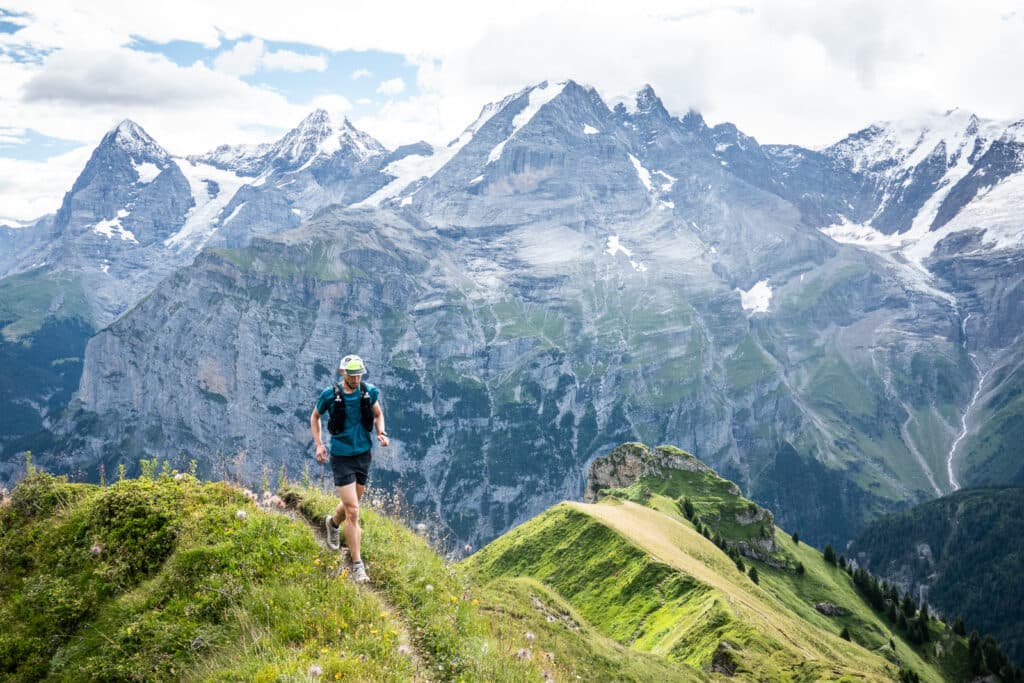 More Info
Make it private and bring a guide. Your companions, your dates, your tour.
Self-guided tour FAQ
When you sign up for a Run the Alps self-guided tour, your trip will be planned in detail.
Each self-guided tour includes the following components:
*Three-star hotel and mountain hut bookings.
*Dinners each night.
*Thorough travel instructions, regional information, our Guide to Trail Running in the Alps, and detailed run descriptions printed on durable, waterproof paper, complete with a run profile, time estimates, bail-out options, emergency numbers, and a map. See a sample of the detailed 'Overview' section.
Our typical Bernese Oberland self-guided tour is 7 days, 6 nights.
Typical pricing is $3,290/person. Includes baggage transfers. Pricing assumes double occupancy. $550 additional for single supplement.
Our Bernese Oberland self-guided trip can start as early as June 15th and as late as September 20th.
Since tour planning time and materials are the same regardless of trip length, cost for shorter trips are not reduced proportionally.
As we work with you to develop your self-guided itinerary, consider adding one of the many great Alp trail races into your plans. Please contact us to discuss trail race options and timing.
No matter where you are, on every self-guided trip, if a serious problem arises, Run the Alps is just a phone call away.
Terms and Conditions: Read up on Run the Alps' Terms and Conditions, Covid-19 policy, and travel insurance.