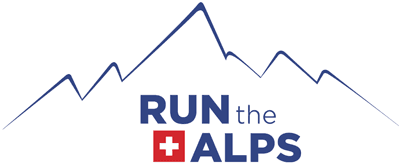 Grand Bernese Oberland Traverse
Run through the mountains of central Switzerland, taking in high farming pastures with sheep and cows, legendary peaks such as the Eiger, Monch and Jungfrau, and historic mountain passes. This grand tour starts in the high mountain farming hamlet of Schwarzwaldalp and finishes in the village of Gstaad. The route follows much of the Via Alpina, a famous long-distance hiking route. 
Starting on our shorter Bernese Oberland tour, our Grand Traverse extends the route for five days from Murren to Gstaad, the famous mountain town close to Lake Geneva. The terrain varies, starting with flowy single track balcony trails beneath the Eiger, followed by steep, technical passes and azure lakes on the way to Kandersteg, nestled between mountain ranges. The last few days offer rolling terrain through meadows, with airy ridgelines giving wonderful panoramic views. 
This route can be shortened or combined with one of the trail races in the area, such as the Eiger Ultra race series, Glacier 3000, or the Inferno half marathon.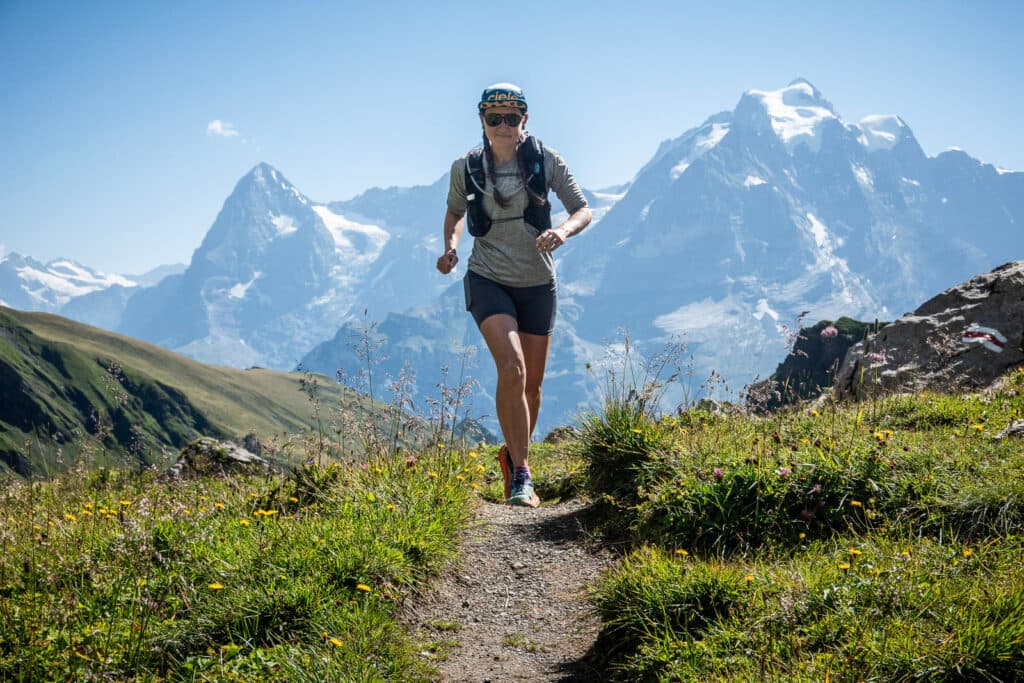 Sample itinerary:
Day 1: Arrive in Switzerland, and travel through the mountains by train and then Swiss Post bus to Schwarzwaldalp, a friendly, rustic inn high in the Bernese Oberland, with private rooms and shared bathrooms.
Day 2: After a hearty breakfast, run over the Grosse Scheidegg pass to enjoy your first views of the Eiger and of the Grindelwald valley. Next, traverse the upper reaches of the valley to the postcard-perfect Bachsee Lake before winding down on quiet trails to the glacier village of Grindelwald.
17.7km (11mi), 820m (2700ft) ascent, 700m (2300ft) descent
Day 3: From Grindelwald, you'll run up to Kleine Scheidegg pass, directly under the famous north wall of the Eiger. The Eiger's massive face dominates a landscape that includes stunning peaks and glaciers. Follow lesser-known trails through meadows and quiet alp farms to the quaint car-free mountain village of Wengen.
10-16km (6-10mi), 915m (3000ft) ascent, 610m (2000ft) descent.
Day 4: Run through one of the Alps' most dramatic valleys, to your overnight destination at the beautiful Obersteinberg mountain hut. You'll run to the end of Lauterbrunnen valley, taking in the 10 glacier-fed waterfalls that make up Trümmelbach Falls. There is no baggage delivery tonight, so carry a few extra items to make for a comfortable overnight.
15-17km (9-10miles), 1040m (3420ft) ascent, 540m (1770ft) descent
Day 5: Today, you'll run from the mountain hut to the car-free town of Mürren, perched above the Lauterbrunnen valley. There's the option to run through woods and past waterfalls, or over grassy Tanzbodeli, a peak with dramatic 360-degree views that's so flat it's nicknamed, "The Ballroom." It's also possible to descend to a cable car then travel up to Mürren.
9km (6miles), ascent 730m (2400ft), descent 850m (2800ft)
Day 6: Mürren is a unique, dramatically-located town, and today you'll have a chance to explore the area, with a choice of runs ranging from a gentle 10 km pasture run to a big push up to the summit of 2,970m high Schilthorn, where you can enjoy lunch and then a gondola ride back to town. If you need a rest day, the cafes and quiet pastures of Mürren await. You'll spend a second night here before your adventure continues!
Day 7: Run through traditional farming landscapes and pass several high-altitude farms, passing the classic Swiss Alpine Club's Rotstockhuttë before climbing to the 2611m high Sefinafurgga Pass. Here, leave the Eiger, Mönch and Jungfrau behind, and enter the wild Kiental valley.
15.6km (9.7 miles), 1132m (3720ft) ascent, 1323m (4340ft) descent
Day 8: Continue through working farmland with plenty of cows roaming steeply-angled pastures on the way up one of the big climbs of the trip to Hohtürli pass. Here, the close-up views of the glaciers are incredible, and you can enjoy a coffee at one of Switzerland's most famous mountain huts, Blüemlisalphütte, at just under 3000m. The descent to Kandersteg takes you past an iconic Swiss treasure, the azure lake of Oeschinensee.
17km (10.6 miles), ascent 1500m (4920ft), descent 1769m (5800ft)
Day 9: From today, you'll be running on wilder, less frequented trails. The route from Kandersteg to Adelboden crosses the Bundergrat pass. It's possible to take the Allme gondola up from the valley floor and skip the first steep part of the climb.
16.6km (10.3 miles), ascent 1500m (4920ft), descent 1326m (4350ft)
Day 10: Rolling meadows, smaller mountains and patches of forest are the order of the day as you head over Hahnenmoos pass to Lenk. This small town sits in the Simmental valley with the Wildstrubel mountain range above.
18.7km (11.6 miles), ascent 950m (3120ft), descent 1237m (4060ft)
Day 11: Your last day of running goes through an intricate agricultural landscape of rolling pastures, rocky crags and forest patches, as you leave the Simmental valley. The high point of the Wasserngrat ridgeline is an exciting finale to the tour – but a less exposed descent to Gstaad is also possible.
20.4km (12.7miles), ascent 1441m (4730ft), descent 1455m (4770ft)
Self-guided tour FAQ
Our self-guided tours are available in some of the best trail running areas the Alps have to offer. When you sign up to run in one of the regions below, your trip will be planned in detail. Each self-guided tour includes the following components:
*Three-star hotel and mountain hut bookings.
*Thorough travel instructions, regional information, our Guide to Trail Running in the Alps, and detailed run descriptions printed on durable, waterproof paper, complete with a run profile, time estimates, bail-out options, emergency numbers, and a map. See a sample.
Typical pricing is $4,050 per person when sharing a double and a $700 single supplement fee for solo travelers or rooms. Since tour planning time and materials are the same regardless of trip length, cost for shorter trips are not reduced proportionally.
As we work with you to develop your self-guided itinerary, consider adding one of the many great Alp trail races into your plans. Please contact us to discuss trail race options and timing.
No matter where you are, on every self-guided trip, if a serious problem arises, Run the Alps and our booking partners at Alpinehikers are just a phone call away.